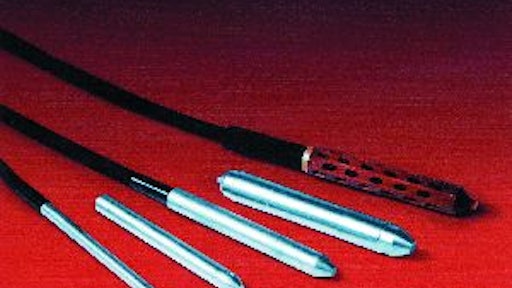 Concrete Vibrators
Full line of concrete vibrators with a selection of four electric motors and one gas-powered unit
Range of interchangeable and reversible flexshafts and eight high-amplitude heads from 3/4-in. diameter pencil size to 21/2-in.-diameter
17/8-in. rubber head for epoxy-coated rebar applications
Mold-injected nylon quick-disconnect system
Chrome-plated tubular steel frame with oversized rubber mounts
Stone Construction Equip. Inc.
GBPH25 Backpack Vibrator
Runs all sizes of Denver vibrator heads up to 2½ in. in diameter
High-visibility safety colors on the frame and padding
Honda-approved application
Built for durability, safety and operator comfort
Denver Concrete Vibrator
BP-50 Backpack Vibrator
Totally enclosed rotary throttle allowing operator to control engine while preventing wet concrete from entering and clogging throttle mechanism
Kill switch on handle
Patent pending rotary throttle designed and engineered to eliminate operator's variable setting of engine speed ensuring unit will consistently produce proper vibrations per minute
Comes standard with Quick Disconnect "QD" system and Honda gasoline engines
Vibrator heads develop 12,000 vpm and never drop below 10,000 vpm even in heaviest low slump concrete loads
Handles heads up to 21/2 in.
Oztec Industries Inc.
Flex-Shaft Concrete Vibrators
Powered by 115-volt grounded aluminum electric motors on a four-cycle Honda gasoline engine
All Allen Flex-Shaft vibrator heads, shafts and power units are interchangeable
Allen Engineering Corporation
Concrete Vibrators
PL15E, PL20E and PL30E are 11/2- to 3-hp electric concrete vibrators
PL25BP is a 21/2-hp gas backpack unit
Models offer mid-frequency and force characteristics to set particles in motion fast for rapid consolidation of homogenous mixes
High-strength cast-aluminum electric motor housing
Shock-absorbing frame
Vibrator heads from 3/4 to 21/2 in. in diameter and flex shafts from 2 to 21 ft. or up to 42 ft. with connectors
Ingersoll Rand Company
Multivibe Cool Head Vibrators
Low-friction,?gas-powered vibrators offer 9,000-vpm frequencies with amplitudes from .04 to .14 in.
Suitable for slabs, stem walls and foundations
Casing lengths up to 24 ft.
Head diameters from 1 to 21/2 in.
Approximately 20 lbs. lighter than a backpack
Hummer Standard, Hummer Fishing Pole and Power Rod models available
Jlin Corp.
Concrete Poker Systems
Designed to maintain optimum frequencies regardless of load demand
Standard heavy-duty and light-duty pencil shafts in lengths from 1 to 23 ft.
Seven no-maintenance, factory sealed vibrator heads in 3/4- to 21/2-in. diameters
Rotating in-head eccentric weights maintain a high level of centrifugal force and amplitude
Northrock Industries
Bulldog DC-500 Vibrator
Redesigned with a completely smooth surface to eliminate concrete buildup
O-ring seal for improved waterproofing
Double-walled construction and heavy bolts protect internal components
Suitable for moving concrete quickly and eliminating buildup and spillage
Vibco, Inc.
Stow BP25H Backpack Vibrator
Weighs 24 lbs.
2.5-hp Honda gasoline engine with flow-through ventilation
Offered with seven steel and four rubber heads ranging in diameter from 7/8 to 23/4 in. with a maximum length of 173/4 in.
Flexible shafts range from 2 to 21 ft. long
Multiquip Inc.
Internal Concrete Vibrator
Patented Square Head vibrator head design
Provides 20 to 50% faster consolidation (square head vs. round head)
Delivers more torque with less amps
Retains speed under heavier load
Exceeds industry standards to assure safety
Wyco Tool Co.
Plug & Play External Vibration System
Lightweight, portable external vibration system incorporates vibrators fit on the outside of formwork that are activated as concrete reaches the level of the vibrators
Vibrating pulse transmitted through the forms to consolidate the concrete
AR 36 external vibrators mount to most common formwork systems via user-friendly clamps
Vibrator force adjustable using a 42-volt, three-phase frequency inverter
Inverter can also utilize 42-volt motor-in-head internal vibrators
Wacker Corporation
MGX Series Vibrators
Hand-held concrete vibrators in two models with six head sizes ranging from 0.9 to 1.5 in.
Frequencies from 200 to 15,500 vpm
6.4 lbs.
Available with hose lengths up to

6.6 ft.

Easy to use quick-coupling system for flexible shafts
Incorporate double-insulated motor housing, a die-cast aluminum motor case, front-end enclosed motor design and shock-absorbing rubber handle
Multiquip Inc.