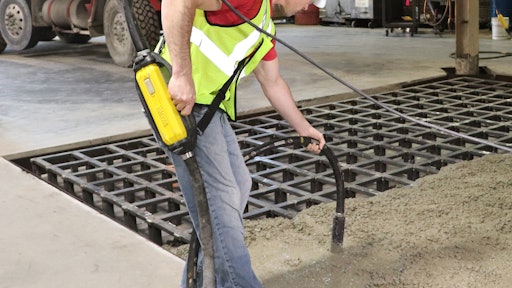 Wacker Neuson is simplifying its internal vibration product line into three categories: Premium, Advanced and Basic. The categories will help concrete contractors easily identify the system that is best suited for their job and provide proper consolidation to achieve quality concrete products.
Wacker Neuson's newest addition to its internal vibration offering is the Premium line called IRFUflex. This is a robust modular high-frequency, high-cycle system that contains one frequency converter power unit combined with several interchangeable vibrator head and hose length options. This flexible system will offer the ideal head size and hose length to tackle most jobs and provide complete concrete consolidation. The system allows contractors or dealers to save money and storage space by stocking one converter and multiple head/hose combinations.
The components that make up the IRFUflex system include the FUflex converter and IRflex hoses and heads.

The FUflex 4/120 converter is the 4-amp/120 volt frequency converter that powers the IRFlex series of heads and hoses.

The FUFlex converter provides high-cycle performance without the need for a high-cycle generator.

The unit includes the exclusive Wacker Neuson Bodyguard that offers enhanced protection with an integrated safety switch which will turn off the device within three milliseconds if an unsafe electric condition occurs.

Standard items included with the converter unit are a 50-foot power cord to provide a wide operating range from the power source, a convenient shoulder strap and handle for comfortable operation.

The IRFlex components include the vibrator head and protective hose.

For optimum concrete consolidation there are four sizes of vibrator heads (1.4 – 2.6 inches or a rubber coated 2.4 inch head for use with coated rebar). Hose lengths range from 20 inches up to 50 feet. There are nine standard head-hose combinations which easily attach to the FUflex via a convenient coupler.

Wacker Neuson's IRFUflex is the optimal internal vibrator that meets the needs of the professional concrete contractor for both vertical and horizontal concrete consolidation applications. The convenience of having one power unit means less storage space is needed while providing more reliability and flexibility for the owner.
Wacker Neuson's Advanced internal vibrator line is the new IEC. This high-frequency, high-cycle line is offered in four, fixed configuration models each with an integrated frequency converter and choice of 1.8 inch (45 mm) or 2.2 inch (58 mm) head diameter and 10 foot (3 m) or 26 foot (8 m) hose length. The IEC provides the advantage of high frequency power using a 120 volt power source, eliminating the need for a specialized high-frequency generator. The vibrator provides consistent performance and reliable operation for effective concrete consolidation with quality results.
Wacker Neuson's Basic line is the popular Head, Motor Shaft (HMS) flex shaft vibrator line. The simple design and easy to handle system has been a favorite for contractors and rental houses for decades. The individual configurations with interchangeable flexible shafts, vibrator heads and universal motors make the system ideal for a variety of residential and commercial concrete consolidation applications. The lightweight motors are extremely durable and the quick disconnect makes flex shaft exchange easy.
To complete the internal vibration line, Wacker Neuson also offers a backpack vibrator. The BV50A-H is equipped with a comfortable harness system and a 50 cc Honda gasoline engine that can be fitted with most HMS series heads and shafts. The backpack system is designed for light to medium duty concrete work and hard to reach concrete applications with limited electrical supply.
Request More Information
Fill out the form below to request more information about
Wacker Neuson Reconfigures its Internal Concrete Vibrator Offering