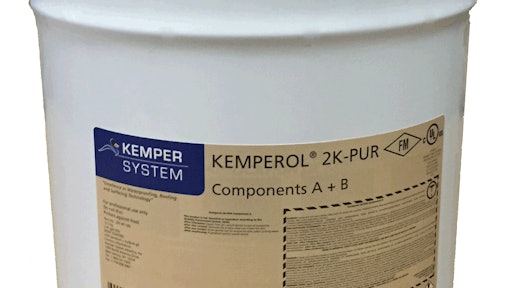 Kemper System, the inventor of cold liquid-applied roof waterproofing systems, offers high-performance solutions for new and existing concrete projects including: Roof decks, parking decks, basements, balconies, terraces, planters and walkways. The liquid-applied KEMPEROL reinforced waterproofing membrane systems can conform to any shape, making it easy to seal around multiple penetrations, curbs and perimeters. They can also perform below grade and even under ponding water.
Systems include the solvent- and odor-free KEMPEROL 2K PUR, ideal for most applications including occupied buildings, "green roof" gardens and "blue roof" rainwater detention systems.
The new KEMPEROL Reflect 2K FR "cool roof" system, ideal for concrete roof decks, helps manage building energy from the top.
Designed for extended life, KEMPEROL systems offer proven performance for commercial and residential properties, schools and universities, healthcare facilities, and government buildings and projects.
The liquid-applied systems adhere to most substrates and are self-flashing and self-terminating for easy installation.
They are fully reinforced and feature seamless technology that eliminates potential areas of fatigue or weakness.
In addition they resist: Ultraviolet light, chemicals, roots, bio-degradation, ponding water and ice.
Companies in this article
Request More Information
Fill out the form below to request more information about
KEMPEROL Cold Liquid-applied Membrane Waterproofing Systems