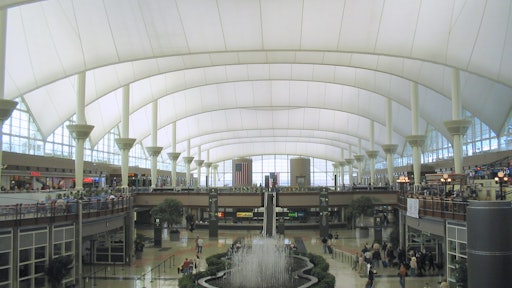 Dbenbenn/Creative Commons
A consultant hired by the City of Denver has recommended additional concrete testing at Denver International Airport (DIA).
CBS4 Denver reports that while the airport's concrete was given mostly passing grades, it was recommended that testing be expanded from the terminal to the airport's parking structures, garages and tunnels and be repeated in five years to make sure further problems do not arise.
The recommendation follows earlier concerns about concrete strength at DIA found during the construction of the airport's $650 million Great Hall Project, which has led to delays and projected cost overruns. In 2018, evidence of alkali-silica reaction (ASR) was found in the airport terminal's 25-year-old concrete and foundation. ASR can lead to a swelling, cracking and weakening in concrete.
While additional testing for ASR is recommended, CBS4 reports that an engineering firm hired by the airport said concrete strength in the terminal floor is adequate for continued safe use, and concrete cores from walls and foundations show it meets or exceeds needed strength requirements.