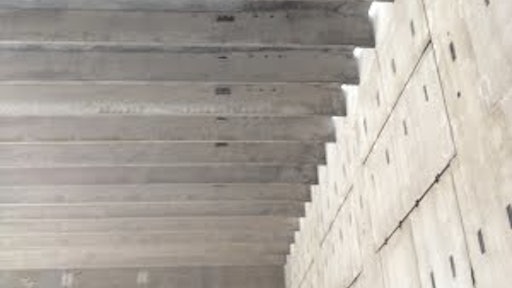 Allen Engel/Wikipedia
The global precast concrete market is likely to grow at a CAGR of 5% over the forecast period 2016 to 2025, reveals a recent Transparency Market Research (TMR) report. The global precast concrete market registered the net value of $100 billion in 2016, and it is expected to expand at a healthy rate in the following years.
Today, the market is overly competitive and fragmented due to the involvement of a large number of players in the market. Key players in the global precast concrete market include Bison Manufacturing Ltd., Coltman Precast Concrete Ltd., CRH plc, LafargeHolcim Ltd. and Elematic Oyj. These companies are adopting various strategies such as adopting news technologies to provide better finished products in order to stay ahead in the competitive market.
Due to the on-going infrastructural development, the number of construction projects is increasing manifold, owing to the expansion of the global precast concrete market. 
From the geographical perspective, the global precast concrete market is foreseen to be held by Asia Pacific during the forecast period. The growth is mainly due to rapid industrialization and infrastructural development initiatives being undertaken by the governments of developing economies like India and China.
On the basis of segmentation, in terms of structural systems, the global precast concrete market is segmented into beam and column system, floor and roof system, bearing wall system, and façade system. Of all these, beam and column structure system is projected to hold maximum shares owing to the growth of the global precast concrete market. 
Swift Urbanization to Strengthen Market
A large portion of the population is moving from rural to urban areas, thus increasing the number of constructions happening across the globe. Construction projects such as residential buildings, commercial buildings, schools and colleges are taking place at a rampant rate, aiding to the healthy growth in the global precast concrete market.
Additionally, features such as shock absorption, crack proof, improved durability and high tensile strength are expected to play an important role in fueling the growth in the global precast concrete market in future.
The use of precast concrete in water and sewage infrastructure will also play a role in the market's growth. 
Commercial Construction
The efficiency of precast concrete has increasingly become attractive to commercial contractors who are at the same time seeing growth in the construction of commercial buildings such as malls, theaters, hotels, gyms and offices/
Furthermore, the report says that some contractors and builders prefer precast concrete over conventional concrete because buildings that use precast concrete are stronger as compared to traditional concrete. However, using precast concrete in construction requires a highly-skilled work force completely different from traditional construction. The lack of such skilled work force may act as a restraint in the global precast concrete market.