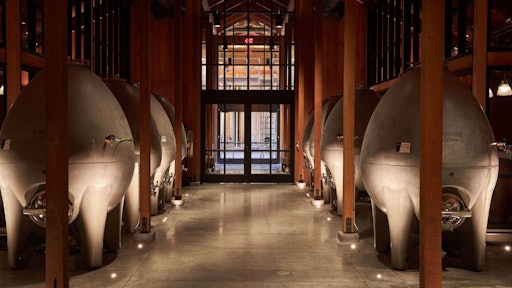 Cakebread
A vision of oak barrels easily comes to mind when most imagine winemaking. But producers increasingly are seeking a more neutral approach to the aging process.
Concrete, egg-shaped vats act as non-reactive vessels, which allow the wine to breathe like traditional oak barrels without adding a flavor of its own to the wine inside. The use of these vats for the maceration, fermentation and aging of wine has recently gained a lot of attention, but it is an age-old practice most commonly found in Chile and Argentina.
In fact, Sebastián Zuccardi, a third-generation winemaker, utilizes 17 concrete amphora and 140 concrete vats at his family's Mendoza, Argentina winery Zuccardi Valle de Uco.
While stainless steel has traditionally been the go-to for neutral vessels, according to an article by financial magazine Barron's, unlike concrete, which is a semi-porous material, stainless steel does not allow the wine to breathe.  
Stephanie Jacobs, winemaker of Cakebread Cellars in Napa Valley, recently unveiled a visitor center featuring 12 concrete eggs. She further cites concrete's even regulation of temperature, as well as the shape of the eggs themselves as added benefits.
The article cites an enhanced texture as another common benefit the neutrality of a concrete vessel offers.