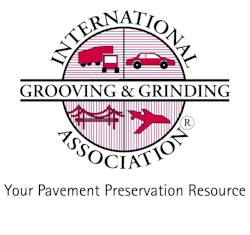 The International Grooving and Grinding Association (IGGA) - a non-profit organization dedicated to serving as the leading promotional and technical resource for acceptance of diamond grinding and grooving as well as pavement preservation and restoration markets - has announced the winners of its annual awards program.
Presented at its annual awards banquet, held in Bonita Springs, Fla. on Nov. 29, the purpose of the program is to honor individuals and companies/organizations for lasting contributions made to the grooving, grinding and concrete pavement preservation/restoration industry.
Brent Burwell, Executive Director of the Oklahoma/Arkansas Chapter of the American Concrete Pavement Association (ACPA), was selected for the 2010 Concrete Pavement Restoration (CPR) Promoter of the Year Award. The award recognizes an individual or company each year for exemplary efforts towards promoting diamond grooving, grinding and CPR.
Since 1989, the ACPA Oklahoma/Arkansas Chapter's main focus has been on developing markets for new pavements and pavement rehabilitation. The state of Oklahoma, especially, has a long history of CPR work. According to Burwell, the Oklahoma/Arkansas Chapter embraced dowel bar retrofit (DBR) technology early on and has had a lot of success.
According to John Roberts, Executive Director of the IGGA, there have been 34 projects let in Oklahoma that have been a combination of CPR, DBR and diamond grinding since 2002. To date, of the 5.5 million retrofits recorded, 867,841 of them have been through the Oklahoma Department of Transportation (ODOT).
The Operator of the Year (Iron Man) Award was presented to Frank Davidsson of Vag & Trafikarbeten SVT AB of Sweden. The purpose of this award is to recognize the men and women who work in the field for their leadership with special emphasis on his/her dedication to quality and getting the job done right.
Davidsson started his working life in a quarry as a mere boy of 14. In 1970, Davidsson was one of two men that started Vag & Trafikarbeten, and their main focus was concrete and asphalt repair. In 1981, he helped develop a grooving machine that is in use today.
"The interest for grooving here in Sweden was at the time very low when we started," recalls Davidsson. "It wasn't until 5 or 6 years later that the grooving took off. Our grooving skills have resulted in a lot of jobs abroad for the company."
"Davidsson has dedicated more than 30 years to this industry. Having combated a very rare illness that almost took his life, Davidsson is a true 'Iron Man,'" said Roberts. "Together with Gosta Furen, he introduced grooving and grinding into Scandinavia in 1971 and has since worked with CPR on airfields, bridges and roads throughout Scandinavia and Europe."
This year, the Minnesota Department of Transportation (Mn/DOT) has been selected as the Government Official of the Year for efforts in implementing the first Next Generation Concrete Surface (NGCS), which was installed on a stretch of Interstate 35 in Minnesota. The Government/Public Official of the Year Award recognizes leadership in transportation activities with special emphasis on grooving, grinding and CPR.
The NGCS is innovative because it is different from a typical grooved surface. It contains diamond saw-cut surfaces that are designed to provide a consistent profile absent of positive or upward texture; it's a uniform land profile design with basically all negative texture. These textures can be used for both new construction and rehabilitation of existing surfaces.