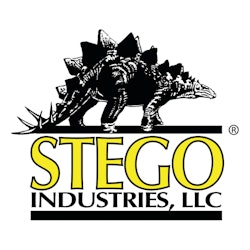 Stego Industries LLC, a leading below-slab vapor barrier company in North America, announced Monday the completion of a strategic partnership with U.S. Concrete, Inc. (NASDAQ: USCR) to market Aridus Rapid Drying Concrete, their new ready-mix concrete solution and the first of its kind in the concrete industry.
Stego will bring to Aridus the strategic speed-to-market capabilities that made its line of Stego Wrap concrete vapor barrier products the industry leader in protecting concrete foundations from the diffusion of moisture vapor, contaminants and soil gases.
"We are delighted to begin this new endeavor with U.S. Concrete," Stego Industries Chief Executive Officer Paul J. Blasdel said. "For more than a decade, we have protected the most sensitive sites in North America by educating the concrete community about keeping their slabs free of moisture. Aridus will be a game-changing complement to this mission by providing a way for builders to get their concrete dry much faster than traditional ready-mix."
Moisture from concrete is often overlooked as a leading cause of concrete floor covering failures. Aridus proprietary concrete mixture helps prevent moisture problems by drying faster than conventional concrete mixtures, allowing flooring materials to be installed on concrete in as few as 30 days. The result is a faster and more effective floor covering installation that helps keep critical projects on schedule and significantly reduces the risk of liabilities for owners, designers and builders. Aridus is suitable for a wide range of project types, including schools, hospitals, retail and offices. In addition, it is an effective solution in both wet and dry climates.
"We are pleased to work collaboratively with Stego," U.S. Concrete Vice President of Sales and Marketing Wally Johnson said. "We are confident that this strategic partnership will provide the level of expertise needed to address the moisture related problems facing the construction design and engineering community today."
Companies in this article