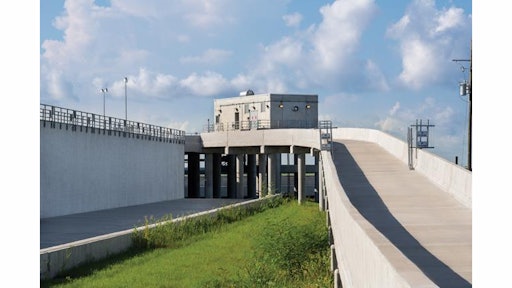 The $700 million Hurricane and Storm Damage Risk Reduction System in New Orleans is one of the largest civil works projects in the history of the Army Corps of Engineers, and the largest surge barrier of its kind in the world. Designed to offer 100-year-level storm protection, it relies in part on Lafarge Agilia concrete to help protect some of the nation's most vulnerable areas from devastating storm surges.

The massive project features 1,271 concrete vertical piles, each weighing 96 tons, and measuring 66 inches across and 144 feet long. They have been driven 130 feet deep and reinforced by 2,600 concrete closure piles and 660 36-inch diameter steel batter piles to form the 7,500-foot-long central portion of the two-mile-long wall. Parapet walls on top of a precast concrete horizontal cap on the floodwall bring the barrier's height to 26 feet.

To build this enormous structure, Lafarge barged in more than 70,000 cubic yards of Agilia self-consolidating concrete. This innovative self-leveling concrete significantly reduces construction time and cost by eliminating the need for vibration due to its fluid and stable properties. The Agilia concrete mix, which hardens to 4,000 psi within 48 hours, was placed in monolithic pours above and below the waterline and in cast-in-place piles.

Hurricane Isaac presented the surge barrier with its first major test in August 2012, when it made landfall in southeast Louisiana as a category 1 storm with sustained winds of 80 mph. The new barriers successfully reduced the risk of damage to communities in Southeast Louisiana against storm surges from Lake Borgne and the Gulf of Mexico.

The American Society of Civil Engineers recently named the Inner Harbor Navigation Canal Surge Barrier the 2014 award winner for outstanding civil engineering infrastructure project, recognizing both its significant contributions to the civil engineering profession and to society as a whole. It is testimony to Lafarge's strong commitment to contribute innovative solutions for building better cities.
Companies in this article