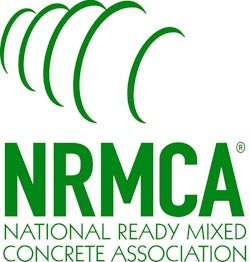 The National Ready Mixed Concrete Association has announced a number of staff changes headed by the naming of Amy Miller as senior vice president of promotion/division head. Previously vice president, national resources, Miller's new title was necessitated by the transition toward retirement of previous division head and senior vice president of promotion Glenn Ochsenreiter. Ochsenreiter will retain the title of senior vice president of national resources. In a related move within the promotion department, Jon Hansen has been named senior vice president, national resources.
Miller will continue to be responsible for NRMCA's promotion efforts in the Southeast Region. She has more than 20 years' experience in the construction industry. She is a graduate of the University of Florida with an undergraduate degree in environmental engineering and an MBA. She joined NRMCA in 2008 as a member of the National Resource Directors team. She has also served as president of the Florida Structural Engineers Association and is a registered professional engineer. She will continue to be based in Florida.
Hansen joined NRMCA in August 2006. Prior to joining NRMCA, he was the director of marketing for the Iowa Ready Mixed Concrete/Iowa Concrete Paving Association partnership. A native of Northwest Iowa, he has spent his entire life in the construction industry as a company owner, business manager and new market developer. Hansen resides in the Des Moines, Iowa, area.
"We are very pleased to have Amy head our promotion efforts with Jon in a leadership position," says NRMCA President Robert Garbini. "We are also pleased that Glenn has chosen to stay on in a leadership role. His efforts over the past number of years have contributed a great deal toward the ready mix industry's improved promotion and marketing strategies. Under Amy and Jon's leadership, we are confident that our industry's momentum will continue."
The elevation of Miller and Hansen comes months after NRMCA bolstered its staff in its technical services and government affairs departments. In March, Gregg Lewis, AIA, LEED AP, joined the Association as senior director, building innovations (read more here) reporting to Senior Vice President, Sustainable Development, Lionel Lemay. In addition, last month Jill Landry was named director of government affairs, reporting to Senior Vice President, Government Affairs Kerri Leininger. Landry is a native of Louisiana and graduated from the University of Louisiana at Lafayette with a Bachelor of Arts degree in Political Science. In 2008, she began working for U.S. Senator David Vitter in his Lafayette district office and then moved on to work for him on the Environment and Public Works Committee in Washington, DC. Before joining NRMCA she worked for the American Automobile Association as its manager of federal affairs on transportation policy.
NRMCA is celebrating its 85th year of representing the producers of ready mixed concrete and the companies that provide materials, equipment and support to the industry. It conducts education, training, promotion, research, engineering, safety, environmental, technological, lobbying and regulatory programs. Learn more at www.nrmca.org.