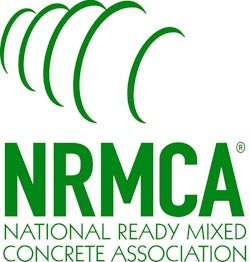 The National Ready Mixed Concrete Association is pleased to announce that industry veteran Brett Ruffing has been tapped to lead communication efforts for Build with Strength, a multi-million dollar coordinated industry campaign aimed at educating the design/build and code communities about the benefits of concrete construction in the low to mid-rise sector and in general. Mr. Ruffing previously served as director of education & technology for the Kentucky Ready Mixed Concrete Association (KRMCA) where he developed extensive contacts and promotional experience with state, local and national officials along with NRMCA staff. Among his duties was marketing, promoting and communicating various KRMCA initiatives throughout the ready mixed concrete, cement and construction industries along with extolling the use of concrete with legislators and the public at large.
Effective August 1, in his new role as senior director, communications and public affairs for building promotion, Ruffing will coordinate the overall communications activities of the Build with Strength staff. Reporting to NRMCA Senior Vice President of Membership & Communications Kathleen Carr-Smith, he will develop and implement strategies to broaden the impact of NRMCA's building promotion programs along with guiding organizational messaging and constituent services. Mr. Ruffing is a graduate of the University of Louisville and is a certified pervious concrete technician and LEED green associate.
"We are very fortunate to have someone of Brett's caliber join the Build with Strength campaign," says NRMCA President Robert Garbini. "He has impressed many of us with his work in Kentucky and we know he will bring the same energy level and promotional talents to his new position."
Build with Strength was launched in April and is the first of its kind effort for the concrete industry. The program is based on a significant research investment made by NRMCA to better understand the motivations behind the use of certain construction materials, including concrete. The research showed that a great majority of the design/build community was favorable to concrete construction because of attributes like strength, durability and ease of use. However, certain misconceptions about cost and environmental impact often led decision makers to choose less safe building materials such as wood and wood products. The campaign includes a Build with Strength-branded Web site, video content, a multi-city media tour, rapid response capabilities, advertising, social media properties and stakeholder engagement opportunities. Additionally, the campaign is designed to drive industry and project decision makers to resources such as Webinars and live seminars for technical support and design assistance while also building an advocacy network that will support concrete's position in building codes, standards and rating systems at the state and local level. The campaign has already been activated in both Washington State and Maryland where state legislatures were considering legislation that would have greatly impacted the construction materials market.