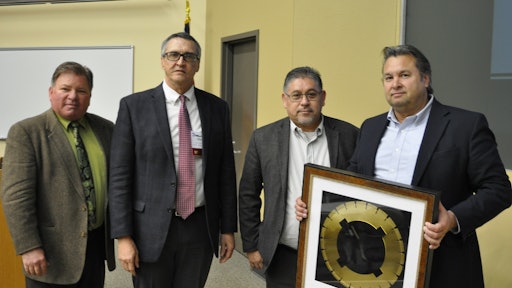 IGGA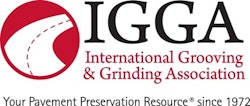 On April 11, 2018, The International Grooving & Grinding Association (IGGA) – a non-profit organization dedicated to serving as the leader in developing optimized pavement surfaces and the technical resource in support of diamond grinding and grooving as well as concrete pavement preservation – in conjunction with the Cement Council of Texas – the non-profit trade association of portland cement manufacturers and shippers in Texas – announced the winner of their Government Official of the Year Award.
The employees of the Texas Department of Transportation – Houston District were selected as this year's winners of the national award. They were recognized for their efforts in advancing the understanding and use of quiet concrete pavement surface textures utilizing the Next Generation Concrete Surface in the state of Texas.
The award ceremony took place at the 2018 TxDOT-CCT Concrete Conference held April 9-11, 2018 at the J.J. Pickle Research Campus at UT-Austin, Texas. The technical program, co-hosted by the Texas Department of Transportation (TxDOT) and the Cement Council of Texas (CCT), is held every two years and shares information on concrete highways, bridges and local streets and pavements.
A technical presentation by TxDOT discussed how the Houston District—the largest DOT district in the state—incorporated the ultra-quiet and smooth Next Generation Concrete Surface (NGCS) into several major highways, including I-10, Harris County's U.S. 290, and the 610 Loop. Houston is placing approximately 3 million square yards of NGCS in total.
"TxDOT had been urged to apply a pervious friction course on top of the new concrete on 290, as well as on the 5-year-old pavement of I-10. However, this overlay would have added expense to the project and also set the roads up to require regular maintenance—as often as every seven years. Texas has extensive experience using continuously reinforced concrete pavement (CRCP) in its populated areas and has found that CRCP, if well-constructed, is an extremely low-maintenance, economical option. This made them eager to stick with concrete pavement solutions," says Jan R. Prusinski, executive director of the Cement Council of Texas.
TxDOT turned their attention to NGCS, an innovative solution which the department knew had performed well in research and trial applications.
"This award is an acknowledgment of the Houston District of the Texas Department of Transportation's ability to recognize the needs of the homeowners in the area and take positive, decisive steps to make their lives better. Their willingness to innovate and adopt new technologies to meet these needs sets this group apart and makes them a model for other pubic agencies to emulate. Congratulations to all receiving this well-deserved award," says John Roberts, executive director of the International Grooving & Grinding Association.
"An eventual goal for TxDOT is to re-examine the use of sound walls along highways," says Prusinski. Sound walls are often ineffective, because it is impractical to position them in the exact locations where they are needed to interrupt sound waves. Landscape features such as biosystems and waterways, along with difficulties in property acquisition, etc., can result in gaps between sound walls and sub-optimal layout. Additionally, the installation and maintenance of sound walls is expensive.
Approximately 270 people attended this year's conference, with approximately 100 representing TxDOT engineering and construction personnel and the remainder being local transportation personnel, consultants, manufacturers and suppliers, and others.