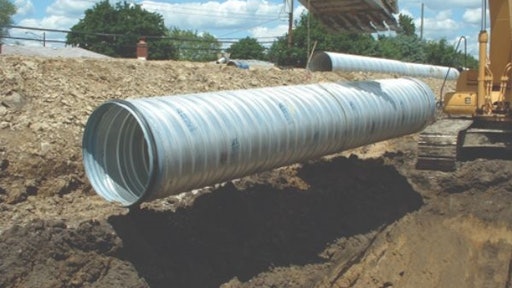 Contech

Contech Engineered Solutions recently earned three National Corrugated Steel Pipe Association (NCSPA) Project of the Year Awards. The industry recognition is awarded annually in eight categories including Corrugated Steel Pipe/Pipe Arch Projects, Structural Plate Projects, Rehabilitation Projects, Retention/Detention Projects, DOT Projects, Special Applications, Going Green, and Coatings.
Contech NCSPA Projects of the Year
Corrugated Steel Pipe/Pipe Arch Project: Shiloh Road from IH635 to Kingsley Road in Garland, Texas. 

14 GA, polymer-coated ULTRA FLO was used to enclose an existing drainage channel next to Shiloh Road to increase the number of lanes from four to six. This solution provided a 45% savings over reinforced concrete pipe.

Structural Plate Projects: Chatfield Storage Reallocation in Littleton, Colorado. 

A critical component of the Chatfield Reservoir Reallocation project required the installation of a bridge to cross Deer Creek. A 40 ft-2 in x 9 ft-1 in BridgeCor Structural Plate, 60 ft-3 in in length was built to meet the low profile and large span design specifications to accommodate three utility lines.

Rehabilitation Project: Montana DOT I-94 in Hysham, Montana. 

The Montana DOT turned to a 10 GA, 10 ft-4 in x 10 ft-3 in MULTI-PLATE structural plate to reline the existing underpass in a time and cost efficient manner. Farm equipment can now travel under the busy interstate through the restored structure without interrupting traffic flow.