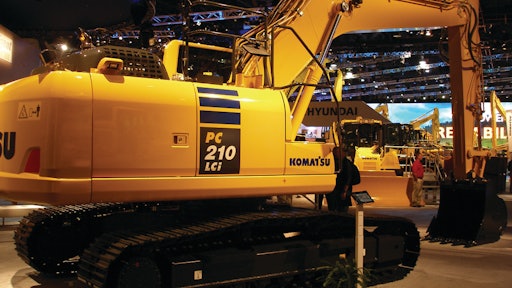 AGC 2014/2015 Construction Outlook: Private Sector Will Have a Good Year
Associated General Contractors of America's (AGC) Chief Economist Ken Simonson saw an upbeat mood from contractors attending CONEXPO-CON/AGG 2014, and the data supports that. A Census Bureau report for construction spending in January registered the biggest gain since 2006.
Results from a recent AGC survey showed the overall majority of respondents saying the overall market would improve this year or next year. Ten out of 11 market segments expect to see more work to bid on as well, especially in the private segments.
While Simonson says the private sector should have a good year, he's unsure of the public side. While the overall mood was positive, Simonson says he's worried about the financing of public projects and the lack of taxpayer support for infrastructure investment.
Finally, Simonson says the lack of agreement on Capitol Hill for infrastructure funding as well as other public construction funding will continue to be an area of concern for public construction this year.
AGC Executive Director of Public Affairs Brain Turmail said that with the economy turning around and demand coming back up, many AGC contractor members are having a hard time finding skilled workers. In order to help solve that issue, Turmail said we need better training opportunities for the young adults. AGC has put out a plan of a series of steps that elected officials could take to help.
"It ought to be easier for construction firms to pull together and establish training programs. It ought to be easier for high school students to enroll free of charge in a community college or technical college programs. It ought to be easier for association chapters to set up charter schools or help work with local schools to set up construction career academies," Turmail said.
Komatsu Plans to Bring Integrated Control to Excavators
The success of Komatsu's integrated grade control on its D61i-23 dozer, which is averaging 13 percent more efficient than a D61-23 with an add-on system, has convinced the company to add integrated grade control onto its excavators.
"The difference is due to the fact that Komatsu integrated grade control works on rough-grading passes as well as fine-grading passes, which the add-on systems are limited to," said Rick Smith, Komatsu America vice president of marketing. "Integrating the system into the machine also allows it to limit track slip, which contributes directly to increased productivity."
Komatsu showcased a prototype PC2210 excavator at CONEXPO with the integrated grade control. There is no exact time frame for introducing Komatsu excavators with integrated grade control, but Smith did suggest it would be more than a year from now.
Caterpillar CEO Guardedly Optimistic About 2014 Economic Recovery
Caterpillar CEO Doug Oberhelman says the economy has a good chance of a modest growth rate in 2014, although it won't be much of a boom. Oberhelman admits the infrastructure in the U.S. needs help, but the problem is figuring out how to pay for it. He is encouraged by President's Obama endorsement of a new surface transportation funding package of over $300 billion.
The Cat CEO also sees the increase in renting small equipment as a natural progression as the economy remains uncertain. "As the market recovers we'll see continued deliveries to the rental fleets. As far as a secular trend of rental substituting for ownership, I think there's probably an end point on that because a certain number of customers are always going to want to own their machines," Oberhelman said.
Caterpillar also introduced its new Tier 4 Final machines at CONEXPO 2014, and all the machines meet or beat the NOx and particulate requirements and are five to 25 percent more fuel efficient than their predecessors, Oberhelman said.
"Hardhats for Highways" Campaign Launched to Educate Congress on Impact of Transport Funding on Jobs
A national coalition of associations and labor unions is launching the "Hardhats for Highways" campaign to help educate Congress about the connection between local jobs and federal highway and transit investment. The campaign is encouraging transportation construction firms and their employees to contact their U.S. representative and senators and let them know how many local jobs depend on federal transportation funding.
Co-chairs Stephen E. Sandherr of the Associated General Contractors of America and Pete Ruane of the American Road & Transportation Builders Association said federal highway investments support more than half of all U.S. road and bridge capital improvements each year, and the loss of that investment in FY 2015 would jeopardize hundreds of thousands of jobs in the construction and related industries.
The campaign plans to send out special "Hardhats for Highways" decals to construction and related employers and local unions, and is asking employers and workers to write onto the decal how many jobs at their firms rely on federal highway funding, affix the decal to the firm's hardhat, and present the hardhat to their local congressman and senators as they encourage them to support new federal transportation investments.
In addition to presenting members of Congress with the special hardhats, employers and employees will be able to send "e-Hardhat" messages to Congress explaining how many jobs at their firms rely on federal transportation funding and encouraging the elected officials to support new federal transportation funding. For more information about the campaign, visit hardhatsforhighways.org.
John Deere Announces Ultimate Uptime Customer Support Solution
Designed to improve customer profitability by maximizing productivity and uptime while lowering operating costs, the John Deere Ultimate Uptime is a fully customizable customer support solution.
The Ultimate Uptime Base Package, included with almost all John Deere machines, includes pre-delivery set-up and follow-up inspections. It also includes three years of John Deere WorkSight's uptime optimization benefits, which include:
JDLink Ultimate telematics, which alerts customers and dealers of hours, location, geofencing, diagnostic trouble codes and maintenance tracking.
Machine health prognostics analyzes data from JDLink, fluid analysis and machine inspections, and then e-mails the dealer and customer with recommended solutions to avoid downtime.
Remote diagnostics and programming enables dealers to read and reset diagnostic trouble codes, record machine performance data and even update software without a technician visit to the jobsite. When service visits are required, technicians can often arrive with the right parts in hand to make the repair.
Dealers can also customize premium packages which may include extended warranties, planned maintenance agreements, fluid sampling, loaner machines, on-site spare parts and other solutions. Additional Ultimate Uptime solutions can be financed with the machine or through revolving credit options.
MIT Research Suggests Stiffer Pavements Could Improve Vehicle Fuel Economy 3%
Research by the Massachusetts Institute of Technology (MIT) Concrete Sustainability Hub (CSHub) shows that pavement-vehicle interaction (PVI) — related primarily to road stiffness and roughness — has a measurable effect on vehicle fuel consumption. That effect is significant over time and thus essential to the analysis of the lifetime environmental impacts of road projects using life cycle assessment (LCA) tools.
The PVI debate stems largely from the variability in previous experimental investigations of fuel consumption on different pavement types. The CSHub's models help illuminate the key drivers of PVI and allow pavement engineers to incorporate them into their design decisions. They have been used to predict that stiffer pavements could reduce fuel consumption up to 3 percent for the U.S. pavement network — a savings that could add up to 273 million barrels of crude oil per year. This would result in an accompanying annual decrease in carbon dioxide emissions of 46.5 million metric tons.
CSHub researchers also evaluate the impact of pavement roughness on fuel consumption. A sample case study showed a significant impact on fuel consumption due to roughness — an increase of 30,000 gallons of fuel per mile over a 14-year test period.
With the Highway Trust Fund forecast to go bankrupt next year, these findings bolster the case for increased infrastructure spending as Congress prepares to debate a new long-term transportation bill.
Chicago Pneumatic Launches Concrete Equipment Product Line
Chicago Pneumatic's new line of concrete equipment covers all facets of concrete finishing applications including vibration, leveling, finishing and cutting.
The new poker line includes the VPM mechanical pokers for mid-sized applications using medium-to-high slump concrete and the VPP pneumatic pokers for jobs with low-to-high slump concrete requiring high-speed vibration.
The screed line includes walk-behind and handheld screeds as well as the CombiForm lightweight, leave-in-place screed rail system.
Chicago Pneumatic will also be offering its STG power trowels as well as a complete range of concrete and asphalt floor saws.
ARTBA Expects Highway-paving Market to Experience About 2% Growth in Coming Year
American Road and Transportation Builders Association (ARTBA) Chief Economist Allison Premo Black says she believes the market will see a reverse in the years-long decline and pullback on spending. The bridge market has seen steady growth in the last five years, reached record growth in 2013 and is expected to continue that growth, Premo Black says.
Other sectors seeing recoveries include ports and waterways, railroads, transit investment and airports – which ARTBA is expecting a significant increase in 2014.  Part of the reason for these positive signs of growth are that many states have initiatives generating additional revenue to help fund these investments.
"We've seen overtime the health of state and local economies is one of the best ways to predict how much they're going to be spending on transportation. We are starting to see a recovery in overall revenues, and that is encouraging," Premo Black says.
Companies in this article