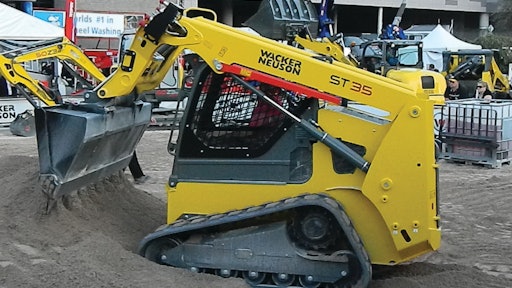 Lisa Cleaver, Editor Asphalt Contractor
One of the more impressive stands at the show was the Wirtgen Group booth, which displayed 41 machines – most of them new i-series products. Wirtgen America occupied 39,600 square feet where it displayed new asphalt pavers of all sizes from Vögele; concrete slipform pavers, cold mills and recyclers from Wirtgen; asphalt and soil compactors from Hamm; and mobile crushers from Kleemann.
One of the more interesting displays was the new Vögele Super 2100-3i with AB 600-3 TP2 screed being fed by a Wirtgen 3800 CR recycler, simulating cold in-place recycling.
New Tier 4 interim- and final-compliant equipment from Wirtgen featuring intelligent technology – designated "i-series" models – dominated the exhibit. Hamm's new H 25i VC – a single-drum vibrating compactor outfitted with specially designed teeth that will break concrete more effectively than special-purpose guillotine, "finger" or ultrasonic concrete breakers – was shown. Wirtgen's W 200 Hi, an innovative cold mill with hydraulic drum drive instead of conventional belt drive, and milling drum assembly which can move laterally, was also on display.
On the third day of CONEXPO-CON/AGG, Case Construction Equipment hosted a "Dire States" roundtable panel to discuss America's crumbling infrastructure and what can be done to remedy the situation. Moderated by Adam Snider, transportation reporter for Politico, the panel featured: Jim Oberstar, former U.S. congressman and Chairman of the House Transportation and Infrastructure Committee; Janet Kavinoky, executive director, transportation & infrastructure for the U.S. Chamber of Commerce; Dan McNichol, author and infrastructure expert who just circumnavigated the country to survey America's infrastructure and raise awareness to the need for investment/development; and Jim Hasler, vice president of Case Construction Equipment.
The message taken from this discussion: We all have a stake in making sure our roads and bridges are well preserved and maintained not only for our generation, but for future generations as well. We need to make sure every American knows and understands why properly funding our infrastructure is crucial to be competitive in our global economy as well to offer a better quality of life. The clock is ticking toward the October 1 expiration of MAP-21 (the current transportation funding bill) and Congress needs to hear the voices of ordinary Americans demanding a well-funded transportation bill.
Ryan Olson, Editor Concrete Contractor
This was my first CONEXPO, and looking back, it was a fantastic show. After speaking with numerous exhibitors during the show, the overall consensus was "a great show, with great leads and abundant sales opportunities." Here are a few things I was particularly interested in as it relates to the concrete industry.
Chicago Pneumatic is getting into the concrete equipment game with the launch of its' comprehensive new concrete equipment line. The range of products covers all facets of concrete finishing applications, including vibration, leveling, finishing and cutting.
I sat in on an educational session regarding the revision to the ASME B30.27 standard for concrete pump operators. Finally, pump operators are going to get their due for jobsite respect and deflection of liability in the event of an accident. The new standard will help identify where responsibility lies with the concrete contractor, the concrete pump owner/operator, the material placement owner/user and the site supervisor while on a jobsite. A full story about the revised standard will be published in the April/May issue of Concrete Contractor magazine.
BASF announced a new breakthrough for freeze-thaw durability eliminating the need for air-entrained concrete. The patent-pending microsphere-based admixture helps concrete contractors overcome the challenges associated with the variability and uncertainty of producing air-entrained concrete. 
The microsphere technology will provide stress relief zones for the expansion of freezing water within concrete, contributing to its long term durability. The company also notes the compressive strength of concrete treated with the microsphere-based admixture can be over 30 percent higher than an air-entrained concrete because of the difference in air content.
BASF's microsphere technology will be available in 2015.
Becky Schultz, Editor Equipment Today
CONEXPO-CON/AGG typically brings a few surprises, and this year's event was no exception. For several key manufacturers, the focus was less on the iron they were introducing and more on available technology; how it enables more data to be captured as a means to improve machine operation, productivity and health; and how that data can be presented to equipment owners in a format that is meaningful to their operations.
Of particular note is a migration from independent reporting of data via separate sources to integration of that data into a single host platform. Take Cat Connect, for example. This technology allows contractors to view data from Caterpillar's proprietary telematics (Product Link), machine grade control (AccuGrade), production management and other systems via a common online secure platform. Users are able to more efficiently monitor machine activity, location, service needs, efficiency, etc., in real time, 24/7. Other manufacturers, such as John Deere, announced their own unique approaches to the capture of data generated by their equipment, with the intent to ultimately deliver more useful information, and value, to their customers.
Also of note at this year's show is the expansion of product ranges for certain manufacturers and, in some cases, the diversification into all-new product lines. Sany America, which is known primarily for heavy iron such as cranes, concrete pumps and full-size excavators, introduced the first two models in a new line of compact excavators, its first foray into the North American compact equipment market. Hyundai, recognized in the U.S. for its wheel loaders and excavators, showcased a prototype of a new roller it plans to introduce later this year, along with an amphibious version of a full-size excavator that will also be coming to market.
Perhaps the biggest equipment-related news at the show was the long-awaited introduction of Wacker Neuson's new line of skid-steer and compact track loaders. The company is initially rolling out two models each, but has plans to expand the line-up in the future. Packed with unique features, it will be interesting to see how these new machines are received in the already crowded field of suppliers.
Jessica Stoikes, Assistant Editor Asphalt Contractor
A few things we continued to see on the show floor were ways to lay asphalt more efficiently. Volvo rolled out a paver that they guarantee will lay one million tons. That's a lofty promise to make, but they stand behind it. Through the new North American after-purchase paver program, customers of registered Volvo 7000 Series asphalt pavers will receive manufacturer support for the replacement of certain wear parts, including auger rebuild and conveyor rebuild parts, to ensure the paver maintains top working condition over an approximate term of one million tons of asphalt laid.
Recently, BOMAG introduced TanGO (Tangential Oscillation) to its tandem rollers. At CONEXPO, they really wanted to show attendees what this technology could do for them. TanGO takes away the guess work during compaction since the roller maintains constant contact with the ground. Efficient compaction results can be seen after just a few passes due to careful coordination of the exciter system to the drum weight ratios.
Roadtec introduced the SP-100e Stealth Paver at the show. This brand new design has a gravity fed hopper that is designed to be used with a material transfer vehicle to help eliminate thermal segregation when paving. The 100e paver saves the wear components of a conveyor and also the fuel burn and horsepower of using one. While at the show, Roadtec donated a portion of the proceeds from sales of the SP-100e to the Fisher House Foundation that provides housing for military families close to a loved one during hospitalization for an illness, disease or injury.
Astec also unveiled the RAP King which gives mix producers the option of producing 100 percent RAP at their plant operations. With the addition of this plant, operators can now produce mixes with 0 percent to 100 percent RAP in their operations with Astec.
Jenny Lescohier, Editor Rental
As an editor who attends trade shows regularly, I've always enjoyed CONEXPO. It's the biggest event in the construction industry, and it never disappoints in terms of its spectacle. Like shows in the past, CONEXPO 2014 was full of cutting edge products and innovations, including two trends which I found very interesting: the introduction of 180-foot self-propelled boom lifts and generators powered by alternative fuels.
Genie has its SX-180, with a vertical height of 180 feet, and JLG introduced its 1850SJ with 185 feet of height, both a full 30 feet higher than the next tallest models on the market. The SX-180 and 1850SJ are being marketed to users who work in the oil and gas industry, commercial and industrial construction and maintenance. One of the biggest benefits these lifts offer is that while they can take the operator to unprecedented heights, they're easy to transport, requiring no special permits.
We're also seeing the increased use of alternative fuels in generators. Kohler recently introduced a new line of propane-powered mobile units, including a model with an on-board LP tank. Users working in areas without an LP gas supply can opt for the on-board tank and then switch to an on-site supply when working in areas with an LP gas connection. The on-board LP tank is built for a 24-hour run time while connection to an external LP or natural gas supply offers extended usage. In addition to being cheaper than diesel, LP gas burns cleaner so mobile generators produce fewer toxins and less smog-producing carbon monoxide and will flash to vapor at atmospheric pressure, which reduces the risk of accidents from fuel spills. 
For its part, Magnum Power Products introduced a line of gaseous-fueled mobile generators in Las Vegas. Ranging from 100 kW through 396 kW, the new line can run directly on well gas in addition to natural gas and propane. Well gas is traditionally flared off in oil and gas applications. By running directly on this well gas, the Magnum gaseous-fueled generators can save users hundreds of dollars in fuel per day. To account for fluctuations in well gas, the generators provide paralleling capabilities and automatic change over so that power output is maintained. The generators allow a site to maintain power without customer interaction and are supported by an extensive service network unlike many in the industry.
Larry Stewart, Editor ForConstructionPros.com
Anybody taking the temperature of the construction economy should be encouraged by CONEXPO-CON/AGG 2014. 
Attendance numbers at construction's big triennial trade show, held in Las Vegas March 4 through 8, reflect the industry's energy. Show organizers, the Association of Equipment Manufacturers (AEM), had set a goal of 125,000 visitors; they achieved it by the show's half-way point.
Association and manufacturer economists offering construction-economy outlooks for 2014 ran from Caterpillar's "cautiously optimistic" to Associated General Contractors' "very upbeat." The U.S. Census Bureau's numbers for total January construction spending, released the day before the show opened, outpaced 2013 by 9 percent. And the strengthening housing market has Terex CEO Ron DeFeo anticipating pull-through demand for nonresidential construction.
Most product news from the biggest names in construction equipment manufacturing hung close to development required by emissions compliance. There were lots of machines on the show floor with engine upgrades in the 175- to 750-hp band that were required to comply with U.S. EPA's Tier 4 Final exhaust regulations in January. For example:
Caterpillar exhibited its 336F H — the Tier-4-Final second generation of its hybrid excavator
Hitachi boosted the payload of its smallest haul truck, the EH1100-5, to 70 tons
Volvo introduced the Tier-4-Final version of its two-pass loader for highway trucks, the L250H that premiered at CONEXPO in 2011
One unifying theme to many equipment makers' CONEXPO 2014 pitches was telematic technology. We've been convinced that these monitoring systems that wirelessly report machine location, hours, fuel level, performance parameters and fault codes to equipment owners can dramatically cut ownership and operating costs for at least 10 years. For five years several major manufacturers, starting with Komatsu, have been installing the hardware as standard equipment and offering the data service at no additional fee.
As announced at CONEXPO, equipment buyers finally got together to address the reason telematic systems have not yet revolutionized equipment costs. The biggest barrier to adoption and effective use of telematic data in fleet management has been the fact that each brand of telematic system operated in a silo. An equipment professional had to visit the different websites or applications for each manufacturer represented in his fleet and could not roll up the data to easily manage a mixed spread of loaders, excavators, pavers or work platforms.
A coalition of big fleet owners lead by Oldcastle's Ron Piccolo and including AMECO and the major rental companies such as United Rentals and Sunbelt, got together with the Association of Equipment Management Professionals to seek a solution. The parties engaged with AEM to expand a data-reporting standard that would greatly simplify aggregating data from disparate telematics systems into fleet owners' management systems.
The new AEM/AEMP telematics standard announced at CONEXPO 2014 creates a standard communication protocol for 19 common data points and 47 fault codes that most machines today can generate. Data from telematics suppliers who employ the standard will be easy to compile in a single fleet-management program or integrated into enterprise management systems.
It's a real paradigm shift initiated by equipment buyers at CONEXPO 2014.