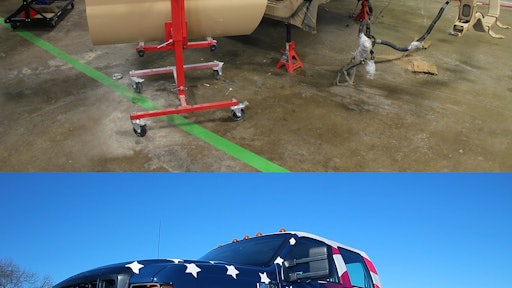 A remanufactured Ford F-350 pickup truck with custom full-vehicle graphics will be given away to one lucky attendee at the CONEXPO-CON/AGG 2017 trade show to help launch the truck remanufacturing service from IronDirect. The American-flag-bedecked truck will be on display at Gold Hall Booth G70113 at the Las Vegas Convention Center March 7 to 11. Show attendees can enter to win the F-350 at the IronDirect booth.
The new IronDirect Reman Trucks service allows construction contractors, equipment dealers, and other fleet operators to purchase like-new remanufactured vehicles for about half the cost of similarly equipped new trucks. IronDirect has partnered with Vehicle Reman of Tyler, Texas to bring reman services to contractor, corporate, and government fleets.
The Ford F-350 pickup being given away at CONEXPO-CON/AGG was remanufactured just for the show to spotlight the effectiveness of remanufacturing. It underwent a dozen-step remanufacturing process. In the initial steps, all fuel and fluids were extracted from the vehicle before teardown began. The cab and bed were separated from the frame. The engine, transmission, and drivetrain were removed and later replaced with reman systems. The frame was inspected. The body was patched and sanded before painting. Interior upholstery was replaced. New glass was installed where needed. New tires were balanced and installed.
"Truck remanufacturing is about to become a new, important option for fleet owners to reduce capital spending, improve uptime, and lower total ownership cost," said Tim Frank, IronDirect President. "It gives fleets new life at substantially lower cost than purchasing new trucks."
Remanufacturing is a process that has been successfully used by the U.S. military for transport trucks, aircraft, and other assets for decades. While vehicle components and systems such as engines and transmissions have been remanufactured for years, no one had yet established a standardized assembly-line system to remanufacture trucks and other vehicles to like-new condition. IronDirect Reman Trucks have a three-year 75,000-mile drivetrain warranty that attests to the quality built into remanufacturing.
The IronDirect Reman Trucks system focuses on class 1 to 5 trucks (19,500 lbs. and lighter). These include pickups like the Ford F-Series and Chevy Silverado, vans like the GMC Savana and Ford Econoline, sport utility vehicles, delivery trucks, and other commercial vehicles. A typical remanufacturing candidate will have more than 100,000 miles and be six to seven years old, although vehicles up to 20 years in service can also be reman candidates. The goal is to save 50% off the cost of a comparably equipped new vehicle. The final savings will depend on customer choices for the level of fit and finish on the exterior and interior. 
The launch of the truck remanufacturing system comes at a time when the industry is coalescing around "reman" as a trusted type of product. Six leading global automotive associations in late 2016 adopted a definition of remanufacturing as a "standardized industrial process by which previously sold, worn or nonfunctional products or parts are returned to same-as-new or better condition and performance." In February 2017, the American National Standards Institute (ANSI) adopted "specifications for the process of remanufacturing," setting standardized benchmarks. In late 2016, the Motor & Equipment Remanufacturers Association launched a "Manufactured Again" certification program.
"Up until now, remanufacturing of vehicles has kind of been like the Old West, untamed but full of potential," said Greig Latham, managing director of Vehicle Reman LLC. "With our process, we have a predictable method for fleets to harness the fullest value of their trucks and cars. It's a carefully designed system that allows us to remanufacture a pickup in as little as 48 hours."