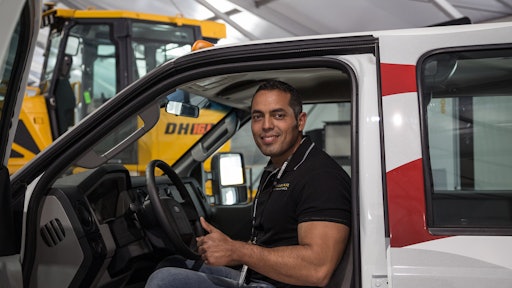 Jose Humberto Avila was an early visitor to the IronDirect booth at CONEXPO-CON/AGG 2017, checking out the remanufactured Ford Super Duty F-350 being given away by IronDirect Reman Trucks. Days ahead of the drawing, he predicted he would win it.
"We came here and said, 'We're going to win this truck,' " Avila said, referring to his business partner, Juan Carlos Gomez. "We had the feeling this would be our truck."
Yet when Avila's name was called as the winner of the F-350 with custom graphics, he was in disbelief. "I've never won anything. This is my first time," said Avila, co-owner of Grupo Industrial Tebvlar of Guadalajara, Mexico. His company repairs and remanufactures hydraulic components used in construction equipment.
When Avila's name was called, Gomez scrambled about trying to make sure his colleague heard the announcement. He reached Avila on his cell phone just as he arrived at the IronDirect booth. "Hey, we won the truck!" Gomez shouted into the phone.
Avila said he was impressed with the quality of the remanufactured F-350 from the first time he toured the IronDirect booth. "It looks really good," he said. "It's impressive what you are doing. If they didn't tell me it was a 2009 model year, I would have thought it was a 2016."
IronDirect chose CONEXPO-CON/AGG to launch its Reman Trucks service to offer fleet owners a way to obtain like-new Class 1-5 trucks at about half the cost of new vehicles. IronDirect Reman Trucks is a partnership between IronDirect and Vehicle Reman LLC of Tyler, TX, to bring reman services to contractor, corporate, and government fleets.
Remanufacturing is a process that has been successfully used by the U.S. military for transport trucks, aircraft, and other assets for decades. While vehicle components and systems such as engines and transmissions have been remanufactured for years, no one had yet established a standardized assembly-line system to remanufacture trucks and other vehicles to like-new condition. IronDirect Reman Trucks have a three-year 75,000-mile drivetrain warranty that attests to the quality built into remanufacturing.