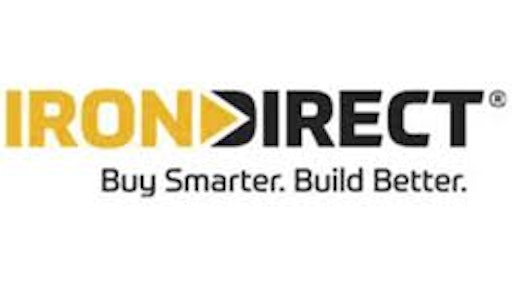 IronDirect has established a Rental Co-Op program that gives rental centers an online portal to purchase new equipment and to auction or otherwise liquidate fleet assets for a mere 1-percent fee. The announcement was made at ConExpo-Con/Agg 2017 in Las Vegas.
"Our Rental Co-Op provides fleet resale services for an extremely low 1-percent fee and makes it convenient and easy for rental centers to acquire new equipment," said IronDirect President Tim Frank. "This allows our customers to retain maximum value from their equipment fleets and reinvest those dollars in new equipment." 
Enrollees in the Rental Co-Op can list retiring fleet assets of any brand or kind for sale with IronDirect Resale Services, which will prepare each item for auction and aggressively market it in industry publications. All resale listings will include use of PreviewLive, IronDirect's product virtual tour app. When the item sells, owners pay a small 1-percent fee, well below what typical auction services charge. Customers have six-month access to this service from day one. To keep the service active, customers commit to a minimum purchase level of new equipment every six months.
The secure Rental Co-Op portal gives rental companies one-stop access to purchase leading brands of access products, telehandlers, excavators, backhoes, remanufactured trucks, compact track loaders, wheel loaders, air compressors, generators, skid steers and more. They also receive discounted pricing for IronDirect's remanufacturing services, including reman Class 1 to 5 trucks, earthmoving machines, generator sets, compressors, aerial lifts and telehandlers.
Rental companies interested in the co-op program should contact Tom Hlawek at (281) 639-0055 or via email, Thomas.Hlawek@IronDirect.com.