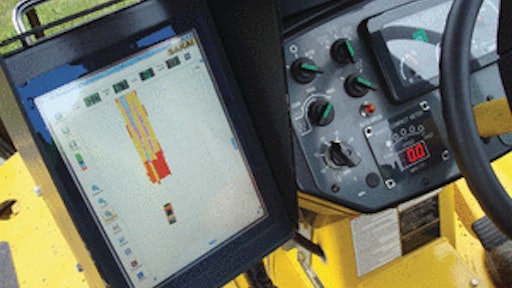 Asset Management Solution
LoJack offers a GPS-based asset management solution specially designed for heavy equipment fleet managers.
Features include real-time asset location via GPS data, geofencing alerts and theft protection when combined with stolen vehicle recovery system
Reports daily engine hours for equipment maintenance planning and accurate customer billing
User-defined reports allow tracking of equipment utilization and maintenance scheduling
LoJack Corporation
ATK
The ATK automated ticketing kiosk system automates everything from the point-of-sale to the invoice to account management.
NEMA 4 steel construction
Automates truck identification, load assignment and weighing as well as ticketing
Integrates seamlessly with any sized facility's central office and accounting system
Rice Lake Weighing Systems
BatchTronic
With the number of screens ranging from one to four and a "zero console" option, the BatchTronic fits all types of plants and budgets.
Capacity to control all plant operations or just the tower
Industrial grade computer with security and redundancy features ensures reliable operation in all situations
Runs on Microsoft Windows® via a communication driver, RTX from IntervalZero, and uses one or more unique I/O boards, depending on the plant complexity, over a real-time TCP/IP protocol
Exact 3D representation of the actual plant reduces the learning curve needed to use the system
Ticketing meets all needs for customer files, truck files, job files, tare weight storage, various different modes of weighing, provision for hauling zones, cash sales, integration with office, dynamic report designer and more
Minds, Inc.
Bobcat Laser-guided Grading Receivers
These laser-guided grading receivers allow grade elevation adjustment from the cab using Bobcat Selectable Joystick Controls and an easy-to-read cab display.
Available for use on box blade or grader attachments
Three speed ranges to raise or lower the blade for smoother corrections
Proportional valve provides smoother, more accurate adjustments of the moldboard
Longer photo cell to allow the attachment to travel farther up or down
Three laser transmitters control attachments in flat-plane, single-slope or dual-slope grading
Bobcat Co. - Doosan Infracore
BurnerLogix
Heatec's BurnerLogix can instantly pinpoint virtually any problem that causes an asphalt plant to shutdown.
Includes three Fireye units
Display module is now mounted on the face of the heater control panel
Burner management controls provide important messages about the operating status of the heater
Heatec/Div. Of Astec Industries
CCS900 Compaction Control System
The CCS900 Compaction Control System is now available with the CM310 compaction sensor, which enables the display of real-time material density to the earthworks compactor operator.
Compact sub-surface material to a target density and number of passes
Analyze sub-surface grade post-compaction for deficiencies in the surface
Catch grade control mistakes in real time
Can be installed on any single-drum soil compactor with open or enclosed cab without risk of component failure or damage
Trimble Navigation Limited
Compaction Information System
The Compaction Information System is designed to improve compaction quality and consistency for both asphalt and soil projects.
Links to a GPS system and provides real-time compaction information to the operator
Enables development of a consistent roller pattern, which is displayed in the operator's station on an easy-to-view, color-coded monitor
Allows site plans to be uploaded directly into the onboard computer via a laptop, external hard drive or thumb drive
Simple touch-screen control panel for quick, easy access
Sakai America, Inc.
Expanded AccuGrade System
The CD700 v. 11 onboard software and AccuGrade Office v. 7.2 office software now provide support for wheel loaders, wheel dozers and towed scrapers, as well as soil compactors and wheel tractor-scrapers.
Configurations also offered for track-type tractors, motor graders and hydraulic excavators
Sky Plot allows operator to view GPS and GLONASS satellites available when using MS980 or MS990 receivers
Wireless users can remotely retrieve radio settings, machine measurements, valve calibration tables and machine settings
CD700 display supports site and laser reference on hydraulic excavators, provides simultaneous profile and cross-section views and enables excavator bucket center guidance
Dynamic pitch on motor graders maintains accuracy when rolling the blade during grading
Entry level, indicate-only system available for the D8T, D9T and D10T track-type tractors for earthmoving and early site preparation tasks
CATERPILLAR
GS-506 Motorgrader System
The GS-506 motor grader and dozer grade control system features a user-friendly graphic interface with intelligent software architecture that guides the user through all system functions and allows for easy adjustment.
Five sensors control the blade
Rotation, long-slope and cross-slope measurements combined with the SonicSki+ and/or LS-3000 laser receiver
Modular design enables upgrade from a basic 2-D grade and slope system to a total 3-D control system using a robotic total station or GPS receiver


The GS-506 motor grader and dozer grade control system features a modular design that allows it to be upgraded from a basic 2-D grade and slope system to a total 3-D control system using a robotic total station or GPS receiver. Five sensors are used to control the blade. Rotation, long-slope and cross-slope measurements are all combined with the SonicSki+ and/or the LS-3000 laser receiver. A user-friendly graphic interface with intelligent software architecture guides the user through all system functions and allows for easy adjustment.
MOBA Corporation
HCQ Asphalt Navigator
The net work function on the HCQ Asphalt Navigator analysis and documentation system enables continuous data exchange via WLAN between several rollers compacting the same layer.
Enables monitoring the current state of compaction at any time across the entire site
Determines the number of passes, asphalt temperature and machine-related factors and takes into account asphalt parameters such as type and rigidity
Values linked to position data from a DGPS receiver on the roller to produce color-scaled temperature, pass and compaction maps
Hamm Compactors Inc.
HeistProof Plus
HeistProof Plus combines the proactive anti-theft capabilities of Heistproof with KIM's fleet management functions.
Provides comprehensive management for vehicles, construction equipment or other powered equipment
Allows only authorized workers to operate vehicles and equipment
GPS Intelligence Center incorporates a simple, easy to use interface
Can be customized to provide virtually any data fields and alerts, with all statistic reports stored on secure servers for up to two years
Easily implemented into fleets of any size
BulletProof Electronics LLC
Management Dashboard
The Management Dashboard provides an easy-to-use viewer into key, real-time, operating metrics of the company.
Allows operators to quickly find out what is happening in the company right now and how the situation relates to past experience
Leverages the wealth of data available in both real-time and historical transactions in the Libra Enterprise Information Server
Easy to grasp, graphical views of key operating metrics
All data is based on actual transactions
Each view can show company-wide or individual production site data
System is highly configurable -- each can tailor their own set of views to meet their individual needs
Libra Systems Corp.
Millimeter GPS for Asphalt Pavers
The Millimeter GPS precise positioning technology is available for use on asphalt pavers.
Enables one GPS system to be used for finish grading, trimming, profiling and paving airport, highway and parking lot projects
Lazer Zone technology generates a vertical accuracy to within a few millimeters
PZL 1 zone-beam laser transmitter sweeps a 2,000-ft.-diameter area with a 33-ft.-high wall of laser light
PZS MC compact sensor mounts on a mast attached to the paver toe arm to provide vertical data
Topcon Positioning Systems
SMART Start System
The DD118HF and DD138HF eight-amplitude, high-frequency compactors feature Volvo's SMART start system to help achieve consistent mat quality and density.
Vibration frequencies of 3,400 and 3,200 vpm with up to 42,600 pounds of centrifugal force
Impact meter enables precise control of rolling speed for the desired drum impact spacing using an easy-to-read, color-coded gauge
Volvo Construction Equipment
Spectrum Equipment Service System
The Spectrum Equipment Service System electronically collects asset management data for heavy equipment, including equipment hours, fuel usage and maintenance.
Triggers maintenance activities by providing alerts, and captures the equipment meter reading when each task is performed
Uses a built-in cellular modem to relay data to the Spectrum Construction Software
Includes the onboard Equipment Monitor, Field Master fuel or service truck-mounted touch-screen display and Fuel Controller
Dexter + Chaney
TrakitALL Asset Locating & Logistics Module
Designed for the ready-mix, asphalt and aggregate industry, the TrakitALL Asset Locating and Logistics module is designed to help users track, secure and better manage their production and hauling hardware assets.
Enables quick location of available equipment in close proximity to a given address, hotspot, other vehicle or driver or other equipment
Includes a remote wireless satellite transmitter with integrated GPS chipset, motion sensor and sensor inputs
Can be used as a standalone tool or integrated with the TrakitGPS fleet tracking system
TrakitGPS
VUEWorks 2009
VUEWorks 2009 is a web-based solution that enables municipalities, utilities and other organizations to track the condition, minimize failure risk, prioritize expenditures and service delivery of their physical assets.
Scalable suite of software modules for managing work processes, capturing citizen concerns and executing preventive maintenance
Incorporates condition assessment, risk analysis, valuation, budget forecasting and project cost estimating
Facilities Module provides flexible tracking of facilities, vehicle fleets, and campuses
Enables roadway condition assessment and prioritization
Now supports ESRI's ARCServer 9.3.1
VUEWorks Inc.
WEM4000 BIS
The WEM4000 Business Intelligence Server (BIS) collects and displays specific production information from all plant locations at one single point.
Production data, customer and job totals, truck haul times, material usage and inventory, current silo inventory plus an abundance of other operational data provide details of an entire operation at your fingertips
.NET technology allows for easy access from anywhere including the paving site, office, or on the road through your data phone
Single point access is provided for up to the minute operational data to maximize operations, maintain accurate inventory, minimize waste and improve your bottom line
WEM AUTOMATION