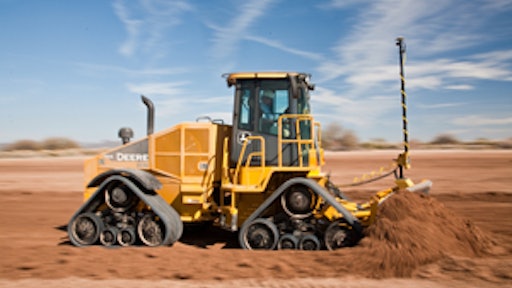 The more than 170 construction company executives, purchasing managers and machine operators invited to attend a John Deere product demonstration event in Sacaton, AZ in March 2009 are the driving forces behind some of the most successful organizations in the industry. One characteristic that this group shared is an aversion to resting on their laurels regardless of that past success. Always looking for any possible innovation that can increase operating profit margins, they came out to the Desert Southwest and witnessed something that everyone can appreciate: pure speed.
Among the machines that Deere introduced over two days was its new 764 High-Speed Dozer (HSD), which is designed to allow contractors to perform grading and moderate dozing at about double the speed of a similarly sized crawler dozer. Then the attendees saw the speed of a dozer double again when they saw the 3D-MC2 from Topcon Positioning Systems in operation on the 764 HSD.
Machine control automates grading
The 3D-MC2 system is an evolution of Global Navigation Satellite System (GNSS) machine-control technology, which is automating grading and excavation. Increasingly, GNSS machine-control systems are being installed on earthmoving, grading and paving equipment such as excavators, scrapers, dozers and motor graders, plus milling machines and asphalt and concrete pavers.
A GNSS machine-control system uses a rugged antenna mounted to a shock-absorbing, vibration-damping pole and a receiver box mounted in a secure location on the machine. Satellites send positioning data to another antenna/receiver combination at a stationary base station. Positioning data is also sent to the machine. The stationary base and machine work together to provide real-time kinetic (RTK) position information, revealing the machine's three-dimensional location on the site. Software compares the machine's position to the design grade at a given location. The design grade information was built from site plans.
The design grade data files are loaded into a machine-mounted control box via a USB flash drive. The control box updates positioning data and sends signals to the hydraulic valves. The blade is automatically positioned for elevation and slope. Other sensors inform the control box of certain machine conditions; for example, dozers are equipped with a slope (tilt) sensor on the blade to measure the cross-slope of the cutting edge. "Indicate systems" like Topcon's 3-D systems provide visual guidance for machine operators, who manually control the machine to cut or fill to the desired grade.
GNSS has become even more reliable and accurate in recent years by adding compatibility with the Russian GLONASS satellite constellation as well as the U.S. Global Positioning System constellation. This dual-constellation capability roughly doubles the number of signals available to the GNSS antenna/receivers and provides a high degree of positioning accuracy.
Testing indicates that the 3D-MC2 system can allow grading with twice the productivity and four times the productivity of grading without the use of machine control. Its components include a new MC-R3 GNSS controller unveiled at ConExpo 2008 that works in conjunction with an MC2 sensor that replaces a slope sensor; a four-color, touchscreen, Bluetooth-capable GX-60 control box; and a conventional GNSS antenna mounted on the dozer blade. The MC2 sensor combines a gyro, compass and inertial sensor to measure the X, Y and Z position as well as the roll, pitch, yaw and acceleration of the dozer. The technology gives the system the capability to provide blade position readings up to 100 times per second.
According to Topcon, the new system has the potential to fundamentally change the way contractors utilize equipment, schedule projects and even bid projects. Double the productivity can mean that a single dozer can replace two that would otherwise be needed on some projects. Theoretically, half the equipment used can equate to half the fuel consumed-not a minor issue given the high fuel costs of 2008 and the economic downturn that began in 2007 and necessitates more scrutiny of profit margins than ever. Finally, twice the productivity can even allow a contractor to take on twice as much work without incurring major additional capital costs.
New dozer built for speed
Deere considers the new 764 HSD dozer (watch a video overview of 764 HSD) the first new machine form that the construction industry has seen in decades. According to Deere, what differentiates the new machine is construction speed.
The idea behind the new dozer is combining the speed of a grader with the flotation of a crawler dozer. The result of this combination is the potential for the contractor to handle some tasks that used to require both a dozer and grader with just a dozer. An example is excavating dirt to a subgrade and then bringing base material back in and spreading it to grade. Typically, the dirt would be graded with a dozer, the stone would be brought in by truck and spread by a dozer, and then a motor grader would be used to bring the stone to grade. According to Deere, contractors report that the 764 HSD can perform all of these tasks due to a combination of its pushing power and ability to hold a finish grade similarly to a motor grader.
Another speed-enhancing design feature is the use of rubber tracks, which gives the 34,000-pound machine the ability to travel up to 18 mph across a job site without damaging pavement. Rubber tracks have much lower rolling resistance than a conventional steel track system, allowing the higher travel speed. This feature also keeps the dozer doing productive work and reduces trailer hauling and the need to lay out mats to cross pavement. The tracks are 24 inches wide and provide 4,989 square inches of track-on-the-ground flotation.
An articulation joint is incorporated for maneuverability when grading around pavement or navigating side slopes. The shorter tracks cover less ground than longer tracks while turning, a design feature used to extend track life. Another advantage to rubber tracks is that they do not have segments-as with steel tracks-that would make the blade bounce. A combination of friction and positive contact, as well as track- tensioning systems, is used to ensure longevity for the rubber tracks. All four tracks are fully, independently suspended and can walk smoothly over uneven or bumpy surfaces.
The 764 HSD also features a Tier 3 John Deere PowerTech Plus 6.8-L engine rated at 200 hp, articulated steering and a hydrostatic drive train. The engine provides 200 net hp at 1,800 rpm and 210 net hp at 1,900 rpm. The entire powertrain system is designed to work together to distribute power to the tracks for maximum push while avoiding spin. When the machine articulates, the inside and outside track speeds automatically adjust for turning control. The hydrostatic transmission also adjusts to deliver the maximum power and speed to the tracks under varying load conditions.
The new dozer also features finish speed control: infinite control from zero to 18 mph is possible and four speed ranges are available. Finish grading can be achieved at speeds around twice those of a comparably sized dozer.
The machine is equipped with an 11-foot, six-way dozer blade. It arrives from the factory pre-wired with "plug-and-play" Integrated Grade Control so that the contractor can integrate a laser/GPS system with the machine. A rear hitch and two hydraulic circuits allow the dozer to pull implements like scrapers, discs, box blades and compactors.
The fore-mounted operator's station is located close to the blade and moves with the blade as the unit turns, giving the operator a continual panoramic view of the blade at all times. The seat-mounted controls consist of a single right-hand lever that handles blade functions, while the left control lever performs steering and FNR/speed change duties. The rear hydraulic controls are mounted to the right of blade control lever. Deere's Quad Cool system helps keep the cooling elements clean and is less susceptible to plugging. The standard reversing fan automatically ejects material at regular intervals to further minimize cleanout time.
Event generated serious interest
The guests had the opportunity to attend a business meeting highlighting current industry challenges, product demonstrations, hands-on equipment operation sessions, educational sessions and an exhibitor trade fair. During the equipment operation sessions, guests had the chance to operate all machines, including the 3D-MC2-equipped 764, which they used to spread fill material to grade at speeds approaching 12 mph.
One guest company that spent a great deal of time learning about both the 764 HSD and 3D-MC2 was RJS Construction Group, Superior, WI, a general contractor with both building and heavy highway divisions serving northern Wisconsin and northern Minnesota. RJS uses dirt-moving equipment to provide services such as grading, sewer and water, site development, underground utility work, landfills and sewer treatment ponds. CEO Todd Johnson and Vice President Dave Lemke headed out to Arizona having heard about the benefits of machine control as well as Deere's new dozer.
Lemke explains that one ongoing project would particularly benefit from greater speed: a 5.7-mile rail spur near Grand Rapids, MN that requires 2.7 million cubic yards of excavation, 40-foot cuts and 40-foot back slope fills. After the group demonstration of the equipment, he and Johnson operated the 764 for themselves. "With very limited instruction, were able to put the machine in gear and actually move some dirt and we're not operators," says Lemke. "We spent a lot of time on that machine and spent some time talking to Topcon about the 3D-MC2." Lemke came away particularly impressed with the hydrostatic transmission. "Using the joystick was very easy, having the machine on full rpm and letting the computer and engine do its thing," he says, adding that the machine handled like a passenger car when traveling under full load.
Johnson and Lemke also got additional time on the 764 HSD the next day, which was set aside for recreational activities or return travel, and spoke about it at length with Scott Bayless, high-speed dozer product consultant for Deere. "We had probably two hours of one-on-one time with Scott going over that high-speed dozer in great detail," says Lemke.
According to Lemke, the 764 HSD and 3D-MC2 should have a fundamental, beneficial impact on company operations when they start working with both the machine and the system by summer 2009. "We can probably do more work with the equipment we have," he notes. "Our radius of work for heavy highway is 150-200 miles in northern Minnesota and northern Wisconsin and if we have a piece of equipment that can handle a couple of different tasks, it would save the mobilization costs for a five-hour drive. We're a diverse company with a short season and we don't really have the market where we have repeat-type projects, so we need to be versatile and adapt to markets. This dozer is versatile and will adapt to any type of job, whether it's a city street or a rural road or a landfill."
An example of a project on which the new dozer and machine control system would eliminate the need for a machine was a road-grading project in Ashland, WI that RJS completed in 2008. "With some of the intersections on the side streets, our motor grader was too large to get in and effectively do the intersections. So a dozer with the Topcon system would give us a turn-on-a-dime-type piece of equipment for those tight spots."
Don Talend of Write Results, West Dundee, IL, is a publicity and communications project manager specializing in construction, innovation and technology.
Companies in this article