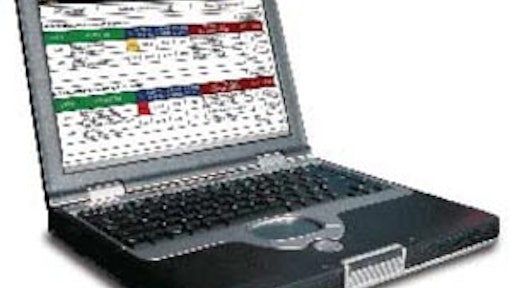 Equipment monitoring solutions can help you find peace of mind and additional revenue -- even if you don't have a huge inventory
Kip Lemon didn't think twice about letting a well-dressed man with a nice-looking vehicle rent his skid steer. "Everything looked on the up and up," he says. But two hours after renting the machine, the well-dressed man sold it to undercover detectives for $7,500. When Lemon went to get back his skid steer, a member of the regional auto theft task force asked him what measures he was taking to keep his construction equipment from being stolen.
" I basically said 'good faith,'" says Lemon, owner of Time Rental of Azle in Azle, TX, remembering the 2004 incident.
A business owner since 1983, Lemon knows that unfortunately good faith doesn't always work. He has witnessed theft becoming an increasing problem, especially during the summer.
" People don't return things because they can't pay for them and/or they had no intentions of returning the equipment to begin with," he says.
When a customer can't be trusted to pay for a rental, Lemon takes it personally. "This is my living," he says. His wife and two other employees also depend on the rental of his 10 pieces of trackable equipment.
For the smaller rental businesses, one of the reasons they might start looking at monitoring systems, or management systems as they are sometimes called, is to get help addressing the problem of equipment theft. Equipment monitoring systems have two basic functions: monitoring the location of the equipment and monitoring the hours the equipment is used. With these two functions, the systems can deliver benefits that lead to increased revenue. People might think these systems are just for those with large fleets, but they can be very effective for small business owners also.
While attending a rental conference, Lemon learned about the vShepherd from Longview Advantage Inc., headquartered in Alberta, Canada. He's now been using vShepherd tracking devices for almost two years. The asset management system is used primarily for equipment tracking and combines GPS (global positioning system) technology, wireless communications, the Internet and a 24/7 Alarm and Recovery Center.
Putting new technology to use, however, does not typically obliterate crime.
After installing vShepherd, Lemon again was a victim of theft. He was given a stolen check and shown the ID of someone resembling the customer but who was not actually the customer. Lemon acted on a hunch that something wasn't right and tracked his Kubota tractor on his Longview online account. The last place Lemon was able to track it to was the house of the thief's friend, where the tracking device had been removed. In this case, the Longview Advantage team helped put pieces of the puzzle together and the tractor, trailer, ramp, chain and boom — everything but the tracking device — were recovered.
In September 2005, a Longview Advantage customer who wishes to remain anonymous was able to find exactly where a stolen skid steer was by using their Longview Advantage Internet account. After locating the machine, the customer printed out a map and talked with police. They then went to where the thieves had left the machine with the GPS tracking device intact. From the time the company heard the skid steer was stolen to the time they had it back was less than a half hour.
Longview Advantage Vice President Mel Baillie reports the company's equipment recovery averages less than 30 minutes, thanks to its proactive Alarm and Recovery Center, manned by former military and law enforcement personnel who work well with law enforcement agencies in North America.
"You do not have to report a stolen piece of equipment, if you have your device's vFence turned on," Baillie explains. "Once the equipment goes out of this virtual fence, a silent alarm goes off. That alarm is sent to the 24/7 response center, which then calls the equipment owner. Chances are if it's 3 in the afternoon and the alarm goes off, the owner just rented it and forgot to turn the alarm off. If it's 3 in the morning, there's a good chance the equipment is being stolen. If the alarm is a true alarm, the owner need not worry. The response center contacts and works directly with the local law enforcement authorities to recover their equipment."
In addition to recovering stolen equipment, Baillie says small businesses should consider using Longview Advantage's asset management features to extend the life of their equipment and generate more revenue. He says monitoring ensures the equipment is maintained and serviced at proper intervals so it lasts longer and is less costly to keep in the field. Tracking engine hours reveals exactly how long a customer has been using a machine. This ensures more accurate invoicing and less billing disputes with the renter.
Longview's new Advantage Series offers even more machine management capabilities with enhanced diagnostics and sensor reading options to help the small business manager be more efficient.
A return on minimal investment
John Peters, president of Golden Empire Equipment-Heavy Equipment Rentals, debated for about a year before investing in GlobalTRACS from QUALCOMM, based in San Diego, CA. Although other businesses near Bakersfield, CA, have been victims of equipment theft, Peters has been fortunate not to have any of his equipment stolen. Initially, he wasn't sure if he needed his equipment to be monitored with the help of computers and mobile communications technology. Looking back, he says the only mistake he made is not making the investment a year or two sooner.
GlobalTRACS collects, transmits and manages equipment data on demand or at user-defined intervals. QUALCOMM's suite of equipment management solutions includes automatic GPS positioning, automatic engine hours reporting and street-level location mapping, virtual security fence configuration with boundary alerts to equipment owners and critical machine health monitoring. Data from GlobalTRACS can be integrated into a company's existing back-office system.
"A small business owner can look at this and wonder, 'Can we really afford a monitoring system?" says Peters, who has 10 employees and 45 pieces of equipment. "I can tell you now that we've gone down that path that you really can't afford not to do it. We really wrestled with the decision. It's a lot of money, but we have peace of mind. We know where our equipment is, when and how it's being used and whether it's working or not."
After he began using GlobalTRACS about a year ago, Peters found out his customers were using rental machines on weekends and holidays and rainy days, and disconnecting hour meters and not telling him. Knowing this was going on and proving it with GlobalTRACS, Peters has been able to capture revenue that he previously could not.
"We had contractors that didn't give us the exact truth," he says. "We were never able to challenge them before without accusing them of being untruthful. Now when we have differences of opinion or disputes, we're able to pull out GlobalTRACS and show what time they started, whether the machine was on or off at lunch, what time they stopped working, what days they worked, and any of the billing issues at that time are gone."
Two disputes shortly after Peters added GlobalTRACS GPS devices to his equipment led to him getting a return on his initial investment in two and a half months.
"In one case we had somebody who had a piece of equipment at almost a thousand dollars a day and they claimed they didn't use it for two whole weeks," he says. "We were able to prove that they had used it for 42 hours a week and they had to pay for that."
Knowing how many hours the machine really has been used allows timely preventive maintenance to keep the machine up and running, and extend the resale value of a machine, says Larry Cleary, senior director and general manager for QUALCOMM's construction equipment group.
If Peters wants to know when an excavator needs routine maintenance, he can get the answer down to number of hours until the next service. Because he knows when customers are not using a machine, he can plan to service it when it's convenient for the customer.
The first thing Peters does when he gets to work in the morning is pull up GlobalTRACS and look at the equipment reports. He knows what's working and gets alerts when equipment is moved.
"It's very important for us to know when a piece of equipment moves from two different perspectives," he says. "We might have preliminary lien rights on this job where it is today, and it might be moved to a location we didn't know it was being moved to, so we can call and obtain preliminary lien rights there."
He continues, "At the same time, it's an opportunity for us to call that customer and say, 'I see you're moving to a new job — is there any other equipment that you need?'
It's created a sales opportunity for us."
Thanks to equipment monitoring, Peters also receives a discount on his insurance.
Enthusiastic about the benefits he's experienced so far, Peters is looking into what else an equipment management system can monitor. He's considering adding additional sensor monitoring to give him the ability to monitor engine temperature, oil pressure and hydraulic pressure. The sensor monitors enable GlobalTRACS to notify Peters quickly when preset thresholds are breached.
A return to good faith
Lemon today is content being able to have good faith with a computer system that helps him keep his eye on his business.
" It gives you a better feeling about your equipment," he says. "You've got quite an investment in equipment to begin with, and you've got different pieces going in different directions. You know that if you have a bad feeling or a question, you can track your equipment at any time, find the piece and say, 'Okay, it's where it's supposed to be.'"
He continues, "I know it's a large amount of money to spend, but I know with smaller companies it's definitely an advantage."
Peters won't send a machine out of the yard unless it's equipped with GlobalTRACS. "You sleep better knowing where your machines are," he says. "You know every morning where your machines are, where they're being used and how much they're being used."
Is equipment monitoring for you?
Baillie suggests small rental businesses look for a system to meet dual needs: theft prevention and effective equipment management.
In order for the benefits to outweigh the costs, he says you need to be looking at monitoring pieces of equipment valued in excess of $20,000.
For his part, Cleary says the benefits versus cost ratio must be determined within the context of an owner's specific business. What a business will invest toward the health and safety of each particular piece of equipment will vary according to business needs and a variety of other factors, he continues.
Looking at the next three to five years, he predicts virtually every piece of larger, higher-cost construction equipment will be monitored.
What business owner would not want to combat theft, bill for additional revenue, increase equipment utilization and perform timely preventative maintenance?