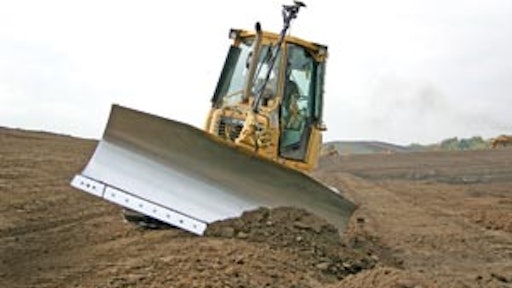 Most earthmoving contractors agree that 3-D grade control systems are the future, but it's critical to choose the system that best matches your operation. These systems can receive signals from GPS receivers, lasers, or total stations and operate in either an indicate or a fully-automated mode. We talked to several contractors about how these systems work in their operations.
A mixed approach yields savings
Neri Contractors and Excavators, based in Lake in the Woods, IL, is a 29-year-old earthmoving business that runs 156 pieces of heavy equipment, including 50 scrapers, 35 dozers and 11 backhoes. Projects range from 30,000 to 3,000,000 yds.
The company is entering its fourth season with Topcon 3D-GPS+ systems. "We started out with a [Caterpillar] 14H motor grader and a D6R dozer," says Bill Neri, owner. Both systems were automated.
Now the company uses a combination of indicate-only and fully-automated Topcon 3D GPS+ grade control. "I probably have better than $800,000 invested," says Neri. This includes indicate systems on eight scrapers, primarily Caterpillar 627E and 627F models. The Caterpillar 14H and 140 motor graders are outfitted with Topcon automated grade control systems. Three Caterpillar D6 dozers and a D5G are also fitted with GPS. A D8R is set up with an automated system and a D8R and a D9R are fitted with visual only.
The D8R was automated as an experiment. "We automated one of them and one of them was visual to see the difference between them," says Neri. "The operator who runs the automated one says he uses it probably 25% of the time [in automated mode] and 75% of the time he is watching the screen." This led Neri to the conclusion that the smaller, fine grading tractors should be automated and the larger tractors do not need automation.
The last two finish dozers purchased by Neri were custom-built D6R LGPs with six-way angle blades. "The D6R Series was never built as an angle dozer in an LGP version," says Neri. "The machine is basically a finish grading machine. It does slope and pond work." These dozers are equipped with indicate-only Topcon GPS+ systems.
The decision not to automate these dozers was due to the skilled operators. "A lot of the guys I have are pros at finish grading," says Neri. "These guys can grade in second gear, wide open. With the automated system, there is a fine line on how fast you can speed the hydraulics up before it gets jittery. If you automate it, that actually slows the machine down as far as forward speed."
You must balance accuracy vs. speed. "The slower you go, the more accurate the system is," reports Neri. "I run the 14H grader myself a lot. I find I do not use the fine grade automation until I am doing the final pass. Then I will kick it down to idle in second gear just to let it think for itself."
Neri admits deciding which units will use an indicate-only vs. an automated grade control system is often based on preference. "Everything revolves around opinion," says Neri. "If you are going to consider automation, I would definitely think road graders and these D6 and smaller dozers simply because of the fine grading. On my automated dozers, the guys find they will bring it in within a tenth or two by visual only. When they come back and do that final cleanup pass, they will put automation on it."
The move toward 3-D grade control systems has been driven by the cost savings. "We have not seen an increase in the price of moving dirt for 10 years," reports Neri. Competition has kept the price depressed.
Despite this, Neri has maintained his profit margins. "My profits today are the same as they were 10 years ago. We are working for the same unit price, but we are actually moving the dirt more efficiently. I have probably seen up to a 30% increase in production with the dozers," says Neri. "A lot of companies just do not realize how much time it takes for staking and re-staking."
The projects have also become more complex. Consider pond designs. "Nobody wants a square hole anymore," says Neri. "They want some architecture to it." This is complicated to do with grade stakes, and GPS provides a more efficient solution. "I would say that we have cut a third out of our time and probably as much in cost."
Multiple stakings on large cuts and fills have been virtually eliminated. "A lot of times, we will do the final staking on building pads and where you set the curb," says Neri.
The cost of staking can be cut dramatically. Consider the relatively insignificant cost of grade lath. "Last year, we spent $38,000 on grade lath," says Neri. "This year we spent barely over $20,000. There is an $18,000 savings in grade lath alone." It also translates into less staking time.
Combining GPS with total stations
Sargent Corp. is a large earthmoving contractor with operations from Maine to Virginia. "Ninety-nine percent of the work we do is heavy earthwork — new roadways, roadway reconstruction, airports, anything where we can move a large amount of earth," says Pete Parizo, field engineer and GPS administrator.
Parizo is personally in control of two Caterpillar D6 dozers with Trimble SiteVision, operating in Maine. "We are using indicate systems," says Parizo. They are used in conjunction with a mid-size Volvo motor grader, which has been fully automated with a Trimble BladePro system that runs off a robotic total station.
Cost was a key factor in the decision to go with indicate systems for the dozers. "Our dozer operators are so good that we didn't feel we needed to spend the extra money to get these automated," says Parizo.
The dozers have saved staking costs, as well as provided a solution for landfill construction. When constructing landfills, a liner is laid down. Several feet of clay barrier underneath acts as a backup if the liner ever fails. "We are not allowed to puncture that clay barrier," says Parizo. "When we get close to grade, if we didn't have GPS, we would have to put down a staking system that does not puncture the clay."
Parizo admits, "We are pretty stubborn. We have to see a real need before we will go out and spend money on something."
But the company was able to justify the $80,000 per machine for the indicate Trimble SiteVision systems, plus the additional cost for the base station.
Big box projects, such as parking lots, are where much of the savings are realized. Staking on these jobs can be costly. "If you stake out a 50-ft. grid in a six-acre parking lot, you are going to lose a lot of those stakes," says Parizo. "You are going to have to re-stake. Every time you re-stake, there is additional cost. It would not be abnormal to see the same spot staked six or seven times during the project." In addition, when you eliminate staking, you reduce the necessary manpower. "It eliminates one and possibly two positions completely."
Sargent Corp. uses its D6 dozers with Trimble SiteVision to get close to finish grade. The Volvo grader, with the BladePro running off the total station, then finishes the job. "It is more for cost savings than it is for accuracy," says Parizo.
Sargent Corp. typically lays 2-in. gravel to grade prior to the paving operation. "Say the GPS dozer is off an inch vertically and we put down an extra inch of material over the entire site. That is a huge cost," says Parizo. "With the Trimble BladePro system, the operator can get down to 3/8 in. or better."
When it comes to SiteVision, Parizo claims one of the biggest advantages is making the dozer operators feel comfortable. "Our operators can read contours really well. If you put the contour information right on the screen, they know what they are trying to grade. If they go out and see 100 grade stakes, they don't feel nearly as comfortable as if they have the plan in front of them."
When building ponds, there are also tricks you can use that don't require a design. "If you are going to build a pond and you know it is a 3:1 slope, you don't need a design," says Parizo. "You can turn the base station on, turn the unit in the dozer on and dial a 3:1 slope." The system simply reads the difference in the receivers at the end of the blade and indicates the slope of the blade.
The BladePro on the grader works in a similar fashion. In the case of a road, the operator may not need a design to complete the task. Assume a road slopes 2% from center line. "An operator could just dial in his blade at 2% and grade at that slope," says Parizo.
Place it right the first time
Max Jantz Excavating is a 32-year-old, Kansas-based contractor that performs earthmoving work for highway construction, waste water plants, landfills, feed lots and everything in between. The company invested in Leica GradeStar GPS technology two years ago when it got back into the highway business and picked up a pretty good-sized job.
The decision was based on the company's previous experience with grade staking crews. "We had our own design capability in our office and we were familiar with creating the type of files it would take to run that GPS," says Nathan Ritter, project manager. "We did a cost analysis based on the cost of the equipment it would take to get us set up and running GPS vs. what we thought it was going to cost to do all of the grade staking for that job."
Max Jantz Excavating already owned the GPS survey equipment and base station. It added automated Leica GradeStar systems for its motor graders. An indicate system is also being used on a Caterpillar 627 scraper and a John Deere 750 dozer.
The return on investment came quick. "We paid for it in the one job," says Ritter. "We don't have to have a whole crew of grade checkers out there running on the site." It eliminates the re-work that is necessary when you are using grade checkers. "With the GPS, you are dead on 99% of the time. You know exactly where grade is."
Fuel savings have been another big issue. "There are fuel savings across the board because your scrapers are not hauling dirt twice," says Ritter. This saves fuel on all equipment, from scrapers and blades down to compactors and water trucks.
In applications where Max Jantz Excavating serves as a subcontractor, and an independent survey company is setting grade stakes, GPS serves as a method for double checking the plan. "We catch any errors before we actually begin the work," says Ritter. "There have been instances where our operator will pull up with the blade and see that the slope stake will be showing him something different."
Tolerances with the GPS grade control have not been an issue. "We are usually contracted to be within one tenth of final grade," says Ritter. "For the type of work we do, the GPS grade control is all we need to be within tolerance."
By mounting the indicate system on a Caterpillar 627 scraper, Max Jantz Excavating is also able to maximize productivity of its 14-unit scraper fleet. The scraper with the Leica indicate system works on the finishing edges of the construction site. "It is setting the benchmark for everybody to work off," says Ritter. "[The operator] is communicating with the other scraper operators on the radio and telling them what he is doing and what he is seeing."
Automation speeds production
Alan's Excavating Inc. is a small, Augusta, KS-based earthmoving contractor that performs site development and highway work. Typical projects range between 10,000 and 50,000 yds.
The company completed its first GPS project earlier this year with a recently acquired Leica GradeStar automated system on a Caterpillar 14H motor grader. The project was a 2 1/2-mile stretch of highway for the state. "There was about 20,000 yds. of cut and about 28,000 yds. of fill," recalls Jake McClure, president.
Alan's Excavating has both a Caterpillar 14H and a 140 grader in its fleet, but chose to mount the GradeStar system on the 14H. "We think if we had it on a 140, it would try to do too much cutting all of the time when we are trying to run it in full auto," says McClure. "The 14H is a heavier machine and it has more horsepower. You can really roll that dirt. Then again, it is only as good as the operator. If you have really good operators, that is a big key."
On the road job, the automated system proved accurate. "Our blade man left our subgrade up a tenth so he would have something to cut off to the blue tops," says McClure. "It was all consistent, about a tenth and a half on the 2 1/2 miles. So we were within a half of a tenth of where we wanted to be."
This freed up a foreman by reducing staking. "In return, he can run a piece of equipment or maybe even manage another job," says McClure. "I really gained a guy on the job. It gives more responsibility to the blade operator."
This allows the company to move the dirt to the right place the first time. "We have been very pleased, and it saved us all kinds of time," says McClure. "On the 2 1/2 miles of road we worked on in Belle Plain, it probably increased productivity 25% or 30%. We bought it in August and I bet it has paid for 80% of itself so far."
Alan's Excavating uses their system even on the small jobs. "We did this with a storage building unit last week," says McClure.
It was a small 4-acre site with about 6,000 yds. to move. "We just went out there with the moldboard of the blade and my foreman spent 20 minutes staking for the scrapers. The blade man was right behind him and we never set another stake on the whole job. It worked really well."
Companies in this article