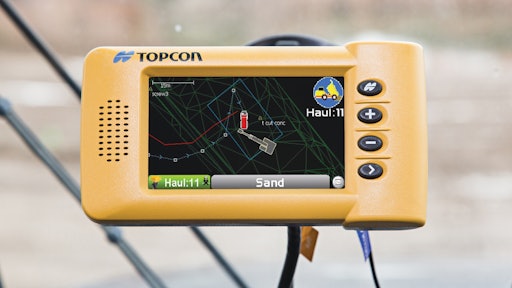 It's important for small and mid-size contractors to be able to upgrade their grade control systems to grow with their companies.
"We know they are going to grow their investment in technology and their capability as their business grows, the size of the projects they take on grows or their capability and the confidence they have in the technology grows," says Scott Crozier, segment manager, Trimble Navigation. "Scalability means you have the ability to grow and leverage that initial investment in the technologies."
Video: Types of Work with Most to Gain from Grade-Indicating Technology 
Many small contractors start with the most basic components. "A lot of small contractors get value out of having a field rover," says Crozier. "They start with a basic rover rather than putting GNSS on the machine straightaway. To be honest, this is because the cost of surveying is getting high and there is drive from the customer to complete the job in a tight time frame. Tools are getting a lot simpler for someone who's not a surveyor to be able to check grade and do basic stake outs when a surveyor is not around."
Video: Topcon Slashes the Cost of Grading Technology
The contractors can then build on their initial investments. "Trimble prides itself on the full scalability of our platform," says Crozier. "You can start out with the most basic cross-slope system for a motor grader, which basically just controls the slope of the blade. You can then go to laser. Then from laser you can go to a Universal Total Station-based system or single GNSS and then dual GNSS. So it's fully scalable from anywhere on the order of $10,000 up to $80,000 and you don't have to throw away the kit that you started with." The investment is fully utilized from the most basic right through the high end.
Topcon also makes it simple to upgrade. "Our history has been targeted around a modular type of system," says Murray Lodge, senior vice president of construction sales. You can start with a basic package and add capability without scrapping your initial investment. But there are a few limitations.
"If you are running a 2D system with a cross slope and a sonic tracker, when you want to go to 3D, you will have to change the control box. A 2D control box does not have all of the horsepower and functionality that you need for 3D," Lodge explains. But all of the sensors and other hardware still work with the 3D system. "So you have that backwards compatibility. We have... backwards [compatibility] to 1989 for slope sensors that come on graders."
In some cases, breakthrough technologies may require different components. But Topcon has factored that into the equation, as well. "Then we will provide upgrade paths," says Lodge.
Indicate Systems Offer a Lower Price Point
Several lower cost indicate GPS systems are currently available. "Smaller contractors can get into it now, even before they get into an automated system," says Lodge.
Topcon has added new indicate systems for dozers, graders or excavators that use different hardware than its high-end systems. The result is options for bulk earthmovers that are 50% or more lower in cost.
"In the past, the high-end systems were targeting 10% to 15% of the machines that were on a jobsite," says Lodge. These new indicate systems target the other 85+%. Bulk earthmoving does not require the same high-end performance needed for finish grading.
The indicate systems are designed for specific applications. "They are not automated systems and they do not work with 3D-MC2," explains Lodge. "They do not work with MillimeterGPS because they don't need that capability."
Yet, the systems still offer the benefits of GPS grade control. "If you can get into these lower cost systems, you can cut back on staking and re-staking," says Lodge. And you can place material in the right spot the first time.
It's important to note that the potential accuracy of the indicate systems is the same as other GPS systems. "It is GPS, but it is indicate," says Lodge. "The operator is watching a light that tells him when he is too high or too low." The actual accuracy of the finished surface comes down to the operator skill level. "But in reality, this system is not designed to get someone to finished grade." Instead, it is designed to move the material as quickly as possible and get close to grade.
Another benefit of these systems is they allow a contractor who has already invested in a high-end automated GPS machine control system to economically expand the capability across other machines in the fleet. "If the contractor has 10 machines and has currently only invested in one or two [high-end systems], the contractor can now go out and set up another five machines at a much more attractive price point," says Lodge.
Systems are also available for non-traditional machine forms. "For example, there are now very low-cost systems for haul trucks that help contractors monitor exact load counts vs. guessing," says Lodge. Contractors can also distinguish between different materials and track where the material is going on the jobsite.
Despite the price point, the systems are capable of communicating critical data. "These lower cost systems still work with SiteLink3D, so you have the ability from the office to remotely monitor those machines and send them job file changes," says Lodge. "The key for contractors in the future is being able to monitor all of their equipment, ensuring that it is working and they are getting their maximum productivity."
A Simplified Solution
Trimble has developed the GCSFlex machine control system to offer affordable, flexible and reliable GPS machine control for excavators, soil compactors and asphalt compactors. The GCSFlex control box is compatible with bench or laser reference; laser reference plus heading; or GPS guidance.
"The key benefit of the GCSFlex system for excavators is the ability for an operator to know where grade is without having to have a grade [checker] on site. He has that grade in the cab and gets the guidance to it in real time," says Crozier.
With a grade checker, the elevation can change between grade points. The GCSFlex system allows you to achieve consistent grade. "Now, you get to be level and on-grade across the entire design," says Crozier. And there is less fatigue for the operator. "At the end of the day, he hasn't been fighting for grade all day."
The system can be installed in just a couple of hours and is designed to meet the needs and budgets of owner/operators and small to mid-sized contractors involved in a range of earthmoving.
"We also see some larger contractors cutting their teeth in machine control with the GCSFlex, but very rapidly furthering their investment once they've figured out the value that the technology brings," says Crozier. "The GCSFlex product line is
fully scalable right up to our full GCS900
3D solution."
The GCSFlex system is approximately two-thirds the price of the full GCS900 excavator system. There are a couple of reasons for this price differential.
"One of them is the GCS900 box is portable from dozers to excavators to motor graders, whereas the GCSFlex system is for excavators only. It can be upgraded, but some cost was taken out there," says Crozier. "We also don't have the connected site gateway (which is the telematics box) in the standard install kit, which we do with the GCS900. And then there's more specific simplified installation for the harness and some of the mounting points. But the sensors and control box are the same premium components that we have on our premium system."
And don't let the price-point fool you. "You can get the same fantastic returns on these entry-level products as you do on the full 3D products," says Crozier. "To be honest, it's not uncommon to hear people say that they've paid for the system within a few months."
Avoid Common Pitfalls
If you're considering an indicate system as a first step into 3D grade control, make sure it can be upgraded to meet future needs. "Not everyone's 3D indicate system is upgradable to automatic grade control," notes Crozier.
Some of the major suppliers' systems, including Trimble's, are upgradeable. This is an important consideration if you ever want to make the leap into automated grade control. "The real value is in the automated grade control," says Crozier. "The upgrade from indicate to automatic controls is not really a significant cost." This is especially true if you already have an EH machine.
When purchasing a machine that will be used with an automated grade control system, check to see if it is equipped with EH controls. "If you have a machine with electrohydraulic controls, then we can plug and play," says Crozier. "That does save a lot of cost. You would need to use our GCS900 product line for the machine to plug and play with those valves."
A lack of proper training is a common reason contractors are not immediately successful with grade control solutions. "Often, it's because the contractor hasn't been correctly taught how to use the system for that application," says Crozier. "The key is to make sure you get the correct training from your dealer specifically on how to use the system in the application you're using it at the time. So if you're digging basements, learn how to use that system best for digging basements. If you're digging drainage, learn how best to use the system to dig drainage." In the case of Trimble, all training is done through the dealer network.
Also, don't be intimidated by the technology. The 3D systems are within the reach of small and mid-size contractors. "For many of them, it is a stepped approach," says Crozier. "It depends on the size of the contractor and the size of the project they have at the time. But we do see that once they get a taste of it, we'll see continued purchases and expansion of the technology inside their company."
"Often, contractors say, 'I cannot spend that kind of money'," says Lodge. "But once they get into it, the repeat business is 85+%. They struggle to get into it, but once they do, it is just a complete eye opener as to the impact it has on the bottom line."