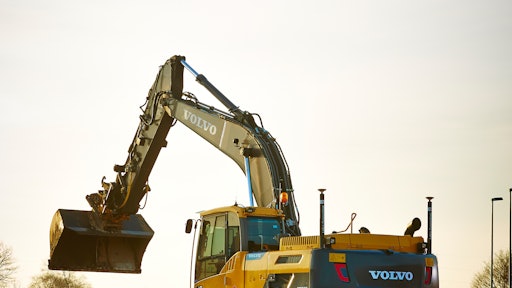 One of the largest opportunities to improve the machine/operator value to the customer is through increasingly sophisticated automation. There will be a definite increase in the amount of automation going forward," says Jason Anetsberger, senior product manager for machine controls, Komatsu America. "The opportunity to improve the productivity of inexperienced and experienced operators is too great to ignore. Today, with Komatsu, we already automate work functions and travel speeds on our intelligent machine control dozers to great effect, resulting in improved dozing efficiency and productivity."
But the nature of construction sites makes completely autonomous vehicles a challenge. "I don't know if we are going to see a lot of autonomous machines, but I expect a lot of semi-autonomy — things that make the operators' jobs easier," says Brian Rauch, senior vice president of engineering, manufacturing and supply management, Deere & Company. "That is how I would describe grade control. We are going to keep working on technology that helps make it easier for the loader operator to get a full bucket every day. We are going to work on technology that allows the motor grader to hold grade and go faster."
Many semi-autonomous features have already surfaced. "Limited autonomous features, such as auto idle, auto shutdown or ECO modes, or features that group multiple functions into one, like Driveline Assist on Deere ADTs, will continue to emerge," says John Chesterman, product marketing manager, production class wheel loaders, John Deere Construction & Forestry. "As machines use more electronically controlled hydraulics, engines and transmissions, more features can be added without significant up-front costs."
Electronic controls allow the machines to be tailored for the work environment. "All of the electronics that have gone into the machine have allowed us to customize that machine for the job and that customer's requirements," says Rauch. "We have more controllability built into the product. The challenge is to make it automatic. We want the operator to manage the dirt, not the machine. We don't want an operator to have to understand 40 different choices to properly set up the machine."
Grade Control Simplifies Operation
Grade control has made machines easier to operate. "It is very difficult to find a highly skilled dozer operator," says Rauch. "Anybody can drive a dozer but not many people can shape terrain."
As grade control systems become more integrated into the machine itself, the learning curve will decrease. "Where it might have taken a person six months to a year to become proficient to grade, we can now hold a tenth of a foot or half that with a person that is on his first day of operation," Rauch states.
"Machine control builds a 'superhero factor' into the operator," says Magnus Thibblin, machine control business segment manager for Leica Geosystems NAFTA. "It helps a decent operator become a superstar, and it helps an inexperienced or unskilled operator to become decent. As a result, it can help address the shortage of skilled labor by expanding the labor pool."
Expect the technology to continue to expand. "We are seeing the adoption of GPS technology and machine control onto our products — technology we could not have envisioned 10 years ago — now being commonplace," says Rauch.
Software advancements on machines of the future will gain in importance. "Sophisticated software algorithms are going to allow us to bring levels of automation to the machinery beyond what we have today and it is going to be supported by investments in hardware, as well," says Anetsberger. Since all systems communicate with each other, expect further machine integration. "Everything is designed to work together and perform at the highest levels."
Integrated Design Becomes a Necessity
An integrated approach to equipment design will replace sourcing off-the-self components when building machines. "A systems approach is completely necessary to develop optimized features and machine efficiency," says Chesterman. "A manufacturer cannot look at engines, transmissions and hydraulics separately."
A good example is Komatsu's intelligent machine control. "We have fully integrated GPS machine control technology across the lineup of dozers," says Anetsberger.
The intelligent machine control dozers feature automated blade control throughout both the rough grading and final grading. "They are already delivering increased production of up to 8% over the traditional aftermarket machine control offerings," says Anetsberger.
This technology is now being introduced on the company's line of excavators. "The excavators today offer huge gains of over 60% compared to traditional methods with their ability to automatically prevent over-excavation and automatically assist in finish grading," Anetsberger asserts.
"The benefits of integration are hard to ignore," he adds. "It takes a lot of R&D to get there, but the success that we have had to date really validates that."
Many manufacturers have begun to integrate GPS and telematics technologies. Consider the recently launched Case SiteSolutions. "It is meant to bring together all of the Case precision technologies under a single name," says Brad Stemper, solutions marketing manager, Case Construction Equipment. "We are dedicating more resources and personnel, in the name of SiteSolutions, to bring that more robust precision technology offering to our customers."
Connected Jobsite Expands
"The next step in GPS technology for construction is the 'Internet of Things,' in which everything will be connected on site," says Thibblin. "Construction sites are getting more connected every year, and we will see that trend continue."
Jobsites will become data driven. "The future is intelligent construction, which is based on immediate access to accurate data throughout the jobsite," says Thibblin. "This data is collected by any number of sensors, including GPS, total stations, laser scanning, mobile mapping and even unmanned aircraft systems (UAS, also known as UAVs or drones), and it is managed through an intelligent system that creates a collaborative, real-time environment."
As GPS technology continues to evolve, expect it to expand to new machine forms. "As GPS becomes more of the norm, many machine types will follow," says Thibblin. "The greatest opportunity is that more things are connected. The more machine control gets integrated into every machine on site, the more the advantages will become evident. As more machines are connected on the jobsite, the better efficiency, accuracy and productivity can be measured. And having all of these measurements gives contractors and owners more intelligence to make better decisions earlier in the process."
In an ideal scenario, a contractor would use GPS on all applicable machines, plus other sensors (laser scanning, mobile mapping, UAS, etc.), to collect data across the jobsite. "All of the data is managed with intelligent software and fed out to the machines via the server. The result is a much more controlled environment," says Thibblin. "The contractor saves time because all of the data sent out to the rovers, grade checkers, surveyors and machines is accurate."
This results in fewer errors, and when they do occur, they can be caught and corrected much earlier, substantially reducing rework and construction delays.
"The contractor saves money on material because they can do volume calculations on the data sent into the office, and the office can invoice on the volumes immediately because they know exactly what has been done on site," Thibblin points out. "There is no lag in capturing and transferring the information. Everything that is being done on the jobsite can be measured and invoiced daily if desired."
When there are changes in the project models, the changes can be pushed to the field immediately to ensure all stakeholders are using the same data.
"Ultimately, having a digital jobsite with intelligent construction solutions takes away the guesswork that has existed in construction in the past and empowers contractors to move forward quickly and with confidence," says Thibblin. "It gives the contractor much more control over the project and the environment, which reduces rework, improves productivity and increases profitability."
There will also be other advances. "Machines will continue to be fine tuned to meet specific needs on the jobsite," says Thibblin. "That might mean they become more accurate, and certainly the availability of new satellites over time in the various constellations will provide higher GPS accuracy and redundancy."
Ryan Kunisch, director of marketing, Trimble Civil Engineering and Construction, agrees we can expect the accuracy with GNSS to improve as more constellations become available. "However, for most accurate work, we do not see it replacing the total station in the foreseeable future," he comments. "Not all machines and applications need the same level of accuracy of precision. Technology providers need to match the cost of precision to the value it generates to the customer."
While there are opportunities to develop lower-cost positioning solutions for broader applications, Kunisch believes there will always be a need for high-accuracy solutions, and the demand will continue to increase. "With recent advancements in positioning technology, grade control systems now allow you to operate the machine to its fullest potential," he says.
Trimble also sees a trend to integrate GPS or GNSS positioning technology beyond the surveyor and machine. "The real value in GPS is more than just the data point GPS produces, but the value it provides as it is applied to quality, progress, productivity and safety on the construction project," Kunisch emphasizes. "GPS information has little meaning until you capture that reality and compare it to real-world plans and how construction site or project attributes change relative to geospatial context and relative to time. Linking progress to plan across all phases of the project — whether in the office or in the field — is the true value for construction."
There is a need to continue to not only add more value to machines, but also enable all parties on the jobsite. "Trimble has already taken steps to empower construction designs into meaningful, constructible models that machine and site staff can more productively and safely operate around, optimizing workflows from the field to office in terms of planning, design, scheduling, construction and maintenance," says Kunisch. "With richer applications demanding GPS-enabled positioning, we view that GPS will become more standard in equipment, just as rear vision cameras have become standard in consumer automotive."
Kunisch notes that even with typical machine types, the industry has not reached full adoption. "As the office becomes more connected to the field, there becomes a need for a more holistic view of the jobsite, every person and/or every machine's progress to plan," he states. "This requires additional machines, assets and individuals to establish connection into the GPS-enabled digital jobsite ecosystem."
For some machines, the applications may be traditional machine control and guidance. For others, they may be closer to operator assist and productivity. "For staff working on the project, their roles will be performed with some form of GPS-enabled geospatial or time-based context tracking progress to plan," adds Kunisch. "We believe the greatest opportunity for advancements will be productivity, safety and quality on the jobsite."
As the world becomes more connected, the traditional approach to GPS will need to change. "Standalone positioning solutions are becoming obsolete," says Kunisch. "The expectation will be that positioning is just one of several key variables expected and integral to the construction ecosystem's entire set of workflows, facilitating collaboration and optimization across the entire industry and its stakeholders — from owner, to engineer, to contractor."
Remote Operation on the Horizon
Looking far into the future, we may see a shift in equipment operation.
"We will not see customer sites that are without any operators, but maybe they will be supervising the automated operations," predicts Jenny Elfsberg, director of emerging technologies, Volvo Construction Equipment. Consider what is already happening in the agriculture industry, where one operator can run a harvester and some of the machines following it. "All the technology is there, and it is a clear business case for other industries. It is not a question of if we should have it. It is only a question of when."
Having expert operators "train" machines is a real possibility. "There is already enough electronic controls in the machines to help the operator with pattern recognition," says Elfsberg. "We could actually have the skilled operators teaching machines how to operate in the most optimal way. The machines could be easy to operate because they were trained, or programmed, by a skilled operator."
It could also be possible to make machines cooperate with each other. "We would need to add sensors and more electronic controls to make the machines more aware about the environment," notes Elfsberg. This would require redundant systems such as vision sensors and GPS.
As humans, we have five or even six senses. Machines would need the additional sensors to replicate this awareness. "We will see machines become more aware about the surroundings," Elfsberg asserts. "Machines can tell each other what they sense with their combined sensor systems."
The major hurdle is cost. "Those sensors today are so expensive," says Elfsberg. "You really need to get the operator out of the cab to make autonomous a good business case. If you could have these operators standing on the side with remote or autonomous control, we would save so much on safety issues and on cost of the machines, because they don't need that suspension or cab. If you were to put an operator outside of the machine, that operator may be able to supervise several machines. You could make simpler and smaller machines."
No matter how machines evolve, there is still going to be a demand for highly skilled users. "We will need extremely skilled operators for some complex tasks that will not be possible to automate," says Elfsberg.