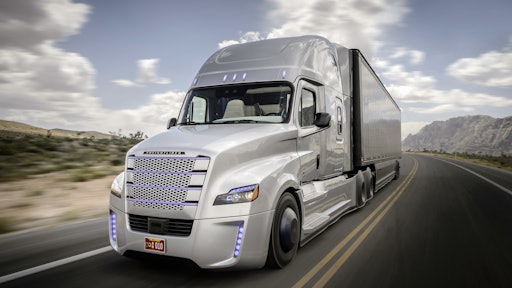 Audi first captured the public's imagination when it offered motor journalists the opportunity to ride from Palo Alto, CA, to the Consumer Electronics Show (CES) in Las Vegas in an autonomous A7 automobile. This car literally drove itself 550 miles to the event.
You may have dismissed this as merely a publicity stunt, but there have since been further advancements and now the heavy-duty truck market is experimenting with its own version of an autonomous vehicle.
On May 5th, Daimler Trucks North America (DTNA) unveiled the Freightliner Inspiration, the first autonomous commercial truck to drive on an open U.S. public highway. This truck promises to reduce accidents, improve fuel consumption and cut highway congestion. Some of the core autonomous vehicle systems are already incorporated into the current Freightliner Cascadia Evolution.
The Freightliner Inspiration is equipped with Highway Pilot sensors and computer hardware based on a production Cascadia Evolution. The Highway Pilot links together a sophisticated set of camera technology and radar systems with lane stability, collision avoidance, speed control, braking, steering and other monitoring systems. The result is an autonomous vehicle that can perform safely under a range of highway driving conditions.
But Freightliner is quick to point out that the Inspiration, while it is autonomous, is not a driverless truck. A CDL-qualified driver is still needed. "With the Freightliner Inspiration truck, drivers can optimize their time on the road while also handling other important logistical tasks, from scheduling to routing," says Richard Howard, senior vice president, sales and marketing, DTNA. "The autonomous vehicle technology not only contributes to improved safety and efficiency, it allows for improved communication through connectivity and integration."
Companies in this article