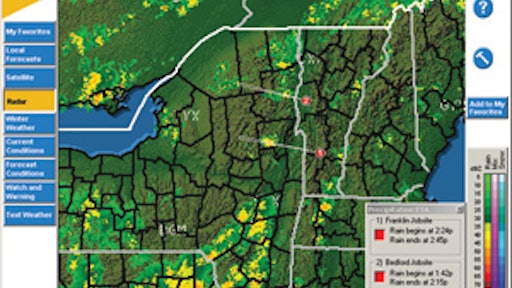 Some people have embraced the entry of computers into their lives, while others have shunned or reluctantly allowed them into their offices. Could this reluctance to embrace the wonderful world of computers be fear of the unknown? Unwillingness to experiment with new technologies? The presumption that computers can't help?
Companies offer hundreds of software programs designed to streamline your business, to help you keep track of your fleet, store customer information, or monitor employee work schedules.
Most of the companies that make this software understand that their end users are busy people and don't have time for complicated programs. They strive to make their programs not only time-saving tools, but the ultimate in user-friendliness.
MxVision WeatherSentry Construction Edition
Meteorlogix is a commercial weather services provider with an internal team of meteorologists that perform extensive weather research. A year ago Meteorlogix launched the Construction Edition of the popular MxVision WeatherSentry. Chris Wittinghill, director of inside sales at Meteorlogix, says the system currently has 4,000 customers, from small operations run out of people's homes to large companies with dozens of crews.
The system offers weather information through any number of computer screen terminals at various locations that a company might need to have weather updates. Meteorlogix can also send out a "tap on the shoulder," or weather alerts sent via text messaging on cell phones.
"It really works best with both, and that's the one thing that's unique about our services," Whittinghill says. "If you were to solely rely on just a dispatch operations center, unfortunately there's a little bit of a risk there. If that dispatch person's not available, our system can contact a crew via cell phone and get critical weather information right into their hands wherever they are — rain is going to come in 37 minutes, and it's going to last for an hour and 22 minutes."
Whittinghill explains that although there is weather information available via the Internet, radio, and National Weather Service, those sources aren't always accurate for a specific point a crew might be working in. He says knowing exactly where rain is going to hit and when can save a company money.
"When you get global, county-wide forecasting, a storm could go through the north side of a county and never hit the south, and never affect operations," he says. "Literally we can pinpoint for a specific location when rain will start and stop. It's a latitude/longitude point on a map, when rain is going to intersect that location and how much rain is going to fall."
E&B Paving in Rochester, IN, has about 20 asphalt and concrete crews that work all over Indiana. They installed a Meteorlogix system about a year ago, with a terminal at each batch plant. Neil Douglass, concrete plant manager, says the system saves the company money because they're on top of the weather.
"When we're pouring concrete, it lets us know early enough that the rainy weather is coming in, and we can stop pouring so we don't lose any concrete to the rain," Douglass says, "When the concrete is on the ground, in the summer, it takes 2 to 2 ½ hours before you don't have to worry about the weather. So we should know about rain 2 to 3 hours before it happens, and that's what this system does."
In addition to the up-to-the-minute forecasting, Douglass says the advanced forecasting is also helpful.
"The 5- and 10-day forecasting really helps out, too, so we know what we can do days down the road," he says.
Whittinghill adds that the Meteorlogix system isn't just helpful in protecting the work contractors do, but also offers a safety cushion for employees.
"Lightening and severe storms come through and you certainly wouldn't want to put your crew in the position of being stuck outside without any safety measures," he says. "And that's where some of our storm tracking capabilities come in."
PowerMax Software
PowerMax Software is an estimating, invoicing, and scheduling computer program created by AJA Computers, Inc., a software company that's been creating vertical market computer programs for more than 20 years. Anthony Arminio, president of AJA Computers, says that there are other generic estimating and invoicing programs out there, but that most companies have to conform their businesses to those software programs. He says the PowerMax system, released three years ago, was built around the pavement maintenance industry.
"What we did is we took a model of the paving, sealcoating, and line-striping industries and then we built on those models. There are specific things that are repetitive over and over again in those businesses," he explains. "Basically your sales cycle is estimate, invoicing, and then follow-up, so we handle that all built right into the program. So they can immediately generate an estimate off a customer's call, and then off that estimate they can print off a work schedule for the estimator to go out and do the estimates, and from there they can convert those estimates right into invoices by just doing one check box. There's no repeat entry of information — once it's in it's used over and over again."
PowerMax has a load of features in addition to estimating, invoicing, and scheduling, including its hotlink to MapQuest, a free Internet mapping service that can find just about any address and provide driving directions to or from that point. PowerMax allows users to import a MapQuest map and directions into the PowerMax system and print them out on an estimate or work order and save it for future jobs.
PowerMax will also store customer information until you decide to delete it, track the locations and numbers of signs that need to be picked up after jobs, find referrals close to a requesting customer, support user-defined job types, and offer a lead follow-up system for customers who have been entered into the database but for whom an estimate or invoice has not been printed.
Arminio says one of the biggest benefits of the system is that it gives contractors an organized way of gathering and storing information.
"The biggest problem contractors have is losing customers because they may fall through the cracks. A contractor may scribble a name on a piece of paper, put it in their pocket, and they get sidetracked and go someplace else," he says. "With a computer system available, at the point of contact with the customer, immediately that information is put in under the customer; and if it's a previous customer it's easier yet, because all they've got to do is click a name and the customer comes on the screen. Having this information at one's fingertips portrays a good company image and is confidence inspiring to the customer. Additionally, if a customer needs job issue follow-up, it is easily flagged at the stroke of a key."
SealMax Sealcoating & Paving in Philadelphia, PA, has been using the PowerMax system for three years. Office manager Ann Creeden says before the system was in place, she would have to make contact with the work crew at the end of the day to pass on work for the next day, pick up invoices from that day, and give them estimates that they had to do that night. With PowerMax Software, Creeden says she inputs all that information from her home office and the owner is able to access it at the shop where the equipment is, 10 miles away.
"Whatever I input here, he accesses there. He gets on the computer, hits a button, and everything I've done all day long is sent to him," Creeden says. "Let's face it, we're saving time, we're saving money."
Creeden goes on to explain that the system also saves SealMax money through organization and advertising.
"Now we don't have to pay big bucks to advertisers. This is an every two year type of work — if you get your driveway sealed, you do it again two years later," she explains. "So up until now we've had to rely on advertising, which is costly. Now we can pull up labels, names, right out of the computer from that two-year period and send post-card reminders, and that's how we get our work now. And that, I can tell you, is substantial savings."
When asked what her favorite features of the system were, Creeden had a few to offer.
"Right off the top I can tell you that it's user friendly, and it has to be that way," she says. "It also eliminates all kinds of clutter, and lets me look at the schedule instantly. I can hit a button and I can see on what day and what month, exactly what everything looks like."
QuickBooks: Premier Contractor Edition
Intuit's QuickBooks: Premier Contractor Edition was updated for 2005. This software program, created to help contractors manage their accounting, payroll, and other financial services, now has Learning Tools to guide users through QuickBooks. Also new for 2005 are five new job costing reports, the ability to offer your employees direct deposit, the capacity to charge different billing rates for different employees, and more. Intuit also offers full-service payroll completion.
Control Board
The Control Board by Congistics Corp. is a computer software program designed to track, manage, and schedule resources for the commercial construction industry. Modeled after the magnetic or dry-erase white boards many contracts use for scheduling, Congistics worked to make the program extremely user-friendly, so even those reluctant to use computers at all would find the program simple to use.
The Control Board is not a project manager system, but a tool designed to run daily operations. It can be single-user or multi- user across a company. If someone makes a change, everybody else can also see that change and make their own changes. Other features include a dispatch module, equipment location tracking, conflict alerts, a task list which tracks changes made to the board, and several types of paper and electronic reports.
Construction Contractor's System
Computech Systems, Inc. has recently developed the Construction Contractor's System, a software program that assists contractors in performing material quantity estimates and related construction calculations. Programs include excavation, bankrun gravel, washed gravel, footing concrete, slab concrete, asphalt paving, masonry block, standard size brick, round piers, cut/fill, set grade, area & diagonal, and more. The program can be installed on any personal digital assistant (PDA) that uses the Palm Operating System.
Jobclock
Exaktime's Jobclock is a time and attendance system developed with the contractor in mind. The system records accurate job starts and job stops, and can also track travel time and multiple jobsites. Each worker is issued a set of Jobclock key tabs, and clocks in and clocks out with the appropriately colored key tab. At the end of the pay period, a supervisor uses a personal digital assistant (PDA) to collect the information stored in the Jobclock and takes it back to the office where it can be downloaded for payroll preparation. Jobclock is designed to be compatible with Intuit's QuickBooks financial management software, allowing you to input your Jobclock information directly into your current payroll system. Jobclock is also weather-proof, tamper-proof, and battery-powered.
Service Tracker
OEM Controls, Inc. offers five models of its Service Tracker, a paperless data tracking system for equipment maintenance. Service Tracker follows up to seven programmable service intervals and records machine hours along with fuel, oil, and grease usage. The systems also alerts operators as to when service intervals have been reached and records when the service is performed. The program software stores machine service history and notes pertaining to service. Personal computer and Palm-based software modules are available
Companies in this article