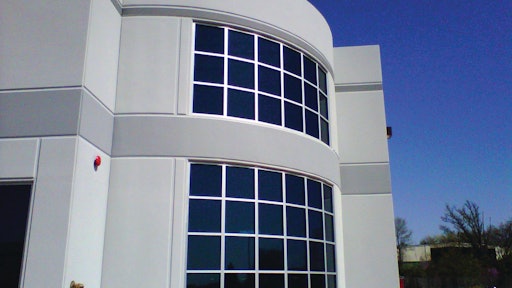 The Challenge:
Produce accurate tilt-up panel drawings incorporating all the specific materials and dimensions per panel sheet.
The Players:
EE Reed Construction, L.P.
The Process:
The Dulles Summit in Virginia is a 456,550-square-foot multi-use business park project that includes two light industrial tilt-up buildings. The project features full height radius tilt-up panels as well.
EE Reed Construction, L.P. – the project's general contractor – choose to use web-based software Tilt-Werks from Tilt-Up Design Systems, LLC to create drawings for panel dimensions, openings, reveals, embed locations and elevations, said Sam Simmons, project superintendent. The software provided the GC with an automated way to design the tilt-up structures and produce structural drawings from design data input. The GC needed to produce accurate panel drawings for the project that incorporated all of the specific materials and dimensions per panel sheet, Simmons said.
The web-based format of Tilt-Werks allows structural engineers to design and share building projects as well as to enhance the productivity and efficiency of all parties.
"To bridge the gap and coordinate various shop drawings, Tilt-Werks served as a visual tool that allowed me to generate drawings that could be passed on to my layout men and enabled me to move on to handling the role of general contractor," said Simmons. "Tilt-Werks allowed me to generate all of the panel drawings right from my field office and communicate more effectively the true intent of the design with my field engineers and form carpenters."
Built simultaneously, the first structure involved 102,000 square feet of tilt-up panels and the second included 76,000 square feet. Construction of the tilt-up totaled five weeks from the time of the first slab on grade pour to the panel erection.
One of the major architectural features includes two radius panels, which measured approximately 32 feet in width and more than 31 feet in height. With a complete 90 degrees of curvature, the radius panel is not just a solid concrete structure. The design incorporates a store front element, leaving the option for offices below and a mezzanine space above.
The project was completed in March of 2012.