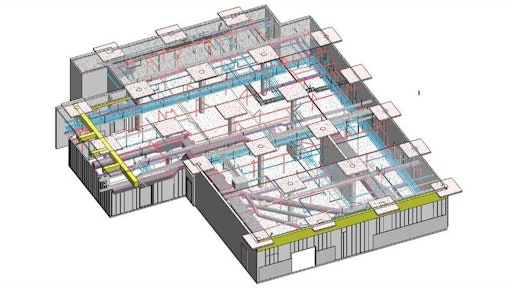 The challenge:
Reconstruct the first floor of the Steven Spielberg Building while the three floors above stayed fully operational
The players:
VIATechnik
LCS Constructors, Inc.
Cedars-Sinai Medical Center
The process:
VIATechnik, a Chicago-based engineering firm, partnered with Los Angeles' Cedars-Sinai Medical Center and LCS Constructors, Inc. on a reconstruction project of the Steven Spielberg Building. "The challenge was in coordinating the new construction work around the rest of the building, of which three floors above had to stay fully operational for the safety and care of the hospital patients," said Danielle Dy Buncio, president and co-founder of VIATechnik. Using state-of-the-art point cloud scans, VIATechnik was able to assess the building's existing layout and systems while allowing business to operate as usual on the upper three stories of the building as the ground floor was completely renovated.
The company utilized a Leica C10 scanner to take accurate scans of the existing structure, HVAC, plumbing and electrical systems within the building. VIATechnik then compiled the information into a 3D BIM (Building Information Modeling) utilizing Autodesk Recap and Revit. Once the Revit model of the existing systems was completed, VIATechnik engineers created BIMs for the all the new mechanical, plumbing, electrical and fire protection systems based on the designer's 2D drawings.
"Due to the density of the existing systems, as well as the uniqueness of some of the systems such as acid waste, liquid nitrogen piping or medical gas, we felt that it would be important to create an intelligent BIM that identified each type of pipe or duct. To obtain this information, we took photos with the point cloud scan to give a true color 3D point cloud," Dy Buncio said.
Time was of the essence in this project, and due to the strict construction timeline, the initial cloud point scans were completed in one day, with the existing model completed in one week. The VIATechnik team was able to complete the entire modeling project in just one month so that an initial coordination effort could be achieved prior to MEP construction.
The value of the BIM goes beyond the typical construction coordination. "We are using the BIM for our construction as-builts and Cedars-Sinai really likes that," said Carey Collier, project manager for LCS Constructors.
To be able to turn over an accurate and intelligent model to the client has immense value – from utilizing that model for future construction efforts, to inputting facility management information. Construction of the project is now nearing completion.