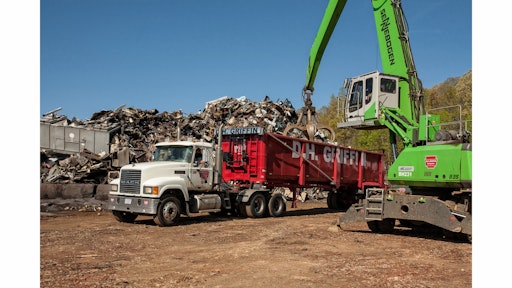 Information from this article was first published in Demolition Magazine and is being reused with permission from the National Demolition Association.
The challenge:
Demolition contractor needed a more efficient way to keep accurate mileage logs for its trucks that routinely cross state lines
The players:
D.H. Griffin Wrecking Co.
The process:
D. H. Griffin Wrecking Co. sends its heavy trucks to demolition and jobsites daily to pick up and deliver an assortment of materials that include recyclables, plastics, metal and construction debris. To do this, trucks must routinely cross state lines, requiring drivers to keep accurate mileage logs for regulatory purposes. After years of keeping handwritten logs that could be prone to error, the contractor now implements a cutting-edge technology to track not only mileage but much more.
D.H. Griffin chose a Trimble cloud-based suite of tools for its fleet management system. Its Fleet Management suite provides visibility into daily field service operations and helps managers identify, manage and improve operations areas such as driver safety, customer service, back-office administration, fuel use and vehicle efficiency.
"Our technology reduces the time it take to generate the driver logs required for DOT compliance, improves the accuracy of our logs and increases our driver productivity," said Rick Swartz, D.H. Griffin's corporate fleet manager. "When the drivers used to enter the miles manually, the quality of the recordkeeping was poor and unreliable. We lost productivity because drivers were spending too much time maintaining the logs instead of driving."
As soon as the Fleet Management suite was in place, productivity increased by one hour a week per driver since they no longer had to grapple with logbooks. That's 52 hours a year; and at 200 drivers, that adds up to 10,400 hours of added productivity annually.
The automatic recordkeeping also helps the company comply with trucking regulations, especially those audited by the International Federal Transportation Association, according to the contractor. States rely on mileage logs for taxation purposes. "Each state has its own fuel tax, which is measured by miles, and this mileage must be tracked accurately so that quarterly payments are made," Swartz explained.
In addition, driver logs help the contractor comply with strict, newly introduced Hours of Service regulations by automating duty status changes. This is a time-saving feature not only for the drivers but also for the administrative staff. In fact, the features of the new Trimble system have saved D.H. Griffin Co. the equivalent of one staff person's annual salary.
The company has employed the system to use its built-in driver alert capabilities to avoid traffic violations, especially speeding. Speed not only creates safety risks but leaves the company open to fines, higher insurance rates and added wear and tear on the vehicles.  Now, when drivers reach 72 miles per hour, they get a warning to slow down. If they fail to comply, they receive an internal company fine, much as they would if stopped by highway patrol.
"We had to find a way to enforce speed control. It wasn't as much of a problem in heavy vehicles that are electronically restricted, but we also have pickups and lighter-service trucks. Now we are able to reduce our liability and encourage safe driving," Swartz said, adding that unauthorized use of vehicles is down because the company is alerted about truck activity during off-schedule hours.
Having real-time visibility into daily activities allows the company to rectify problems and make improvements. "We've saved money and our proficiency and efficiency have increased by more than 70 percent," Swartz noted.