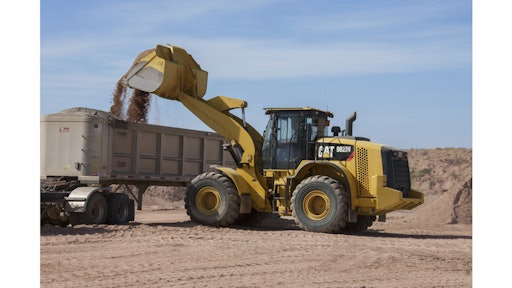 Caterpillar is offering free trials of production technology such as grade control, payload and compaction measuring systems on key construction machines in the hope of converting tech-resistant contractors.
Construction-equipment manufacturers have been installing technologies such as telematics as standard equipment on many construction machines for quite some time, but customer adoption and use of the systems remains low. 
To encourage use of its productivity technologies, Caterpillar is extending free activation for 250 hours of its Cat Grade Control system on the 25-tonne 323F excavator and Production Measurement on its M Series medium wheel loaders because the proven technologies (they've been in the field for about 10 years) on high-volume machines offer improved productivity and efficiency to a broad range of Cat customers.
These are integrated technologies.
Cat Grade Control on the 323F is a simple system that employs position sensors in the boom and stick hydraulics to track the location of the bucket cutting edge. Operators can set a target grade and slope, and the machine will indicate where his bucket cutting edge is working relative to that benchmark. On its own, the system can help make accurate, consistent footing floors, for example. Interfaced with a rotating laser reference point, the system can help maintain a consistent trench slope over rolling terrain.
Of course there are more applications that can benefit from the technology, and that's what the free trial is for. Actually, activation of Cat Grade Control on the 323F is free within six months of purchase. But even if you don't get it done in that time frame, your Cat dealer will turn on and calibrate the system with no activation fee for a 250-hour free trial. A one-time activation fee keeps the technology turned on for the life of the machine.
Cat Production Measurement for the 950M and 962M loaders calculates payload weight using data from sensors that measure bucket position and hydraulic pressure in the lift circuit. Payloads are weighed as the bucket rises, and displayed on the system's integrated, touch-screen display in the cab. Because operators can track load weights in real time through the display and constantly know the exact weight of material in the bucket, truck or hopper, payload targets are easier to achieve.
Used in conjunction with Cat Connect LINK technologies, machine owners can access production information online through the Cat VisionLink interface, with reports showing information such as amounts of material moved per gallon of fuel burned.
Caterpillar aims to accelerate the underwhelming rate of contractor technology adoption with its selection of technologies and machines to which it is applied. The new 323F excavator is the most-popular model in Cat's construction lineup, and the 950M and 962M loaders are the biggest selling construction loaders 
Grade Control and Production Measurement are basic, integrated technologies that can directly boost the profitability of excavator and loader use on the job. And they can be upgraded with additional technology – such as applying GPS to Grade Control – so that a user can continue to improve operating efficiency 
Don't miss the significance that Caterpillar believes in the effectiveness of these technologies enough to make the hardware standard equipment on these machines. Customers can test its effectiveness by simply asking the dealer to turn it on and calibrate it. If it proves to make your operation more efficient, there's a one-time fee to keep it on.
What's in it for Caterpillar? They might get some add-on technology business. But the overarching motivation is simple: more-profitable contractors make better customers.