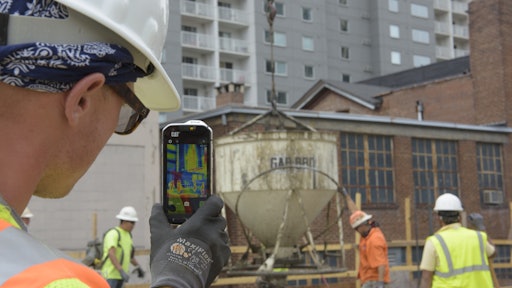 The Cat S60 features a built-in thermal imaging camera from FLIR, the global leader in thermal imaging technology, that puts the heat sensitive technology in a smartphone for the first time. An embedded Lepton Thermal Microcamera Module, powered by FLIR, visualizes heat that is invisible to the naked eye, highlighting temperature contrasts. It is accessed on the S60 via the specially designed MyFLIR app, which brings a rich range of features for capturing and analyzing thermal imagery. Applications can include detecting heat loss around windows and doors; spotting moisture leaks and missing insulation; identifying over-heating electrical appliances and circuitry; and seeing in complete darkness.
To ensure the CAT S60 is as rugged as the machinery that bears the Caterpillar name, it features a strengthened die cast steel frame inside, and is designed to exceed the military's 810G drop test specifications. Its housing and Gorilla Glass 4 display can easily survive a drop onto hard concrete from a height of just over five-and-a-half feet.
The S60 also boosts the waterproofing prowess of its predecessors. Previous versions of the device could survive, and function, as deep as 6.5 ft. underwater. But by flipping a couple of switches on the front of the device, which seals off its speaker, headphone port, and microphone openings, the S60 can now function underwater for about an hour at a depth of just over 16 ft. (5 meters).
No matter where you are or how specific your demands, the Cat S60 will help you capture each moment with a front camera maxing out at 5 megapixels and a rear camera managing 13 megapixels. But since it sits right next to the smartphone's thermal imaging Lepton sensor, the two can work together to create an enhanced hybrid image by merging live feeds from both cameras together.
The new S60 smartphone is available in the U.S. and Canada for $599.
Visit Catphones.com for more information.