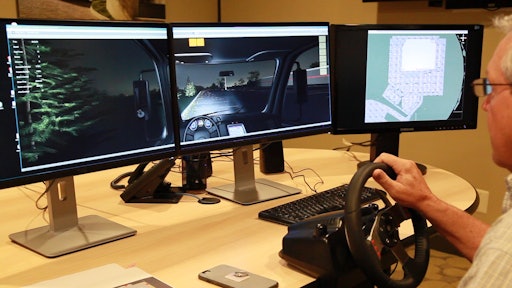 A sweeping cooperative working to provide exclusive benefits and competitive advantage to its partner companies has developed the industry's first sweeper simulator to help screen and train operators, before receiving on-the-job training in an actual sweeper.
According to Mike Lucht, 1-800-SWEEPER president/founder and president/owner of Progressive Sweeping Contractors Inc., Toledo, OH, the simulator, which at press time had yet to be named, will be introduced to 1-800-SWEEPER partners at their fifth annual Sweeper Summit, Nov. 9-11 in Las Vegas. Lucht says 1-800-SWEEPER plans to unveil the simulator to the industry in the form of a "virtual sweeper rodeo" at National Pavement Expo, Feb. 1-4 in Nashville.
"To build our 1-800-SWEEPER organization we develop tools and benefits not available elsewhere, so several months ago we began putting this simulator together," Lucht says. "It's been a costly operation, which is one reason it probably hasn't been done before, but it's something that will help differentiate 1-800-SWEEPER partners from other sweeping companies and will help them reduce the cost of running their business."
"The number one problem we all have is finding and then training people," Lucht says. "It used to not be such a problem when parking lot sweepers cost $15,000 and we were paying people $8 an hour to operate them. But now they cost $90,000, they are more complex and we're paying people in the area of $12-$18 an hour to operate them. So we need to be more sophisticated in the manner we selective the people we're putting behind the wheel.
"When paired with our recently developed tool for recruiting, screening and profile testing employees before they are interviewed to streamline the hiring process, this training simulator will help our partners to on-board sweeper operators by developing and testing their abilities before they get behind the wheel of real sweeper. We now have the tools to address the most painful part of operating a parking lot sweeping business!"
"The simulator will develop the mental awareness necessary to operator the machine in the environment and among the typical obstacles that exist when sweeping a parking lot. The goal is to get someone mentally prepared to do the work that needs to be done. Our partners will be able to test and train people before putting them behind the wheel of a real truck, which will reduce their training costs." Lucht says. "Training and turnover is one of the biggest expense items sweeping company owners face and if we can cut that in half for a company, that's a significant savings and benefit for our 1-800-SWEEPER partners."
How it works
The simulator features three screens/monitors and standard gaming controls with a steering wheel, accelerator and brake pedals in front of the operator. The three screens offer views out the front and side views of the sweeper, creating peripheral vision. The right-hand screen will toggle from a view out the right side cab window to an overhead view of the site diagram of the parking lot and property itself, identifying the position of the sweeper. Lucht said the overhead diagram will toggle between the right-hand screen and a smaller screen on the dash to provide an overhead site perspective locating the sweeper at all times.
As for the simulator driver, "operator," Lucht says the controls mimic a typical sweeping truck including the steering wheel and foot pedals, that allow for accelerating, braking and reversing the sweeper, so he can back up if needed. The operator controls the speed of the truck and can stop it if when, for example, he needs to "exit" and move an obstacle such as a shopping cart or "hand pick" debris that can't be swept up by a sweeper (this is simulated with a mouse click on the item on the screen). This activity instills the mental awareness in the operator's mind and develops best practice habits to effectively perform the work required in real conditions on an actual property.
As the operator "sweeps" the parking lot, a built-in mechanism tracks what the driver does. It monitors time on the parking lot, all turns, and especially right-hand turns in particular, including the percentage of the parking lot covered and percentage of debris picked up. "This first version has a static debris field, so it will be the same for everyone and when each person is done the simulator scores the percentage of debris picked up against the time required and the number of turns made," Lucht says.
"Less time results in a higher score, fewer turns results in a higher score, right-hand turns negatively affect the score, and the percentage of debris picked up contributes to the score," Lucht says. "So the more debris you collect, the shorter your time on the job, the fewer turns and fewer right-hand turns you make the higher the score.
"But if you hit something that would damage the sweeper – a wall, sign, pot hole, curb – you immediately fail and the simulator stops. You don't damage the simulator sweeper and keep going and you will not ever see a real sweeper if you can't operate the simulator without damaging the machine."
He says the simulator will show prospective employees/operators what they will be doing every night, serving as a screening process of their mental focus and mechanical abilities to perform the work. It will help train them by teaching them technics and processes involving sectioning off areas, to finish one area before moving to another, and even making them aware of areas that require hand work such as sidewalks, corners and cart corrals. Lucht says, overall it will teach and reinforce proper parking lot sweeping habits, such as approaching a speed bump squarely rather than at an angle and straddling manhole covers and potholes.
Once a participant has decided the job is complete, the system will tally his/her points and generate a score. "This final tally not only tells owners if a prospect can handle the piece of equipment and do the job, it lets the prospect know where he stands and how well he did – before they ever get behind the wheel of a $90,000 piece of equipment."
"It's designed to create the mental discipline to operate safely and efficiently, the way we need to do our work – in the middle of the night with a view provided only by headlights," Lucht says. "Sweeping a parking lot at night through the view headlights provide takes some getting used to in itself, so this gives people a good perspective of what the job looks like at night and the challenges we face."
Lucht says he thinks 1-800-SWEEPER partners will be able design contests for current employees, posting high scores for other operators to beat. "It could become a nice, fun way to encourage operators to improve their skills by challenging their co-workers," he says.
Future Development
Lucht says that in the future, the simulator can be altered in a variety of ways. For example, weather conditions can be added and other layouts of parking lots with different debris patterns can be added as well. When development of the simulations reaches that point, sweeping companies can use the different versions, which will have varying degrees of difficulty, to train in a variety of conditions and machine applications and even incentivize operators through competition.
"Once they successfully complete one application they can move on to the next, more difficult simulation and so on," Lucht says. "Then once they master those simulations they could advance to a different type of machine because, in the future, we can customize the control panel to any manufacturer's."
"The most painful part of running a sweeping company is finding the right people then training and retaining those people, and frankly most company owners are so busy working in the field serving their customers that they don't have time to invest in figuring these things out. Consequently, many sweeping companies do not have a consistent approach to training their operators, and everyone seems to do it a little differently. We put this training simulator tool together to standardize, improve and reduce the cost of the hiring and training process for the exclusive benefit our partners.