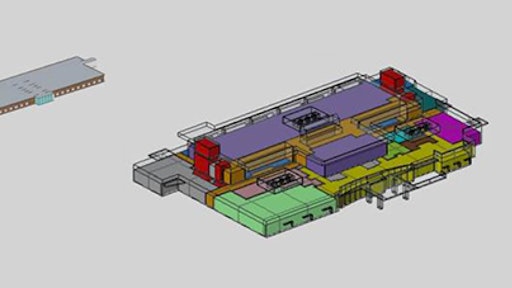 Five dimensional building information modeling (5D) Macro building information modeling (BIM) is giving the ideas of architects and designers the respect they deserve.
What is 5D BIM?
5D BIM is the real-time display of fully valued parametric building components within a virtual model. It allows experienced users to create models that demonstrate how changes to materials, layouts, square footage and other design elements not only affect the appearance of a facility, but also the cost and schedule of construction (dimensions four and five). It's a type of Macro BIM, which is a technology that allows estimators to model facilities at the earliest stages of design.
5D Macro BIM marries the artistic form of design with the strategic function of a building's architecture, and increases transparency in the process. With 5D Macro BIM, anything you can dream up can easily be modeled and examined — creative design concepts, clever exterior finishes, innovative layouts, uniquely shaped and aligned departments and floors in varying sizes. And costs are clearly pegged to materials, labor or soft costs.
Here's how it's delivering real value for clients:
Visual and data modeling capabilities translate into a better understanding of project scope. Formulas drive costs on each building system based on the specific design, materials, site conditions, phasing and other parameters according to the owner's timeline.
The entire project team develops an understanding of the proposed design, assumptions and cost drivers. They then have a concise and accurate description of scope, cost and schedule—which directly impacts funding decisions.
Data is provided in real time as the model is developed or changed. Alternative concepts can be easily explored, while owner and project team can see the cost and other data unfold instantaneously. This drastically shortens design and estimation cycle time. Reliable, accurate updates in real time drive efficiency.
Databases make it possible to leverage not only historical data, but also industry experience. Using data from specific sectors—such as healthcare or distribution center construction—is a significant advantage to owners who place a high value on proven success.
All major project stakeholders can visualize the end product and understand exactly what's included in the budget. For owners, transparency is crucial. No surprises.
Updating the model automatically changes the construction costs in real-time. "What-if's" become productive and engaging solution missions for the entire team, especially the owner.
This software allows construction firms to make faster and smarter decisions, offer a wider range of cost options and use fewer personnel during the early business assessment and design stages. When used by companies that already subscribe to a Design-Build methodology — where design and construction are housed under the same roof— the benefits are compounded. Costs from back-and-forth between the two disciplines are all but eliminated when change is realized in real-time. 
5D Macro BIM may be a technology owners can no longer afford to ignore.
5D Macro BIM in the real world
During the planning phase of a hospital addition in Texas, designers from The Korte Company used 5D Macro BIM to provide an unparalleled view of what the expanded facility would look like — and what the project would cost — long before work began.
Big picture capabilities of the technology include pinning a rendering to satellite maps to show how it would sit on a property. Operators can easily shift the rendering to show owners layouts that work well with surroundings and ones that don't.
On the Texas project, several buildings needed to be demolished to make way for the two-story addition and a parking lot. Korte designers color coded these buildings in their designs to illustrate how the facility addition would occupy space made available following demolition.
5D Macro BIM allows for greater participation in the design process by those who use a building. These individuals use on-the-ground knowledge about how floorplans are utilized to help owners shape the new spaces in which they'll work.
For one example, designs for the hospital in Texas called for three different departments on the ground floor. Designers could easily click and drag color coded sections of the design that denoted each department, shrinking or enlarging them based on suggestions. These changes produced real-time shifts in projected cost.
For another example, Korte designers helped the owner of a new healthcare facility in North Carolina decide how to maximize finite resources by isolating individual floors in the design to examine their varying costs. This allowed owners to minimize expense in some places to allow more investment in others.
5D Macro BIM has proved especially useful in healthcare construction settings because it delivers more nuanced insights to owners who must balance a facility's function, cost and ease of use for patients and visitors.
Todd Imming is The Director of Marketing for The Korte Company, an ENR Top 100 Design-Build firm that has delivered more than 3,000 projects throughout the U.S. Imming has led The Korte Company's marketing department since joining the company in 2004. He earned an MBA from Washington University in St. Louis and has extensive knowledge of marketing, business development and construction.