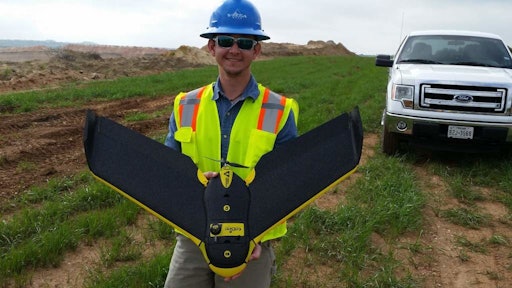 Texas sand and gravel quarry Vista Sand discovered that operation-improving uses for an unmanned aerial vehicle, or drone, continue unfolding as various operating groups gain exposure to the technology.
The company bought their fixed-wing UAV in 2015 to save time and surveying costs on monthly stockpile volumetrics. They quickly discovered production efficiencies can be gained by measuring stockpile volumes weekly, started laying out more efficient roads and loading floors and saving up to 30% on dryer fuel.
Getting stockpiles surveyed for volume to complete Vista's month-end reconciliations was a time-consuming routine. Surveyors could deliver data on the quarry's 40 or more acres of stockpiles in about five days. But getting them in to measure a stockpile for daily planning is out of the question.
The drone flies a programmed mission over Vista's 800-acre facility (which produces more than 10 million tons of material per year) in about 15 minutes. Turnaround time to process the raw data into actionable information is about four hours. Company planners conservatively budget eight hours to generate data maps, and 24 hours for full-site aerial photography.
Now they fly missions to measure stockpile volumes weekly – the data supports production and sales planning. At month end they routinely add topography measurement of the active pit to the stockpile-volume flights. They gather detailed aerial photography of the entire site at quarter. And at year-end they get a full spectrum of information, with stockpile volumes, full-site aerials, and topography of the full site.
The drone cross-references its imagery with geospacial data – assigning latitude, longitude and elevation, all corrected for accuracy with reference signals, to every image. The data can measure stockpiles and haul roads and loading floors and anything else on a site with survey-like accuracy.
"Having the data in real time, or near real time, has opened up the way we think," says Joe Drew, Vista's director of technical services. "As we've brought this UAV into our arsenal of tools, it's allowed people on the production teams to say, 'Hey, I'd like to have data on a weekly basis or a daily basis, if you can provide it.' And we absolutely can with the UAV. That allows them to make decisions more rapidly, which ultimately lowers our cost per ton."
Data has become essential. Aerial images stitched together into site maps have improved communication far more than anticipated. Drew says many days at Vista start with decision makers conferring over aerial photos. And the aerial maps are used to communicate with production crews working the site.
"Whether it's decisions about what to send to the dryer, simple stockpile volumes, or planning where to put this pile or that pile, we can do all the planning now with maps that the UAV provides us that show volumes and moisture contents and more."
"It creates the tools that help us place our stockpiles in a more efficient manner," says Drew. "We have 40 acres plus of stockpiles and keeping track of what we put in each stockpile, and what its moisture content is, can get pretty convoluted pretty quickly."
"The aerial images have also been extremely beneficial for planning new construction projects and planning and designing haul roads," says Matt Jones, site survey technician and remote pilot.
Drone maps help plan roads for access to the stockpiles. And help the company gauge mining progress toward mine boundaries. Georeferenced images can measure haul road and loading-pad condition and slope.
"With the drone we don't have to stop production to do a survey and we can actually see differences in the pad angles that might increase the costs on loaders," says Drew. "We get real fast results, and we can make adjustments on the fly to lower the cost of the yellow iron.
"One of the biggest benefits of the UAV mapping for us is the reduction in moisture content," Drew adds. "By mapping our stockpiles with moisture contents, communicating clearly what's ready to go to the dryer, not putting wet material over dry material -- that's allowed us to drop our moisture rates (going into the dryer) about two points – from 7% to 5% for sand going in. That could mean a 30% reduction in fuel cost. So it's a huge amount for us."
And the dryers work best with material at consistent moisture levels.
"When we have upset conditions – material that's changing in moisture rate – we have to slow down the feed," says Drew. "That ruins your throughput, which also hits your bottom line."
Up-to-date drone data tells Vista the current moisture rate of each stockpile, allowing them to maximize drying efficiency.
"It not only lowers the fuel costs, but also allows you to keep tons moving at the maximum throughput through your driers," says Drew. "It's a double benefit.
"Once we had the UAV in our hands, I felt exactly how I did about the internet when it was being developed in the '90s," says Drew. "We knew it would be great for data collection, but 'What else could we use this for?' And, boom, it's saving us money every single time we try something new. It's one of those paradigm shifts, I guess you could say. For us, anyway."