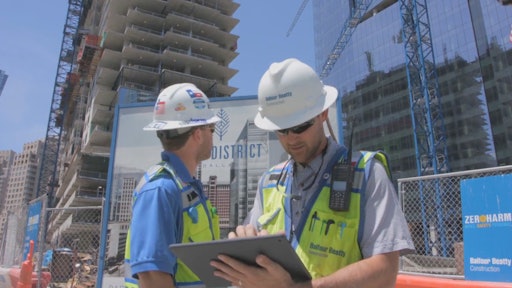 Balfour Beatty US is an industry-leading provider of general contracting, at-risk construction management and design-build services, and the US subsidiary of London-based Balfour Beatty plc, a leading international infrastructure group with more than 100 years of experience.
Balfour Beatty generated US revenues of $4.6 billion in 2016, delivering complex vertical construction and infrastructure projects for public and private sector clients. The company and its 4,200 US employees are committed to continuous innovation, leveraging Lean building practices and the latest technologies to deliver maximum value for its clients.
Scaling to size
Several years ago, the construction industry shifted from paper files to electronic files, moving away from reliance on paper documents to deliver large-scale construction projects. At that time, Balfour Beatty was kicking off an $800 million contract to renovate two terminals at the Dallas Fort Worth International Airport (DFW) and needed to collaborate digitally among numerous teams.
The scope and scale of this particular project drove the company to examine an electronic document management solution. In addition to a solution for the airport project, Balfour Beatty sought to address challenges related to lost data, unrecoverable backups, securing content for internal and external collaboration, and reducing administrative and IT costs for managing content should files become lost or inaccessible. With multiple project teams spread across the United States, the company needed seamless access to content nationwide
"When we set out to fully embrace the digital age in the complex AEC industry, we knew we needed to find a partner that could propel our vision forward. Balfour Beatty had tried other solutions before Egnyte Connect, but without success. We can now confidently say we have a rock-solid digital documentation process with a smart collaboration solution from Egnyte across our entire organization. We are now able to embrace the next level in the digital realm to create value and efficiency for our project teams and clients." - Greg Dasher, Director of Technology and InnovationBalfour Beatty US
While Balfour Beatty previously leaned on traditional file servers and used email to share documents and files, they recognized the need to move away from the traditional file server and backup game, and wanted an innovative solution for content protection and business continuity. Ultimately, the company selected Egnyte Connect over other competitive solutions on the market. Putting a solution in place to take the company from a locally managed file system to a cloud-based solution augmented by on-premises servers, with no reliance on the VPN, was key.
After the success of the DFW International Airport project, and more than $5 million realized in cost reductions with Egnyte Connect, Balfour Beatty looked to expand the solution across its US operations. Given the company's continued growth, expanding the Egnyte Connect solution corporate-wide was a key step in the evolution of its digital documentation vision.
The Solution
The IT team began rolling out Egnyte Connect as part of the corporate-wide solution to enable digital documentation. Standards were put in place for collaboration, among employees as well as with sub-contractors, and project folder access within Egnyte to allow consistency across all projects. Following successful pilot launches across multiple geographic locations, Egnyte Connect was rolled out as a standard technology platform across the entirety of Balfour Beatty US. The entire digital documentation process was overhauled to create an optimal solution for everyone involved.
The Egnyte Connect solution with hybrid deployment was ideal for an organization with numerous offices and job site locations. It allowed the entire company to have access to content in the cloud with highly available on-premises performance. In addition, the Egnyte platform integrated seamlessly with third-party applications essential to the AEC industry. Apps like Bluebeam, GoodReader and PlanGrid allow users to markup, edit and annotate PDFs, blueprints and other files from mobile devices. Project teams can instantly share and upload project photos, blueprints and PDFs through Egnyte Connect.
Having deployed Egnyte Connect to its 2,500 US vertical construction employees, Balfour Beatty has now realized these key benefits:
Seamless Collaboration: A typical construction project involves hundreds of employees and produces tens of thousands of pages of documentation, construction drawings, and project specifications. These documents need to be shared internally and externally with teams of engineers, architects, designers and trade partners. Egnyte Connect has made it possible for all parties to operate from a single pane of glass and work from the same digital documents from multiple locations.
Advanced Control: With hundreds of projects in progress at any one time, which can involve thousands of people and millions of documents, the IT team at Balfour Beatty could not effectively manage each and every permission. With Egnyte Connect's granular permissioning model, the IT team was able to delegate permissions to the owners of the individual projects without losing their top-down control, creating an efficient way to manage and protect their entire company's content.
Optimized Performance: When working on projects, Balfour Beatty's project managers are continually updating a variety of large files, like BIM (Building Information Modeling) and CAD (Computer-Aided Design] drawings, and sharing them with the field - which can create latency issues and ultimately cost time and money. Egnyte Connect's hybrid architecture allowed Balfour Beatty to deploy NAS devices to their jobsites to create fast, local access to their blueprints and project files, reducing delays in syncing and increasing productivity.
Sustainability and Efficiency: Having a mature digital documentation solution in place has allowed the company to drive additional efficiency and value into every project. Cost savings are enormous and Egnyte Connect has nearly eliminated the reliance on paper documentation. The move to digital documentation translates to saving thousands of pounds of paper, millions of dollars in printing costs, and countless hours traveling to and from sites to review drawings and documentation.
The Rewards
Balfour Beatty now has a new standard for digital documentation across the entire company, powered in large part by Egnyte Connect's powerful and secure content collaboration solution. By getting out of the traditional backup game and moving away from reliance on the VPN, Balfour Beatty has realized measurable cost savings and positively impacted project delivery times with Egnyte Connect.
"The most valuable tool in our tool belt today is a cloud-based app. We use Egnyte Connect to collaborate internally and externally every day on every job site we're working on. After Balfour Beatty's first project using Egnyte Connect, we saved over $5M in paper waste alone, so that tells you just how valuable it is." - Thomas Volmer, Balfour Beatty Director of IT
Digital document dashboards are often customized and employed at job sites to organize up-to-date project information, allowing quick access from multiple devices to documents like RFIs, logistics plans, permits, LEED scorecards, job site camera feeds, BIM images, and the latest drawings. The entire digital document management process with Egnyte has helped eliminate the use of outdated drawings, providing a single source of information for greater efficiency.
Communication and collaboration are faster, and content is seamlessly maintained and easily protected. With Egnyte Connect, the IT team no longer has to rely on local staff to stay on top of file servers and backups, but now has achieved the same result with fewer people on a greater scale, with full confidence that data is protected in multiple ways. The company plans to deploy Egnyte Connect to its 1,700 infrastructure employees by year's end.
Companies in this article