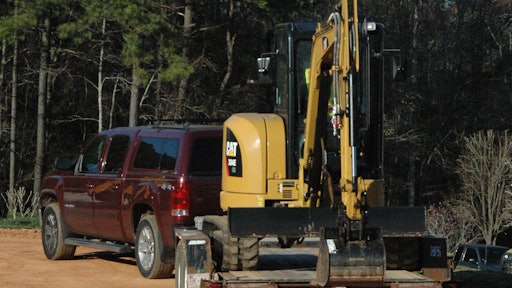 The Federal Motor Carrier Safety Administration started enforcing the Electronic Logging Device (ELD) mandate on December 18, 2017 to create a safer work environment for drivers, and make it easier and faster to accurately track, manage, and share records of duty status (RODS) data. An ELD synchronizes with a vehicle engine to automatically record driving time, for easier, more accurate hours of service (HOS) recording. It records data as it happens and automatically tracks duty status. This helps regulators since the data logs are difficult to alter.
Learn more: The Contractors' Guide to ELD
ELDs replace traditional logbooks will no longer be the source of information on hours of service compliance or violation. A truck without an ELD and no way to provide an accurate service log will be considered as a violation of hours of service guidelines. That truck would likely be placed out of service.
Fleets that already invested in Automatic On Board Recording Devices (ABORDs) will have until December 2019 to comply with the ELD mandate.
The ELD rule's requirements include:
Automatic recording of date, time, location, engine hours, vehicle miles, and identification information for the driver, the authenticated user, the vehicle, and the motor carrier
Manual input ability by the driver and motor carrier of certain information
Electronic data transmission, either wirelessly or via USB and Bluetooth
Ability to display standardized data to a safety official on demand
Inability for original ELD information to be altered or erased
Monitoring and recording device malfunctions and data inconsistencies
ELDs reduce three of the top five finable areas: not having logs, or out-of-date logs; driving hours over their daily allowance; and errors.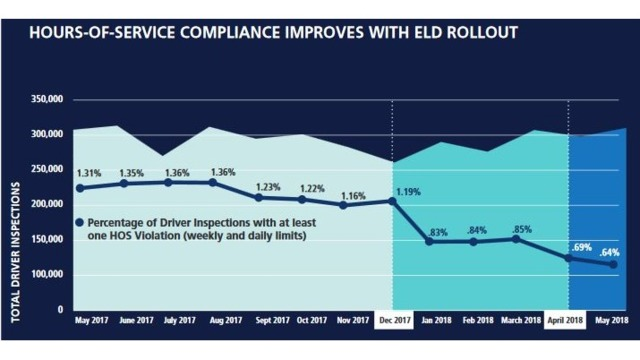 A study released by the Federal Motor Carrier Safety Administration (FMCSA) showed fleets equipped with electronic logs experienced:
53% lower driving-related HOS violation rates
49% lower non-driving-related HOS violation rates (such as form and manner)
This is substantiated by recent FMCSA data on HOS violations, which have steadily declined since the ELD mandate went into effect. Since the start of full enforcement on April 1, less than 1% of all driver inspections (559,940) have resulted in the driver being cited for an HOS violation (weekly and daily limits). This is down from a high of 1.36% in summer 2017.
Who is Subject to ELD requirement?
Most drivers must follow the HOS Regulations if they drive a commercial motor vehicle. Fleet size has no impact on requirements. Vehicles subject to HOS regulations include:
Those that weighs 10,001 lbs. or more
Have a gross vehicle weight rating or gross combination weight rating of 10,001 lbs. or more
Are designed or used to transport 16 or more passengers (including the driver) not for compensation
Are designed or used to transport 9 or more passengers (including the driver) for compensation
Are transporting hazardous materials in a quantity requiring placards
There are limited exemptions to the ELD mandate, which include:
Drivers who operate under the short-haul exception, who may continue using timecards; they are not required to keep RODS and will not be required to use ELDs.
Drivers who use paper RODS for not more than 8 days out of every 30-day period.
Drivers who conduct drive-away-tow-away operations, in which the vehicle being driven is the commodity being delivered.
Drivers of vehicles manufactured before 2000. FMCSA determines this date by the year of manufacturer of the engine. These vehicles are exempt simply because some do not have the ports required to connect an ELD.
The short-haul exemption applies to drivers who operate within a 100/150 air mile radius and return to the same location. This rule states you must operate within a 100 air mile radius if the driver holds a commercial drivers license (CDL) and 150 mile air radius for drivers without a CDL. Any time a driver exceeds these limits they have to keep a paper log for that trip.
To qualify for this exemption, the CDL driver cannot exceed the stated 100 mile air radius more than 8 days in a 30-day period. Drivetime cannot exceed 11 consecutive hours and the driver must log 10 consecutive hours of off-duty time after the shift.
The non-CDL driver must operate within a 150 mile air radius, must not drive through any state that requires a CDL for the type of vehicle being operated, must return back to the same work location every day, must not drive after the 14th hour of coming on duty in a period of seven consecutive days and must not drive after the 16th hour of coming on duty in a period of two consecutive days.
It is important to note that even if drivers are exempt from the ELD mandate, that does not make them exempt from recording requirements mandated by HOS and must still prepare paper logs, use on Automatic On-board Recording Device (AOBRD) or another software logging program when required.
Pickup trucks and other trucks smaller that Class 7 and 8 can still be subject to the ELD mandate if the Gross Vehicle Weight Rating (GVWR) or Gross Combination Weight Rating (GCWR) exceeds 10,001 lbs.