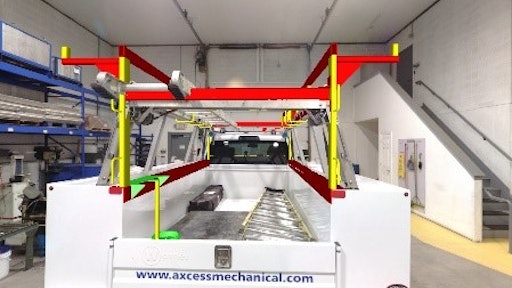 DJM
Since 2007, DJM has been creating custom designs for multimillion-dollar construction jobs. Founded by a master plumber and mechanical contractor, DJM's team has an integral understanding of the construction lifecycle and the equipment required for each stage. This in-depth industry knowledge and insight into operations allowed DJM to use their Building Information Modeling (BIM) and 3D scanning services to create custom equipment.
This new venture began after a national mechanical contractor approached DJM to design a specialty truck rack. Due to their wide variety of services, the contractor needed their trucks to carry a large assortment of heavy tools. While functional, the company's current truck rack was limiting day-to-day capabilities. They decided to work with DJM's 3D scanning and drafting teams to create what was needed.
Before starting the design process, the DJM team 3D scanned one of the mechanical trucks. This constructed a dimensionally perfect digital model of the vehicle that the DJM design team used to measure and examine plans. Having a 3D digital copy of the truck enabled the team to test whether the structure and layout of the equipment would work before any fabrication occurred.
After some discussions, the DJM team proposed a structure that utilized additional hooks and bars to increase the truck's carrying capacity. The contractors wanted a rack that would increase vertical space and free up the truck bed for heavy equipment. Using the 3D scanned digital model, DJM was able to turn around an initial concept in just a few days.
After perfecting the original idea, DJM layered the truck rack's digital model into the laser scan. Both teams reviewed and discussed the plans in 3D from the comfort of their respective offices. This made sure the contractor understood and was satisfied with how the truck rack looked and functioned before it was fabricated. 
About the Author
John Brown, Head of 3D Scanning, DJM (j.brown@caddjm.com) leads the 3D scanning division of DJM CAD & Coordination and gives project managers, general contractors and architects a competitive edge with the technology. He has an in-depth knowledge of 3D scanning and 3D printing as well as having a keen interest in emergent construction technologies.