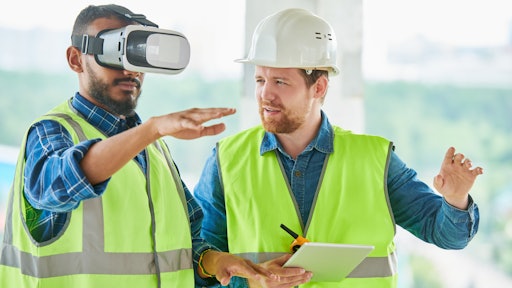 ©Seventyfour – stock.adobe.com
At the end of 2019, global construction spending was expected to reach $17.5 trillion by 2030, according to Frost & Sullivan, a big jump from the $11.4 trillion spent worldwide in 2018, as reported by Statista. In an industry with so much growth and opportunity, it is often still riddled with inefficiencies and constant work stoppages from reevaluating designs to changing client needs and budget extensions, among other unexpected challenges.
The construction industry remains one of the least digitized industries today, which can magnify these challenges even further. However, there are pockets of digital growth as companies quickly recognize the potential advanced technologies can have on areas such as training, productivity and collaboration. In fact, late 2019, 80% of contractors said they plan to use advanced technology by 2020, according to the USG and U.S. Chamber of Commerce Commercial Construction Index. The global pandemic is also impacting the mindset and tools for working more flexibly and collaboratively, acting as a catalyst for these technologies.
Advanced technologies can mean many things — robotics, drones, augmented reality and virtual reality (VR), to name a few. There is a common misconception that many of these technologies, particularly VR, are just for gaming or entertainment purposes. While VR has certainly transformed how people consume content and engage in different experiences, it is also transforming the way companies and individuals work, train and collaborate.
The return on investment (ROI) with VR is compelling for companies across all industries — from reduced training costs per employee to increased employee satisfaction. Companies are driving efficiencies in various areas of operations and improving time-to-market, even in complex use cases.
More specifically, architecture, engineering and construction (AEC) companies are also using VR to improve their loss/risk prevention. Think about the opportunities for VR within the building and design process — for example, the costs associated with cutting metal — if the design is not done correctly the first time, the project slows, extending not only timelines but also budgets. Developing building specs in VR can help avoid this, and similar, scenarios.
VR is also delivering ROI in the form of higher project safety and retention, which in turn can lower insurance premiums. The ability to train, measure and certify people through VR is incredibly valuable and can save AEC companies large amounts of money each year.
VR use cases in construction
Architectural design review
Precise room-scale tracking in VR enables the physical exploration and interaction of architectural designs in a virtual space, allowing design and construction firms to physically explore and interact with models and designs — from furniture to fixtures to equipment — with scale and accuracy, in the most realistic fashion possible. For example, VR was used in the design and development of the $1.5 billion expansion of the Seminole Hard Rock Hotel & Casino, which helped resolve 90% of the construction details for the expansion, saving Hard Rock International hundreds of thousands of dollars and countless hours.
Different solutions available today, such as Mindesk and VRCollab, are further enabling these types of use cases, driving efficiencies and cost-savings into the design, review and rendering processes by providing real-time collaboration opportunities for colleagues, clients and other stakeholders, regardless of their location. As a result, firms can accelerate the decision-making process, keeping projects within desired timelines.
High-risk training
Working in construction means that you are often in dangerous working environments. Training in VR is becoming increasingly more popular due to its ability to place employees and trainees in realistic, "what-if" scenarios. These new advancements in technology are making training more engaging, providing hands-on experiences to improve information retention, technical training and more.
One solution doing this is ElevateXR, a VR training tool designed to increase awareness of workplace protocol, potential occupational hazards, and reinforce proper safety behaviors. Contractors, safety directors, trade schools and carpenters' unions who offer certification programs are benefiting from VR, complementing existing programs.
John Horak, the safety director for the Chicago Regional Council of Carpenters, said, "After introducing ElevateXR to our members, it's clear that it's setting the standard for more effective training programs that result in reduced workplace risks and injuries." Especially relevant now, tools like ElevateXR are critical for creating a safer job site while optimizing budgets, he added.
Evaluating VR solutions
While AEC firms do have high interest in using VR, they rarely have dedicated IT teams; and if they do, they aren't generally focused on emerging technologies. As a result, it may feel daunting to think about digitizing different elements of your business. You may be hesitant to go through the process of identifying, evaluating, implementing, and ultimately deploying new technology, thinking advanced technology requires familiarity or that you lack the staff to support it, a leading factor in why many companies don't adopt new technology.
Different scenarios, projects and needs will determine the right VR solution for you, so understanding what you want to accomplish, as well as the pain points you're addressing, is a critical first step when evaluating solutions. For example, you're tasked with getting people trained and out onto a jobsite, though given COVID-19, you aren't able to bring people in for that training, or you need to show prospective buyers a new building, and get them in and out quickly. For these types of scenarios, a wireless solution, such as the VIVE Focus Plus, makes sense.
If you're doing interior design build out, a headset like the VIVE Cosmos can allow customers to go in and build out what their home will look like at scale. This headset is appealing to companies given its modularity and flexibility and is used often in different part of the businesses, such as building design and concept, team collaboration, and training of those on construction sites.
Overall, there are a few common things to look for when evaluating a commercial-grade VR solution: hardware, software, and warranty and services, together in one single solution, while providing the flexibility and functionality to address your unique needs.
Opting for an enterprise-first headset gives you not only the durability needed for use on a construction site but also allows for more simple deployment with pre-loaded, relevant content, regardless of where the job takes you. 

The strength of VR is rooted in its fundamental usefulness and efficiency to train, design and develop faster and more effectively, which is vital to helping companies stay competitive and keep employees engaged. With tangible ROI, VR is transforming the workplace and I encourage you to revisit your operations and evaluate whether integrating VR technology is right for your company and employees.
Daniel O'Brien is the general manager of HTC VIVE Americas where he leads the strategy and go-to-market efforts of the mobile and virtual reality (VR) portfolio. He is responsible for direct and indirect sales, product management, marketing and business development across North and South America. O'Brien also leads the Global VIVE Enterprise Solutions division, which provides comprehensive XR solutions for businesses to identify and deploy compelling applications at scale.
With over 20 years of business management experience in the wireless and tech industry, O'Brien brings a strong understanding of sector and retail economics, product lifecycles and building ecosystems of support around new products and industries. Since joining HTC in 2008, he has led numerous initiatives including launching the VIVE brand and business in 2016. Prior to that, he held other roles including Product Management, Product Marketing, Compliance, and Consumer Privacy & Security.
Prior to joining HTC in 2008, O'Brien held product management roles at Samsung, AT&T, Lucent and KPMG. O'Brien has a Bachelor's in Business Administration from Marymount University.