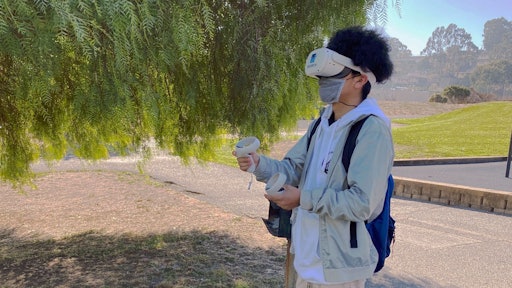 Swinerton
Three groups are working together to teach high-demand construction skills to high school students in California. To do so during a pandemic, they're using virtual reality (VR) devices to teach from afar.
Brightline Defense, an environmental justice nonprofit that works to build communities and create sustainable environments, today announced a collaboration with CityBuild Academy and TRANSFR VR that will make construction industry job training accessible to thousands of low-income young adults as part of a free, citywide program in San Francisco.
"Even amidst the pandemic, we have a unique opportunity to provide low-income youth with career-relevant training experience that can lead to good-paying jobs in growing industries," says Eddie Ahn, executive director of Brightline Defense. "This is about reducing disparities in access to job opportunities and technology access that affect low-income communities and using emerging technology to equip young people with hands-on training for in-demand careers."
Facing the Construction Labor Shortage
The San Francisco region's construction industry is short 118,000 workers, even with COVID-19 restrictions in place. Additionally, hiring for environmentally-sustainable construction and large renewable energy projects continues to increase as government agencies, communities and employers build more sustainably.
Like most areas in the country, there are companies in San Francisco reaching out to schools and other groups to help train young people the skills needed in the construction industry.
The youth job training program with Brightline and CityBuild pairs simulation training developed by TRANSFR, delivered on the Oculus Quest and Oculus for Business platform, that avoid the in-person contact and close proximity typically required for hands-on job training programs. 
"Given the challenges posed by COVID-19, we're pleased to offer this safe training for high school students, particularly youth from underserved local communities," says Ken Nim, director of CityBuild Academy. "Innovation in our training leads to greater engagement from the community as well as offering new skill sets for our job trainees."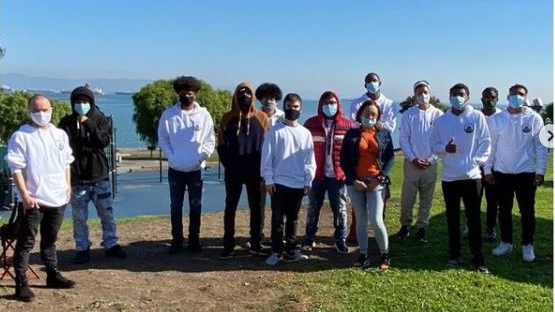 Students learned construction skills by using virtual reality devices at a park in San Francisco.Brightline Defense

Teaching from Afar
The new program is part of the citywide Construction Sector Bridge Program, a partnership with nonprofits Brightline Defense, Mission Hiring Hall, Community Youth Center (CYC), and A. Philip Randolph Institute of San Francisco (APRI-SF) and CityBuild Academy. The CityBuild Academy is a program of San Francisco's Office of Economic and Workforce Development (OEWD) that offers pre-apprenticeship programs for union construction jobs. Every year, the Bridge Program provides free industry training and outreach to thousands of San Francisco young adults ages 17-21 each year. 
Nearly all the students in the program will be using virtual reality headsets for the first time. With 29% of San Francisco Unified School District students lacking internet access at home, students met outdoors in a Bayview-Hunters Point park with a wi-fi hotspot to ensure families without broadband access could participate. The Oculus Quest headsets were donated earlier in the year by Swinerton Builders, a commercial construction company that provides additional services in green building.
Nonprofit staff conduct the teaching and training through the wi-fi hotspot at the park. To ensure safety and cleaning of the headsets, the training sessions are administered by Brightline and Mission Hiring Hall, Community Youth Center of San Francisco and A. Philip Randolph Institute. 
"At a time when youth are being forced to learn online and lack access to authentic hands-on learning experiences, this partnership aims to make skills training more relevant, engaging-- and accessible," says Bharani Rajakumar, CEO and founder of TRANSFR. "Enabling people of all ages to acquire skills needed to thrive in growing industries is critical to building a more inclusive and sustainable economic recovery."
TRANSFR's Construction Safety module introduces trainees to common safety considerations when working in a construction environment. Trainees are introduced to the personal protective equipment, common tools and procedures, and safety situations they may encounter on the jobsite. This module is designed for trainees with little to no experience in a construction environment.
Skills offered in this module include training on materials handling, safe use of hand tools and power tools, situational awareness on job sites, personal protective equipment, rigging equipment, precision measurement and working with motorized and non-motorized equipment.
Learning Through Simulations
Simulations are becoming more commonplace to teach construction skills, as companies follow social distancing protocols and improve performance and retention.
Local workforce agencies, schools, colleges, and employers across the country, including Lockheed Martin, and Mazda Toyota Manufacturing, are now using TRANSFR's immersive learning technology and assessment tools.
With the VR devices, trainees enter an immersive environment that places them into a simulation designed to look just like an actual construction site. Trainees experience a 360-degree view in all directions, horizontal and vertical. They see the setting, as well as the tools and equipment on which they'll be trained.
A key objective of training created by TRANSFR is to provide a realistic on-the-job experience so that when trainees find themselves on the actual job, they are already comfortable in the setting and are prepared to be productive from the start.
Employers report lowered turnover because of the realistic training. Trainees who take jobs following after TRANSFR training say they know exactly what to expect before they start the job, so when they get there, they are not surprised. Six-month retention rates in early projects have been more than 95%.  
The Groups Involved
The training program involves a partnership between Brightline Defense, CSB and TRANSFR.
Brightline Defense is an environmental and workforce development nonprofit in San Francisco that is the lead nonprofit partner in a citywide construction industry training initiative for low-income youth called the Construction Sector Bridge (CSB) program. For this program, Brightline works with three other nonprofit organizations focused on job training and low-income youth from different neighborhoods to administer the program and make the training widely available.
CSB is operated in partnership with CityBuild Academy, a local pre-apprenticeship program administered by the San Francisco's Office of Economic and Workforce Development to coordinate construction training and employment programs across the city of San Francisco. Graduates of the bridge program receive support in applying for CityBuild to continue on the construction apprenticeship pathway and find employment in the industry. Swinerton Builders, a commercial construction company that provides services in the United States for commercial office, retail, multi-family residential, hospitality, healthcare, education, energy and the entertainment sectors, donated the Oculus 2 headsets.
TRANSFR is a New York City-based company that builds immersive, hands-on, training simulations that provide candidates with the on-the-job experience and technical skills they need to be placed in manufacturing and skilled trade careers. TRANSFR designed and built the virtual reality training program that is being used by the Construction Industry Bridge Program. 
TRANSFR's founder, Bharani Rajakumar is a first-generation U.S. citizen whose family emigrated to the United States when he was a child. He developed a passion for the potential of education and skills training to help improve career and economic mobility for high-potential individuals from low-income backgrounds. Prior to founding TRANSFR, Rajakumar began to see the emerging potential of virtual reality for skills training, or knowledge transfer, which is where the company's name comes from, through online simulations that he saw being used to help culinary and bartending trainees learn and practice through repetition, even before they were hired.
The company is now focused on deploying this technology to help workers learn foundational skills for in-demand careers, such as construction and skilled trades, that offer economic stability and opportunities for long-term career advancement.