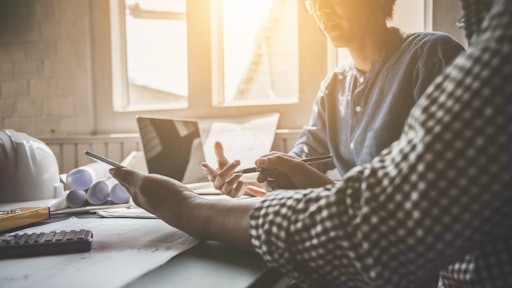 @makibestphoto, adobe.stock.com
As heavily as construction companies rely on state-of-the-art tools and machinery at the job site, one of their most valuable and versatile – and in some respects, most underutilized – pieces of equipment resides in the pockets of their employees.
That would be the smartphone, which has become an indispensable on-the-job tool for construction professionals, from the C-suite to the jobsite. In particular, the smartphone can be a difference-maker for those who work in business development for a firm. While construction industry business development remains largely a relationship- and handshake-driven undertaking, cultivating and nurturing the relationships on which firms depend to stay competitive also requires a set of robust customer relationship management (CRM) capabilities.
Simply put, to give the people responsible for business development inside your firm (and by extension, the firm as a whole) an edge, be sure to equip them with mobile digital CRM tools that enable them to work more efficiently and thus, focus on what really moves the needle for a firm and its pipeline: relationships, responsiveness and service. What types of mobile CRM capabilities should your firm prioritize in the context of its digital transformation efforts? Here are a few basic mobile CRM attributes that business development people are finding particularly valuable:
A CRM solution with full mobile integration. A fully integrated mobile app, where remote users have secure, unfettered access to data, information and insight from across the business, has become a "need to have," not just a "nice to have," for business development teams.
An app that meets them at every key point in the business development pursuit, giving them instant access to insights from past projects and other tribal knowledge along the way, and effectively connecting the dots between past projects, opportunity data and current pursuits. All this should happen seamlessly and frictionlessly, without additional steps. From a data standpoint, the app should give them access to a single, reliable source of truth, while sparing them unnecessary, duplicative manual data entry. Their time is better spent doing what they do best: relationship-building.
The ability to access and manage contacts from anywhere. Key contact and opportunity data should be available anytime, on any device, from any channel, not stranded somewhere on an inaccessible email thread, or worse, on a scrap of paper or business card abandoned in a jacket pocket.
Beyond those mobile CRM fundamentals, here's a handful of mobile CRM capabilities that can be game-changing for your business development team when they're out in the field:
The ability to grow and enhance contacts and leads on the spot. You never know when you'll need to create a lead or record contact details.
The ability to surface and link strategic insights, like Linkedin profiles or company pages, to a contact, and to uncover all past records associated with a company. The more complete picture your business development people have of a firm or person with whom they're interacting, the better equipped they will be to build and nurture relationships.
The ability to create call logs from a contact directly from a smartphone. 
A cross-channel caller ID capability that surfaces key contact and company information instantaneously when there's an incoming call tied to a pursuit, so you don't mistakenly decline an important call.
The ability to create meeting plans straight from your contacts. Another on-the-fly capability that helps business development people work more efficiently, from anywhere.
Long gone are the days when business development people could survive on little more than a rolodex, a stack of business cards, a good memory for detail and a knack for connecting with people. As essential as that latter quality continues to be to business development in today's construction industry, equipping your people with a strong set of mobile CRM capabilities frees them to focus on building the connections and relationships that keep pipelines full and firm bottom lines growing.
Akshay Mahajan is general manager of CRM for Unanet, home of a project-based growth platform for the pre-sales process for market winning business in the AEC industry.