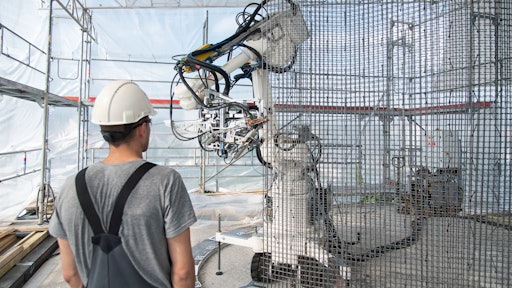 ETH Zurich
In a global survey of 1,900 large and small construction businesses in Europe, the US and China, commissioned by ABB Robotics (ABB), 91% of respondents said they will face a skills crisis over the next 10 years, with 44% indicating they currently struggle to recruit for construction jobs. Although only 55% of construction companies say they currently use robots – compared with 84% in automotive and 79% in manufacturing – a sizable 81% indicated they plan to introduce or increase the use of robotics and automation over the next decade.
"With so few construction businesses using automation today, there's huge potential for us to transform the industry through robotics. Unlike building cars or assembling electronics, many techniques used in construction haven't changed for generations, so we are developing new solutions to address key industry challenges," said Sami Atiya, President of ABB's Robotics & Discrete Automation Business Area.
Industry forecasts for the total value of the global construction industry predict it will rise by 85% over the next decade to $15.5 trillion worldwide by 2030. ABB's internal analysis of the market potential for robotic automation in the industry is for high double-digit growth rate in key sectors of construction, including pre-fabrication and 3D printing.
ABB believes robotic automation offers potential to enhance productivity, efficiency and manufacturing flexibility throughout the industry, including automating the fabrication of modular homes and building components off site, robotic welding and material handling on building sites and robot 3D printing of houses and customized structures. "As well as making the industry safer and more cost effective, robots are improving sustainability and reducing environmental impact by enhancing quality and cutting waste," the company asserts.
It's estimated that up to a quarter of material transported to a building site leaves as waste, according to the UK Department for Environment, Food and Rural Affairs, DEFRA. Using automation and digital solutions, builders can design waste out at the beginning of a project through effective building design and construction processes.
Robots Enable a New Approach
In the U.S. alone, the Associated Builders and Contractors estimates that 430,000 more construction workers still need to be hired to meet demand. With younger workers "put off construction careers by perceptions that it is a dangerous occupation," the industry labor shortage will continue to be a growing issue on a global basis, ABB forecasts. So, it's unsurprising that 42% of survey respondents ranked improving worker health and safety on building sites as a priority.
The International Labor Organization reports construction workers account for around 30% percent of workplace injuries and are up to four times more likely to be involved in a fatal accident compared to other industry sectors, with an estimated 108,000 fatalities globally each year.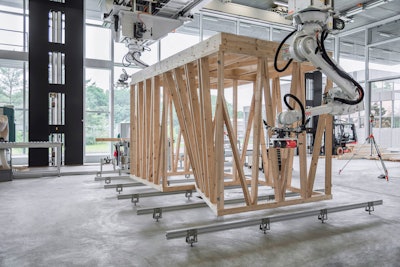 ABB believes robots can make construction safer by:
handling large and heavy loads,
working in unsafe spaces
and enabling new, safer methods of construction.
It argues that the use of robots for the repetitive and dangerous tasks means automation can help support the industry's labor and skills crisis and make construction careers more appealing to young people.
"A new focus on health, safety and sustainability are catalysts for investment in robotics, while the shrinking pool of skilled labor means the construction industry needs robots to help keep pace with the challenges of urbanization and climate change," Atiya asserted.
Companies such as ABB can provide automation solutions for faster, more affordable and sustainable construction, while helping to address the industry's labor shortage.
Automation Already in Use
Pilot projects are taking place with automation solutions in various parts of the globe. For example:
the automated fabrication of timber roof supports with Autovol in the United States
the robotic installation of elevators with Schindler Lifts
and the robotic automation of Intelligent City's production of prefabricated modular homes, which has increased production efficiency by 15% and speed by 38% and reduced waste by 30%.
In addition, Skanska's robot welding application has improved quality, employee productivity and safety by automating the fabrication of steel reinforcement baskets on site, ABB points out. It has also reduced the cost and environmental impact of transporting bulky finished reinforcement baskets to building sites.
"It is increasingly challenging to find people to carry out difficult, time-consuming tasks, which means we must look further afield to find the workers we need," said Ulf Håkansson, technical director, Skanska Construction. "Allocating these tasks to robots can address this, enabling us to deploy our workers more effectively.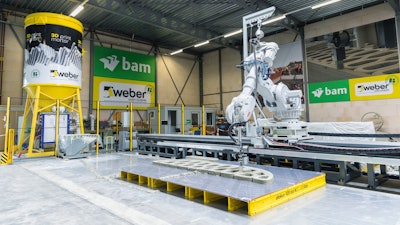 "Automation also suits the experience and imagination of the next generation of engineers, who have grown up with technology and will be invaluable in helping us find new ways to use robots in our business," Ulf added.
ABB is also working with several top universities, such as ETH Zurich, a leading research university in Switzerland, to co-develop new automated construction technologies. At ETH, ABB is supporting research in the field of robotics fabrication in architecture and construction and has helped establish a laboratory for collaborative robotic digital fabrication in architecture at the ETH Institute of Technology in Architecture.
To learn more, view "Automation and the Construction Industry", a panel discussion hosted by ABB focus on the potential for robotic automation to enhance productivity, efficiency and manufacturing flexibility in the industry.
Information provided by ABB Robotics and edited by Becky Schultz.