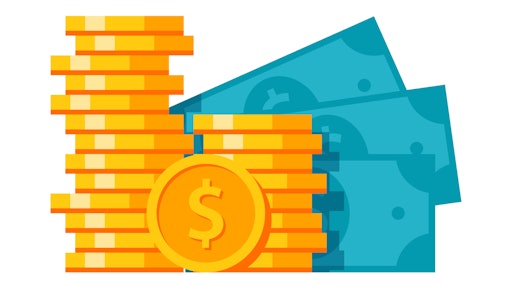 ©Nikolai Titov – stock.adobe.com
The construction industry offers a wide variety of job types and activities for those with the right mind set and the willingness to do the work. And while the roles and tasks differ, they all have one thing in common – they tend to pay quite well. Even those without a formal education have the chance to make a very livable wage from Day 1.
In an article for GOBankingRates, writer and author Nicole Spector looked at the impact of the pandemic on construction jobs in 2020, while pointing to the rapid increase in job growth expected throughout 2021. "Despite the recent (and ongoing) challenges the COVID-19 pandemic thrust onto construction, the industry is expected to grow in 2021 by 15.6%," she pointed  out. With the industry "flourishing," she cites the importance for both entry-level employees and industry veterans to know what they might expect in terms of potential compensation.
To provide insight into these compensation levels, GOBankingRates reviewed the U.S. Bureau of Labor Statistics' May 2020 National Occupational Employment and Wage Estimates and isolated detailed occupations filed under the Construction and Extraction Occupations category to generate a list of 15 high-paying jobs in construction. While many of those included on the list require additional training, such as trade schooling and/or apprenticeships, others largely involve on-the-job training.
Unsurprisingly, specialty trades populate much of the 15 jobs highlighted, with plumbers, pipefitters and steamfitters coming in at No. 12 at a median annual wage of $56,330 and elevator and escalator installers and repairers topping the list at $88,540. But certain types of equipment operators, structural iron and steel workers and construction and building inspectors are also among the high-pay jobs shown. And though structural iron and steel workers fall toward the bottom of the list, the median annual wage still comes in at nearly $55,000. This is well above the national average income of $48,672 reported in pre-pandemic fourth quarter 2019, and far exceeds the average annual income for those with a high school diploma or less. 
Admittedly, not everyone is cut out for the unique roles, and challenges, that construction and related jobs entail. But for those who are, the rewards can be significant, and clearly the need is great.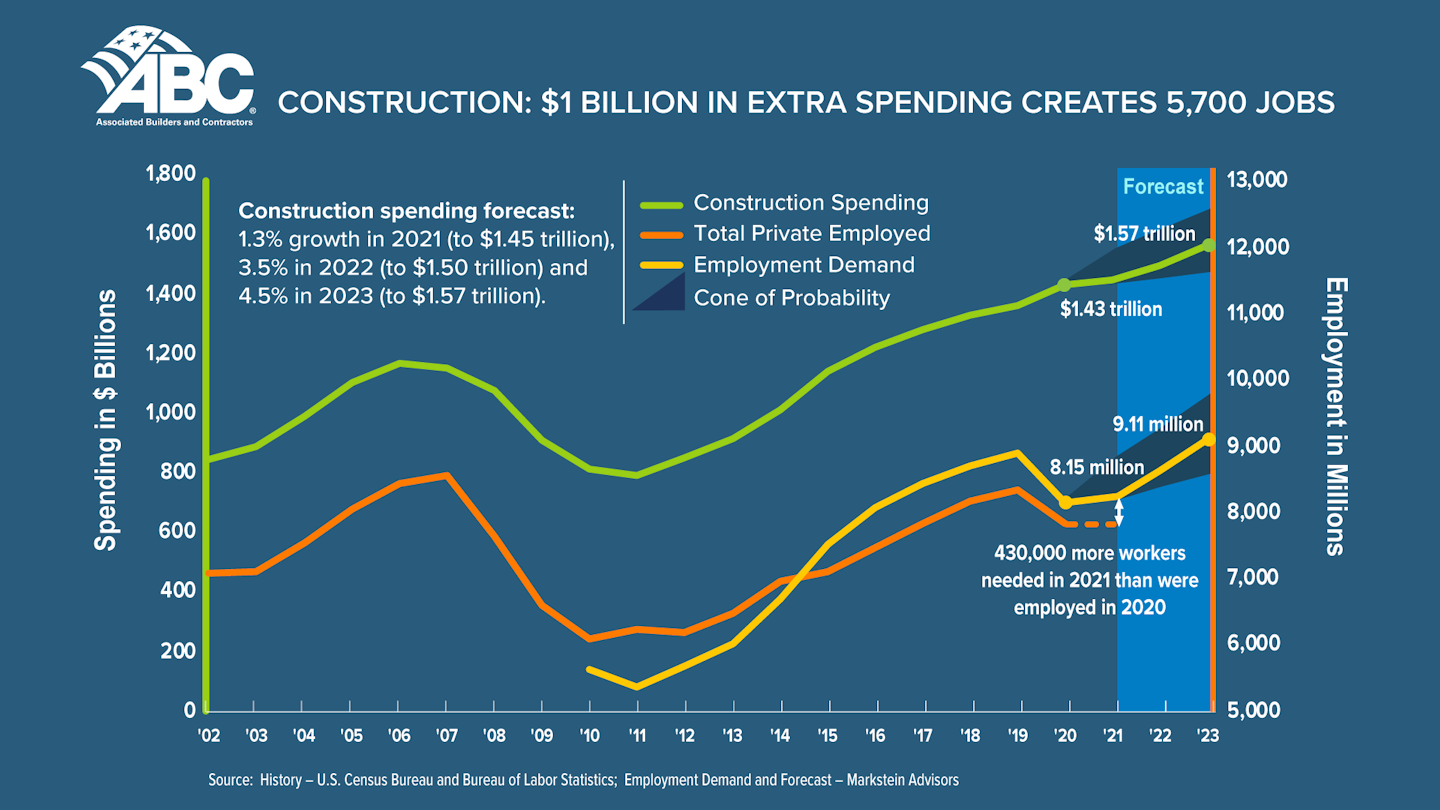 Associated Builders and Contractors
The Associated Builders and Contractors estimates that at least 430,000 more construction workers will need to be hired in 2021 to meet growing demand. The analysis also showed that every $1 billion in extra construction spending generates an average of at least 5,700 construction jobs. This means the number of workers required could reach nearly 1 million workers should the industry see a further spike in construction spending activity due to more rapid economic expansion and/or increased infrastructure investment such as promised in the American Jobs Plan.
As the industry has seen in the past, filling the void will not be an easy task. It will require getting the message out about the numerous job opportunities available in construction, and promotion of the type of pay these jobs can offer even to those without higher education or formal training. After all, money does "talk."
Consider Jacqueline Pruitt, for example. Employed as a drug and alcohol counselor, Pruitt saw a friend working on a construction site and asked about the work and pay. When she learned what her friend was making, Pruitt eventually gave up her career in social services and begin an apprenticeship as an ironworker specializing in rebar installation. Before long, she went on to found her own successful rebar installation company company, Marvella Steel Placers. (Learn more about Pruitt's path into construction in the May 17, 2021, Digging Deeper podcast.)
Making prospective workers aware of the salary levels achievable is a useful tactic to get their attention, and can be especially pertinent in attracting young people as they evaluate career opportunities. But there are others already in the workforce, like Pruitt, who may be seeking better pay and growth potential. Once you "show them the money" and get them listening, you can then explain the numerous rewards of construction careers to keep their interest and hopefully get more of them on your payroll.