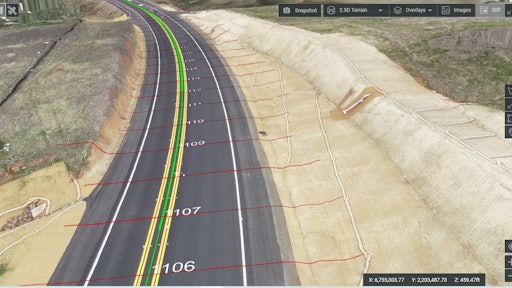 Drones, or UAV (unmanned aerial vehicles), are starting to see rapid adoption in the heavy civil construction industry. Innovative companies use construction drone mapping and reporting software to transform how they perform and deliver surveying, planning, and worksite data.
Drones allow vital stakeholders to visualize and analyze the progress of construction phases to keep projects on track so that there are fewer inconsistencies between model renders of a job site and actual work completed.
Flying a drone requires the pilot to obtain certification as a pilot and a license for the UAV. Drones that weigh more than 0.55 pounds and less than 55 pounds must register with the FAA. If your drone weighs more than 55 pounds, register it with the FAA Aircraft Registry.
The Federal Aviation Administration has specific rules in place to improve the safety of flying a drone. Most of these rules center around becoming an FAA-Certified Drone Pilot and drone registration. A new rule, Operations Over People, became effective April 21, 2021, and says that drone pilots may fly at night over people and moving vehicles under certain circumstances.
To become a drone pilot requires passing specific tests from the FAA. Third-party training courses are also available to help with basic flight skills. Once you receive your Remote Pilot Certification, certificate holders must complete online recurrent training every 24 months.
Drone insurance is available to safeguard the gear while protecting the pilot against liability. Drone liability coverage covers property damage or bodily injuries caused by the drone. One such insurance company that covers drones is the United States Aircraft Insurance Group or USAIG.
Benefits of Using Drones on Jobsites
Drone software for construction is accelerating rapidly. Contractors have gone from flying drones monthly to weekly or, in some instances, even daily. The data collected allows them to pivot where necessary and make cost- and time-saving decisions promptly.
Here are a few of the advantages contractors are finding when incorporating this new tech into their workflow:
Automate and Digitize the Full Project Lifecycle: Drones allow you to streamline data collection from the field and automatically generate computerized engineering data and continuous digital project documentation. This precise, up-to-date data syncs with the cloud, giving site managers more accurate readings of work completed.
Support Multi-Dimensional Project Management: UAVs enable comprehensive project management control, including comparisons with design, schedule, and materials. This information is based on a wide range of multi-dimensional process analyses including geometry, time, costs and other data inputs.
Rapidly Deliver High-Value Analytics: Drone tech saves construction projects time by automatically generating accurate engineering data and process analytics for hands-on project management. This includes automatic generation of survey-grade models and maps; progress reporting and comparison versus design or previous as-builts; and data analytics, insights and forecast sharing across stakeholders. These reports are made available within 24 hours, not weeks, allowing for more data-driven decisions and improved communication with project stakeholders.
Compatibility with Existing Construction Project Process: The right drone technology partner will allow you the ability to integrate with your construction project process and applications. This allows for a non-intrusive end-to-end and hassle-free solution that the crew can adopt.
Provide Safety for Your Crews: Your team will have the ability to survey dangerous areas from far away without risking harm. They can also use drones to check locations for materials, calculate stockpile volumes and assets.

Crews

can also calculate length, width and elevation for roads, parking lots, and structures. Drones give site managers an extra level of safety in place and save valuable time at the project site.
Enhance Planning and Business Profitability: By providing a single source of up-to-date data through the entire lifecycle of assets, drone software empowers stakeholders to manage construction sites from planning through execution and maintenance efficiently. Digitizing and automating monitoring, data analysis and reporting processes reduce direct professional costs by 20%, save up to 5% of overall project execution costs, and double project profitability.
With the right software partner, UAVs can provide the contractors in the construction industry with the ability to capture volume measurements, visual inspections, progress analytics and digital documentation, making day-to-day life easier and more efficient on the jobsite.
How to Select the Right Drone and Software
There are many options for drones on the market. To select the right drone for your needs, decide what you want to accomplish with the drone. Do you have a specific budget in mind? What kind of camera resolution do you need? How big is the area to be surveyed or measured? Drone vendors suggest using a Multicopter-type drone for areas less than 500 acres. For jobsites bigger than that, Fixed-Wing UAVs are recommended.
Drone software comes in a variety of types, from simple data collection to more complex offerings. To fly your drone, you need to use a flight planning app that runs on a mobile device. This type of app allows companies to set up a fully automated flight plan over the length of a construction project for more accurate job site mapping, data visualization, and safety insights. During the flight, you see real-time images and gather data to make more informed decisions. Once back in the office, upload the high-resolution images from the drone's memory card to analyze photos and data to check your project's progress. Flight planning apps auto calculate flight duration, distances, images, and required memory and batteries for a successful flight.
Once you have planned the flight and captured data, you need to process it. The best drone data processing software provides features that:
· Capture volume measurements
· Perform visual inspections
· Perform progress analytics
· Provide digital documentation
· Capture real-time data with visuals to generate reports in hours, not weeks
· Control multiple jobsites on one platform
· Detect image duplication
· Support Real-Time Kinematic Flights for GPS info and geotag image capture
Drones cut estimating/bidding costs and provide an easy way to visualize the transformation of the jobsite as work progresses. Drones are drastically improving the ability of contractors to deliver jobs on time and within budget. Drones improve productivity and efficiency, making day-to-day management more effortless.