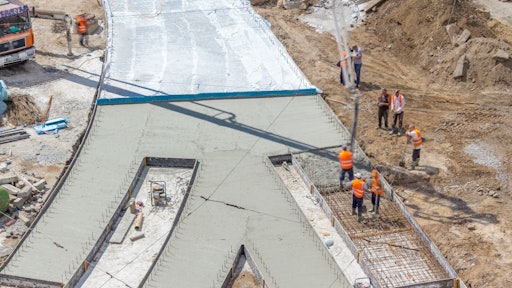 Adobe Stock Images | By neiezhmakov
Internet of Things (IoT) sensors that are designed for industrial applications provide visibility into the structure's lifecycle, from concrete temperature and maturity to concrete strength and long-term structural integrity. With capabilities to withstand and monitor severe temperatures, pressure, strain, vibrations, and extreme weather conditions, these sensors are ruggedized and robust, providing useful data that can benefit structures far beyond the present.
By utilizing IoT sensors, contractors and asset owners are able to monitor their concrete structures, both during and after curing, in real time over the entire lifecycle of the asset. This allows them to gain valuable insights into conditions for a variety of infrastructure and asset types, from bridges and highways to buildings and stadiums. IoT sensors are easily installed and can be surface mounted on structures, depending on the type of the infrastructure. As an added bonus, they can be embedded inside concrete during the curing process.
While deploying sensors upfront can be considered a not-significant investment, they provide long-term benefits that can help avoid compromised infrastructure safety, durability, and high maintenance costs. In particular, sensors can detect an array of issues, such as cracks or damages caused by a host of conditions, over the useful lifetime of assets. As a result, prevention and early detection will lead to cost savings later, since proper preventive maintenance can be performed before problems worsen. Because of this, sensors allow for early repair management, as contractors and asset owners use data to glean precise information from the structure itself.
Let's take a look at some key considerations when installing this technology.
A Brief Intro to IoT Sensors
IoT sensors used for structural monitoring come in different types that are based on the combination of parameters they measure: temperature, relative humidity, strain, pressure, and vibration.
The IoT sensors used to monitor concrete curing, known as concrete sensors in the market, are primarily used during the construction phase. One of the key benefits of such sensors is to help with optimizing project scheduling. As an example, a contractor can't wait too long to remove formwork when laying concrete foundations. Instead of waiting for off-site break test results, concrete sensors can provide real-time strength data, allowing contractors to potentially remove formwork sooner—expediting the project.
Concrete sensors are designed for easy installation, which can be accomplished by simply embedding them inside concrete either by mounting them on a rebar or securing them on the formwork before concrete is poured. Rebar serves as a tension device to reinforce concrete during the installation process. It allows sensors to be placed in a safe, secure zone without being moved or damaged during concrete pouring. After fastening with a tie wrap, sensors are plugged into a transmitter node for wireless connectivity—allowing for seamless cloud coupling with full remote access to all concrete data from any device, including a phone, laptop, or tablet. Transmitter nodes can be fitted with information logging capabilities to store concrete data locally until a strong connection is established, meaning even in areas with harsh atmospheric conditions, extra protective measures can be taken to ensure reliability is maintained.
While sensors add considerable value to the installation and construction processes, they can be installed even after a building or infrastructure has already been constructed, regardless of the asset's age. Strain and vibration sensors can be added to the asset post construction as well. With a lifespan that extends several decades, sensors can collect data without any maintenance. Many transmitter nodes include an integrated battery (typically rechargeable by USB every six months to a year) and can last up to 10 years! With the capabilities of IoT technologies for over-the-air updates, the data transmission rate of the transmitter nodes can also be optimized to enhance battery life.
Working to collect data from multiple points of the infrastructure, sensors alert smart devices of choice (in real-time!) if there is site deterioration that needs immediate attention. For example, if an asset's foundation is at risk of corrosion (caused by weather, temperature, or wearability), an IoT sensor isn't going to stop metal rebars from breaking down—but it will immediately alert asset owners where a threat exists before excessive exposure or damage occurs. Changes in vibration patterns of bridges, which could be an indicator of a potential failure, can be detected by IoT systems analyzing the vibration sensor data in real-time.
One example of a structural failure is corrosion. In particular, structures by the ocean are more susceptible to rebar corrosion because of the combination of moisture, oxygen, and sodium chloride, causing them to be weakened and damaged. While you can never fully protect against natural weather conditions, real-time monitoring and data collection allow for these conditions to be properly addressed in a timely manner, which can ensure safety and provide cost savings.
Top Three Considerations for Selecting an Industrial Sensor
1. Review the Market
There are a range of IoT sensors available on the market, so how do you select one? Contractors and asset owners need not only ruggedized sensor devices, but also ones that have robust connectivity and easy-to-use software and application workflows.
As an example, with conventional concrete sensors, such as Bluetooth-based instruments, data can be collected and transmitted to a personal device, like a smartphone or tablet. However, each sensor is designed for single-point sensing, meaning that you may need several different sensors to detect various conditions at a job site. Contractors must also be nearby, as these sensors must be physically placed in proximity to the technology to receive data. With some IoT sensors, remote capabilities allow contractors to monitor site conditions from any location without visiting the jobsite or requiring data synchronization through personal devices.
Although it's tempting to select the first product you see, especially less expensive alternatives, it's important to consider the benefits of a long-term solution that may be a bit more costly. Low-cost options are available, but they often don't offer many of the long-term benefits designed to last an extended lifespan. By allocating funds to support the long-term investment, contractors will ensure the safety and profitability of assets for years to come.
2. Consider Battery Life
Because construction projects are often in remote areas, sensors need to be self-powered and/or able to connect to constant power (after all, you don't want to change the battery every month!) It's crucial that sensors have 24/7 remote connectivity, so contractors and owners can track the conditions of the assets during and post-construction without needing to physically be on location. Since sensor data is sent directly from the job site to any device that is connected to the internet, from which you can access it anywhere and at any point, contractors and asset inspectors can save on trips to remote locations—optimizing time, efficiency, and cost.
3. Determine the Job Requirements
When selecting an IoT sensor, you should consider the project requirements and your end goal(s). On any site, it's important to ensure you're meeting all construction and safety requirements; this is where it is crucial to select the type of sensor that will be most beneficial for the kind of information you're seeking. For example, if you are developing a structure in a dense urban environment, then sensors that are capable of detecting vibrations may be worth considering, in order to track how your structure may be impacted by those surrounding it and vice versa.
Things to Avoid When Installing
1. Avoid Cable Slacking From the Rebar
While industrial IoT sensors are ruggedized and able to withstand extreme weather conditions, they aren't intended to support the weight of a structure! For example, when installing sensors that are in the form of cables (i.e., daisy chained temperature or strain sensors), it is advantageous to secure them properly and avoid any cable slack to protect sensors from the concrete load. That way, sensors don't become damaged or crushed by the infrastructure they are intended to monitor.
2. Poor Location Selection for Installation
IoT sensors (such as concrete maturity sensors, strain sensors, or vibration sensors) will provide an abundance of extremely helpful information, but poor placement during installation, whether during initial construction or upon completion, will result in data that is less than useful. Sensor location must be determined through structural analysis, which provides insight into the health of the building and allows contractors to select the best placement for the technology.
Additionally, depending on the structure, less may actually be more. It is important to take into consideration a structure's key locations in need of monitoring, rather than purchase several sensors and place them throughout the entire asset. If the number of sensors needed is not determined early on, then contractors may incur costs that could have been avoided.
About the author
Hamid Alemohammad is the Chief Operating Officer at Brickeye.