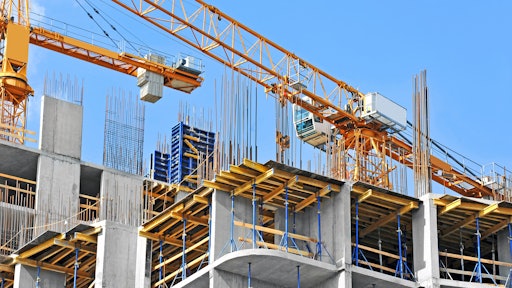 ©Unkas Photo – stock.adobe.com
There's no doubt that the global COVID-19 pandemic wreaked havoc on supply chains across the world. These disruptions were then compounded by the housing boom that swallowed up steel, lumber, concrete, and other essential materials as quickly as they were acquired. The newest challenge, rising interest rates, has further impacted budgets and cash flow.
This combination of issues has led to rising costs for materials and other items, continuing to constrain the construction and concrete industries. It poses the question: How can general contractors, subcontractors and suppliers bid on their next project while the prices of materials remain volatile?
Rising Prices and Other Hurdles
While some of the supply chain bottlenecks and record-high prices plaguing the industry have eased, construction professionals face continuing material cost challenges. The price of essential building materials has risen almost 20% year over year and a whopping 35.6% since the beginning of the pandemic.
A particularly tall hurdle is rising fuel costs. Though prices fell in the latter half of 2022 following a severe spike in the summer, the national average of a gallon of gasoline checks in at nearly $3.30. For subcontractors with a small fleet of just three full-sized pickups, filling those vehicles twice a week could cost over $1,500 a month in out-of-pocket.
Diesel costs are an even greater concern. According to the Associated General Contractors of America (AGC), diesel prices increased 61.5% from October 2021 to October 2022, further lightening the wallet of construction professionals.
At the same time, major federal investment – normally good news – is also contributing to industry difficulties. Funding from the $1.2 trillion bipartisan infrastructure plan is increasing demand for already scarce materials, further adding to inflationary pressures. Economics 101 tells us that adding more demand without increasing the supply results in higher prices for fuel, materials, and other critical construction needs. Higher costs are forcing some general contractors and subcontractors to delay revenue-producing projects, limiting an upside rate of return, creating slimmer profit margins, or bringing projects to a complete halt.
Due to the nature of the industry — high upfront costs, fluctuating material cost and availability, labor competition and frequent project delays — it's clear that rising inflation can be particularly damaging to general contractors, subcontractors and suppliers. While the construction industry was able to withstand the pandemic-related economic slowdown better than most industries, 2023 will likely be a challenging year. The AGC predicts prices for key materials will only continue to rise, increasing costs for building projects and narrowing profits. Unfortunately, all these added costs can reduce the number of projects construction professionals can take on, further extend long production timelines and aggravate cash flow management issues.
Challenges Impacting the Concrete Industry
Concrete is the second-most used material in the world, behind only water, and is the backbone of the construction industry. Without it, residential, commercial and public projects would never get off the ground. Throughout the pandemic, demand volatility, material price inflation and shortages have all had a whiplash effect on the concrete industry.
At the beginning of the COVID-19 outbreak, global demand for concrete slowed as planned projects were delayed creating significant overcapacity. Over the last year, however, demand has skyrocketed as backlogged projects moved forward. Even as inflation and higher interest rates have slowed residential construction, the commercial industry continues to boom and will likely continue as more projects funded by the infrastructure bill are greenlit. Unfortunately, this growth has helped create a dire concrete shortage that now threatens the completion of not only planned projects but those already in the pipeline. Simply put, developers are now building faster than suppliers can make the building materials.
Though the pandemic's impact on the supply chain played a key role, it's hard to pinpoint a singular cause for the current concrete shortage. Everything from the war in Ukraine reducing the supply of natural gas and oil, to the global shortage of sand, drought conditions lowering the Mississippi River and limiting movement of cement and other heavy construction materials, the 2021 Texas freeze forcing several cement manufacturers to shut down, and the rapid expansion of concrete-intensive Amazon distribution centers have all factored into the shortage. According to the Portland Cement Association, 43 states are currently experiencing concrete supply shortages.
Even as major commercial and infrastructure demand rises, there is some good news on concrete supply. Residential projects accounted for over 75% of cement demand growth in 2021, and the combination of higher home prices and rising mortgage rates coupled with double-digit gains is cooling that market, which should help stabilize the price for the entire industry.
Taking Advantage of Technology
Amid these significant economic headwinds, contractors, subcontractors and suppliers need help to find projects, produce better bids and win more jobs. The first step is to focus on the things they can control.
Innovative, simple-to-use preconstruction technology can help increase project control and productivity. These platforms improve planning, increase operational efficiency and processes, and help general contractors, subcontractors, and suppliers collaborate more easily to establish long-lasting connections that enhance stability and success.
While technology utilization in the construction industry is increasing, the industry remains mired in the "old-school" way. Many construction professionals report that they're still using whiteboards, spreadsheets, paper-based processes, and other anti-tech methods. That's not good enough in the digital age.
Technology is rapidly becoming the difference between victory and defeat in the construction industry. Truly effective digital tools can bring together contractors, subcontractors, and suppliers into one space to improve collaboration and efficiency. The right construction planning and management solutions digitize the important information construction professionals use most. They can forget about sifting through random notes, old documents, and spreadsheets. Instead, they can use software solutions that provide fast and easy document replication, streamlining bidding and other crucial processes. This will save not only businesses money but also a ton of time.
Proposals and repetitive paperwork can be time-consuming, but when the estimation and material takeoff tasks are digitized, it reduces the amount of time needed to complete them. With increased accuracy, the risk of cost overages is reduced, making cash flow highly accurate and simple.
Additionally, this type of cloud-based technology with automation helps construction professionals find new projects more easily and quickly. These tools can also notify construction professionals about new projects in their service ahead of other competitors. Using this complete suite of tools, construction professionals can curate winning bids before the competition does. These bids are more detailed and accurate, with easy access to documents and data. Cloud-based technology with the added level of automation can significantly improve takeoffs and estimates, allows for the creation and saving of data that illustrates their success, and facilitates more profitable relationships.
Implementing Success
By implementing digital solutions, concrete contractors, general contractors, and subcontractors can all increase profitability, reduce the impact of inflation, and boost overall efficiencies. From streamlining project posting, bid submission, project forecasting, and networking, these tools help all construction professionals to better engage and gain back their time for the work that needs their attention most. These solutions will help establish long-lasting connections that will enhance success and stability while addressing the challenges that lie ahead. Innovative construction planning and management technology will ensure strong collaboration and preparedness for what's to come.