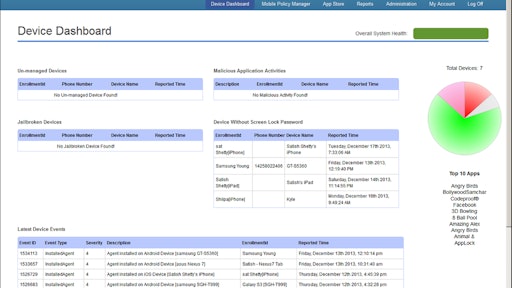 Mobile app: Mobile Security and MDM
Developer:  Codeproof Technologies Inc.
Cost: Free
Available on: Apple and Android devices
Codeproof's security mobile app provides complete protection for Apple and Android smartphones and tablets. With contractors starting to use mobile devices more and more on the jobsite, in the office and to store important business information, it's important that the mobile devices and information be protected.
Video: Introducing Codeproof Mobile Security and Cloud MDM Platform
Codeproof's cloud-based solution allows contractors to manage and protect their devices and employees' devices if the company has a bring your own mobile device policy.
Document: Introducing Codeproof Mobile Security Platform
The app's dashboard warns users of real-time mobile security risks and allows a user to view:
Overall system health
Virus detected events
Device without screen lock password
Latest device events
App installation events
Other features of the app is the Cloud Console Report Generator which generates various reports that can be printed or downloaded as PDF files. Available reports include: security compliance report, device asset report, detection of malicious apps report, apps report and OS report.
More Codeproof mobile app how-to videos
Finally, the Codeproof app features a mobile policy manager which helps enforce company-wide mobile policies. The mobile policy manager allows the app user to configure mobile device management policies at a root level which then configures all mobile devices with the policies. In addition, the policy manager allows a user to have exceptions for a single device or create custom device groups with custom policies.
More how-to articles for Codeproof Mobile Security and MDM mobile app
The free Codeproof mobile app can protect up to two devices. To protect more devices and access the advanced features the app is priced at $2.99 per month per device or $29.99 per device per year.
App features:
Remotely locate and lock lost mobile devices
Remotely erase data to prevent data theft
Restrict use of mobile devices by blocking camera, web browser, app store and other apps
Inventory devices, apps, etc.
Mobile Application Management (MAM) features include:

App White listing - Ability to run selected apps
App restrictions and block settings app
App distribution - installation of apps on multiple devices

Mobile Policy Management features include:

Directory based mobile policy management
Location based policies
Password policies
WiFi and VPN Policies
Exchange and GMAIL policies

Mobile antivirus protection for Android
Admin controlled push notifications
Remotely configure WiFi settings on multiple devices at once