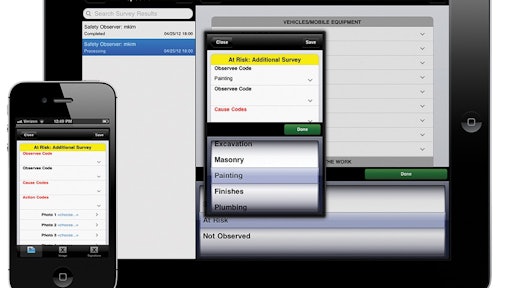 Mobile app: Veil FieldReporting Mobile
Developer:  MSI Data
Cost: $50/user/month
Available on: Apple, Android and Windows
The Veil Inspection Software mobile app, FieldReporting Mobile, can help increase construction field productivity, simplify safety compliance and automate construction field reporting. This asset management mobile app allows safety inspectors, foreman, technicians and other field workers the capability to track field work in real time, improve communication and streamline processes. Rather than create individual mobile apps for each paper form a contractor would like to replace, the Veil app allows contractors to build mobile field data collection apps to mobilize any field data collection need using one system. These apps are then available in a menu tied to the job.
Designed for the iPad, iPhone, Android and Windows devices, the app can run connected or disconnected to the Internet. It also includes field management software for home office-based safety and management personnel. The app also integrates with Viewpoint Construction Software for complete construction field automation.
Using the app, field personnel can select the appropriate job, input data quickly while on the site and save the data immediately to the system. No back office personnel or extra steps are required. Native device capabilities provide additional backup for inspections such as photos, signatures and voice to text note taking.
The app's Inspection App Builder allows contractors to create inspection templates with a web-based drag and drop builder that will create templates designed to mimic paper inspection forms or spreadsheets. Finished inspection templates or updates can automatically be pushed to field workers' mobile devices.
The app's Inspection Manager is a web-based database for safety, project management or other personnel to view, report and analyze historical inspection data. Inspections can also be combined into reports that identify trends.
Designed specifically for construction, repair, maintenance, manufacturing, telecommunications and other field workforce organizations, the app helps inspections be done completely paperless and then automatically transmitted.
App features:
Work with or without wireless network connectivity
Capture condition photos and customer signature
Perform sub-inspections
Complete pre-designed questions
Customizable forms allow user to configure rules specific to his or her company and industry standards
Dynamically generated inspection management reports
Pass inspection data to your ERP system
Optional Visual Scheduler allows office or field staff to schedule field workers based on location, availability and skills sets
Optional Events Manager automatically monitors business activities and notifies employees with time-sensitive alerts about specific conditions, i.e. a safety issue identified by a field inspector
Optional Stakeholder Web ports allow key stakeholders to view and analyze important inspection data