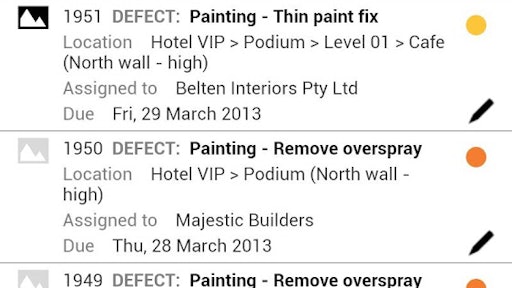 Mobile app: Aconex Field
Developer:  Aconex
Cost: Free
Available on: Apple and Android devices
Aconex Field is a cloud-based mobile and web app that can help streamline field inspections and prevent lost time due to outdated methods such as paper and spreadsheets. The app captures, distributes and tracks defects and other issues in real time.
Video: Put an End to Lost Time in the Field with Aconex Field Mobile App
The mobile app can be used to capture this data while in the field while the web component allows a user to then manage, report on and view inspection results when back at the desk.
The app allows users to capture and attach photos to help illustrate the issues found during inspection. Photo markup further allows the contractor to describe the inspection issue and make it clear what needs to be fixed.
App features:
Assign issues to specific organizations or subcontractors
Set due dates for when issues need to be fixed
Accept or reject issues that are ready to inspect
Integrates with Aconex project collaboration platform
Work offline; issues automatically synced when a connection is found