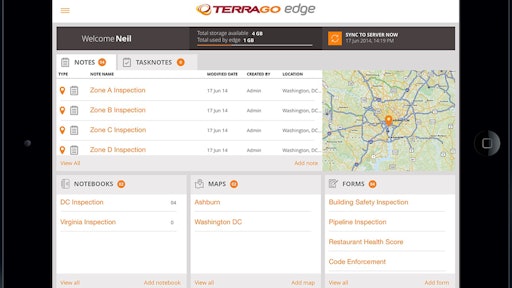 Mobile app: TerraGo Edge
Developer: TerraGo
Cost: Ranges from $15 to $30 per month per user
Available on: Apple devices (Android version to come)
TerraGo Edge is a mobile, note sharing app that immediately syncs field data including jobsite progress, safety conditions or subcontractor activity with the home office and other mobile workers. This private-cloud solution enables mobile workers and field crews to take notes, photos, assign tasks and share data in real-time.
Video: TerraGo Edge Mobile App Introduction and Overview
TerraGo Edge notebooks contain all the forms, documents, maps and imagery needed by remote workers. "TerraGo Edge brings these capabilities together with an intuitive user experience that helps our customers turn observations into actions and location data into organizational intelligence," says TerraGo CEO Chris Broderick.
App features:
Create project notebooks with custom maps, forms, tasks and data to share with any mobile user
All data collected is instantly sync'd with all user devices and the server
Offline maps and notebooks mean even without a signal users can access the data needed for a jobsite
Instant updates mean site workers can share photos and notes when they encounter issues, need solutions or a job status
Assign tasks
Get progress on what's in-progress, what's completed and even get a photo of completed projects to verify