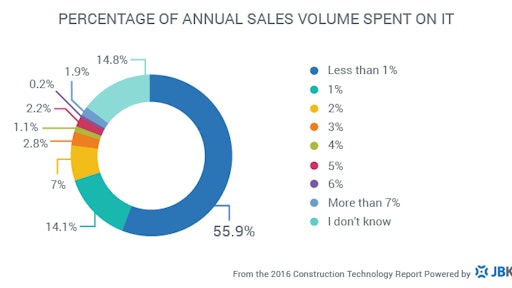 JBKnowledge
Contractors are unlikely to stop declining construction productivity without digital-level control over construction inputs, costs, processes and relationships.
But selecting and implementing software and hardware tools capable of tracking all the variables in a construction project calls for skills quite different from estimating, bidding and constructing projects. And contractors seem resistant to bringing in expertise that can show then the way.
For example, 70% of contractors responding to the JBKnowledge 2016 Construction Technology Report survey spend 1% or less of annual sales volume on information technology. The construction software provider, in its analysis of the industry survey, says, "Despite the proliferation and improvement of technology, companies are still not allocating budget to employ it. This also supports the fact that the construction industry underspends cross-industry averages in regards to technology by upwards of 60% to 70%."
Construction giant Skanska USA applies a method for integrating technology to improve business processes that, while not free, takes advantage of the experience of its construction people to innovate with construction technology.
"Around 80% of the ideas for our new technologies come from our people out in the field," Tony Colonna, Skanska USA's senior vice president of innovative construction solutions told ConstructionDive.com. "Our engineers might come up with a new way of doing things or have a need they bring to the table."
Skanska creates teams at many levels with the specific goal of investigating IT innovations. There are corporate-level, top-down teams. There are regional, inter-disciplinary teams that bring forward technological ideas that members believe would benefit their jobs. And the company has what Colonna dubbed "an informal community of innovators" that picks ideas to test from innovations suggested by the teams.
The Skanska teams are made up primarily of the company's exiting construction and administrative employees. But the company is committed to managing the process.
Check out the ConstructionDive.com profile of Skanska's construction innovation process for a quick read on how a construction company can bridge the technology/construction gap.